The Many Faces of Happy Felton
This article was written by Rob Edelman
This article was published in Spring 2017 Baseball Research Journal
---
Happy Felton, an all-around entertainer of a long-gone era, won fame in television's infancy as the creator and host of Happy Felton's Knothole Gang — a kiddie-oriented television program broadcast live from Ebbets Field. The Knothole Gang is as much a part of the Golden Age of post-war Brooklyn, and the era's Dem Bums nostalgia, as Jackie and Pee Wee, Newk and Gil and Hilda Chester.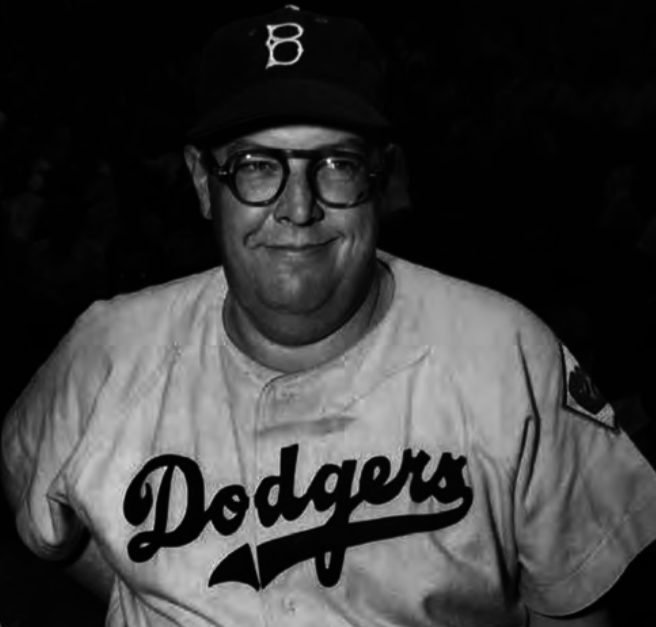 Happy Felton, an all-around entertainer of a long-gone era, aggressively and successfully marketed his skills as a dance-band leader, musician, master of ceremonies, actor, comedian, and radio-stage-vaudeville performer for two decades beginning in the late 1920s. Then he won fame in television's infancy as the creator and host of Happy Felton's Knothole (or, Knot-Hole) Gang—a kiddie-oriented television program broadcast live from Ebbets Field. The Knothole Gang is as much a part of the Golden Age of post-war Brooklyn—and the era's Dem Bums nostalgia—as Jackie and Pee Wee, Newk and Gil and Hilda Chester.
Francis Joseph Felton was born on November 30, 1907, in Bellevue, Pennsylvania. His parents were Francis Joseph Felton Sr., a metallurgist, and Elmira P. Felton. Young Francis was attracted to music, studying violin and even appearing at age seven as a soloist with the Pittsburgh Symphony Orchestra. "I played the fiddle, with Victor Herbert conducting," he fondly recalled in 1946.1 He also was drawn to baseball, but his mother discouraged his participation because his position of choice was catcher and she feared that his fingers might easily be broken. But his love of the horsehide was not deterred. "Every Saturday morning, my father took me into Pittsburgh for a fiddle lesson," he noted in 1953, "and if I played well, we'd go to the Pirates game in the afternoon."2 He did play football at Bellevue High School, where he also headed his own musical group, the West Belle Melody Boys.
Upon graduation, Felton entered Allegheny College. He matriculated with the intention of graduating with the Class of 1929 but dropped out after one year, enticed by the potential of a show biz career.3 During his brief time at Allegheny, he formed his own orchestra, The Artists of Rhythm; he also acquired his nickname after playing a character named "Doctor Happy" in a play. At 6-foot-2 and weighing anywhere between 230 and 280 pounds—down from his peak of 300—the budding entertainer found one of his first jobs in a carnival where he "shilled in the crowd for a concoction called Pop Johnson's Snake Oil Elixir."4 Other gigs included playing drums in a circus, appearing in vaudeville in an act known as Adele Jason and The Boys, and performing with The Four Ambassadors singing group.5 In May 1927 he even debuted on Broadway, albeit in the less-than-auspicious The Seventh Heart, a three-act musical charting the goings-on among the Palm Beach upper-crust; the show folded after an eight-performance run at the Mayfair Theatre. "…[T]here is as yet no law against the production of plays of this sort; there is, on the other hand, no law compelling persons to go and see them," wrote The New York Times.6 Added Alexander Woollcott, the esteemed critic, "'The Seventh Heart' is, I am told, one of the most feeble and paltry attempts at playwriting ever tenderly exhibited in this city."7
Between gigs Felton—like so many other show-biz wannabees—waited tables and washed dishes in restaurants. Yet he remained determined to win permanent employment. "For eight days in a row, I went to Paul Whiteman's office to get a job in his band," he recalled in 1952. "On the ninth day, his secretary told me Mr. Whiteman had left town two weeks earlier and wouldn't be back until the following month. So I said to her: 'I've been sitting here eight days; why didn't you tell me?' She said, reasonably enough: 'You didn't ask.'" Felton added that he met with Whiteman upon his return but the bandleader brushed him off by telling him, "You're too fat. You just wouldn't fit on our chairs."8
Felton's first steady work came as the emcee (master of ceremonies) of The Goodrich Silvertown Orchestra (also known as The Silvertown Cord Orchestra), a radio show consisting of music and comedy and sponsored by the B. F. Goodrich tire manufacturer. The show, which aired on WEAF in New York, eventually began touring various venues. "…'Happy' Felton, the inimitable master of ceremonies with the Silvertown unit, will have a host of material with a local touch…," promised the Rochester (New York) Democrat and Chronicle prior to a December 1928 gig.9 Felton's Silvertown success soon led to his forming his own aggregation of singers and dancers in addition to bandsmen. The group, which was advertised under different names, spent over a decade appearing on radio stations as well as traversing the country playing at assorted venues and occasionally making records.
In an early booking, from October 1929, "Happy Felton and His Pep Boys Orchestra," hyped as "A Nationally Known Orchestra," performed at the Orange Fair in Fredericksburg, Virginia; the engagement was marketed as "Something Entirely New For County Fairs."10 That December, he and his group completed a gig at the Steel Pier in Atlantic City and arrived in Binghamton, New York, to play at a Phi Delta fraternity dance; the booking, according to the Binghamton Press, was "creating much interest among the younger set and promises to be one of the largest of the social functions planned for the holidays."11 Another, from October 1930, advertised "Dining & Dancing Nightly to Music by Francis Felton and his entertaining 11-pc. Band" at Le Paradis, "Washington's Smartest Restaurant."12 A December 1931 booking featured "Francis 'Happy' Felton and his St. Georgians" appearing on the St. George Roof at the Hotel St. George in Brooklyn.13 Cut to seven years later, when "Happy Felton and His Entertainers" headlined the College Inn at the Hotel Sherman in Chicago. "Come and Be Happy with Happy Felton," was how the booking was advertised in the Chicago Tribune.14 Typifying his success as an orchestra leader were his 27 appearances in stage shows at Broadway's Loew's State Theatre.15
Early on Felton earned raves for his work. "Happy Felton, with his pleasing voice and drollery, scored a hit as the master of ceremonies of one of radio's finest and most popular bands," wrote the Schenectady Gazette in 1932. "Young Felton…is considered one of the 'finds' of the entertainment world…"16 Comedic quips were part of his shtick. Joked Art Arthur in the Brooklyn Eagle in 1933, "'Happy' Felton, orchestra leader, wired a New York music publisher from a Summer resort up-State, saying: 'Please send me some music. If no music, send food'"17 "He has always been amiable and smiling," noted Boston Globe writer Marjory Adams in 1946. "That's why he has never been called anything but Happy—even as a band leader…"18
In April 1941, Felton left his band when he and Jay C. Flippen replaced Ole Olsen and Chic Johnson in Hellzapoppin, their smash-hit vaudeville-style Broadway musical revue. The show closed that December, at which point Felton, Flippen, and other cast members took the show on the road to Philadelphia, Boston, and other cities. And on June 4, 1942, Felton married Vi Bradley, a musical composer and lyricist, at the St. Mark's Reformed Church in Baltimore. Pamela, their one offspring, eventually became an elementary school teacher.
After completing his Hellzapoppin tour, Felton returned to the Loew's State. But his band-leading days had ended and he was billed as "Comedian." He expanded his resume by becoming a radio quizmaster. In August 1945, he was the master of ceremonies of Guess Who?—a WOR quiz show in which he asked contestants questions and cracked jokes. A television edition with Felton debuted in May 1949. He also briefly appeared in School Days, a non-network vaudeville-inspired variety-comedy TV show in which he played a schoolteacher presiding over a classroom of students who preferred dancing, singing, joke-telling, and acrobatics to book-learning.19 Then in 1950, he hosted Ford Movie Night, a three-hour WOR-TV program featuring films, newsreels, and sports-reels.
Felton also briefly appeared onscreen. He and his orchestra were prominently featured in Music With a Smile (1938), a Vitaphone short. These films served as showcases for performers who might graduate to higher-profile feature work; such was not the case for Felton. He was uncredited in a pair of 1943 films, appearing as a nightclub emcee in Swing Shift Maisie, an entry in the Ann Sothern Maisie series, and a radio announcer in Whistling in Brooklyn, a Red Skelton comedy that prophetically features an extended sequence in Ebbets Field. Of his face-on-the-cutting-room-floor presence in A Guy Named Joe (1943), in which he was a baker who makes a cake for Irene Dunne, he explained, "I was given such a long shot that I looked small. And then you saw my hands holding the cake as I said, 'Here's a cake we made for you'." That was the extent of Felton's connection to the film 20
The ever-ambitious entertainer also extended his career beyond music and mirth. In early 1946, Flamingo Road—a play by Robert and Sally Wilder that was adapted from Robert Wilder's novel—had its pre-Broadway tryout in Philadelphia and Boston. Felton (billed as "Francis J. Felton") was cast as Sheriff Titus Semple, a conniving small-town political boss. "He is rounding out a career by essaying, for the first time, a dramatic role in a legitimate play," noted the Boston Globe.21 Flamingo Road made it to Broadway's Belasco Theatre on March 19 but closed after seven performances. When the play was transferred to the screen as a Joan Crawford vehicle in 1949, Felton was replaced by an equally rotund actor: Sydney Greenstreet.
Felton's professional plight, as well as his tenaciousness, were reported by Ed Sullivan, the longtime New York Daily News syndicated columnist and iconic TV variety show host. "When he had a band, they called the 230-pound Unhappy Felton, because he was a worrier for good and sufficient reasons," Sullivan wrote in 1952. "He fretted about business, he was unhappy about the band's arrangements, he was continuously plagued by 'clinkers' sounded by the brass section. Yet Big Felton stood courageously on the bandstand and smiled toothily…" Added Ray Bloch, Sullivan's musical arranger and orchestra conductor, "Happy was hardly a Toscanini, but he was always a nice guy, and he was resourceful."22
Unsurprisingly then, it was his special rapport with children, which he exhibited throughout his career, that won him his Knothole Gang renown. In December 1938, while performing in Chicago, he and fellow bandleader George Olsen played Santa Claus for over 225 boys and girls on Christmas Eve as part of the "Chicago Tribune Good Fellow" campaign. "Happy Felton is a jolly, rotund fellow," reported the paper. "And if he…makes his rounds in a Santa Claus suit, it's two to one the children will think he's the real thing. Happy tips the scales at 250 pounds and is as merry as Old Saint Nick himself."23 Then in July 1951, when the Knothole Gang was in its infancy, he plugged the Brooklyn Amateur Baseball Foundation's fifth annual Sandlot Classic, to "make people of the boro [sic] conscious of the work of the Foundation and its aid to sandlot baseball." The game was played at Ebbets Field on July 29, with receipts going to the Foundation which "supports 23 Brooklyn, Queens and Long Island sandlot leagues and some 15,000 sandlotters."24 That November, he impersonated Santa Claus in the annual Macy's Thanksgiving Day Parade. "Bringing up the rear was…Santa Claus, in the person of Happy Felton of television and radio, (who) sat on his throne in a tinsel-decked sleigh," noted The New York Times. 25
So it was fitting that the ever-resourceful Felton conjured up his Knothole Gang. "I just thought about the 'Knothole' show for some time, but I didn't think it would click on radio," he told the Brooklyn Eagle in 1953. "TV was the answer. And in the summer of 1949 I told Walter O'Malley about it on a tuna-fishing trip and he liked it. Walter was only vice president of the Dodgers then. He brought me in to see Branch Rickey, then the president, and Mr. Rickey listened to us and said, 'Mr. Felton, your idea has merit.'"26
Happy Felton's Knothole Gang, a half-hour-long pre-game broadcast that aired live from Ebbets Field, premiered on WOR-TV on April 21, 1950, and was an immediate hit. Its focus was on its intended viewers: young Brooklyn Dodgers fans and sandlot ballplayers who were intent on improving their athletic skills. We take the Knothole Gang episode broadcast on June 26, 1956—one of the few that remains intact—as typical. The show opens with images of its three sponsors: Charles Kreisler Oldsmobile, department store and sporting goods chain Davega, and the Lincoln Savings Bank. (Other sponsors across the years ranged from a candy manufacturer to a movie theater chain.) Then the smiling, ever-loquacious Felton, who is garbed in a Dodgers uniform, appears on camera. "Good evening everybody," he begins. "Here we are. Ebbets Field, Chicago Cubs are in here, and this is the Knothole Gang. This is the program where the stars of tomorrow talk to the stars of today. Boys from your neighborhood and boys from mine get to work out with the Dodgers." He then introduces his sidekick, Bucky Walsh, who is Ed McMahon to Felton's Johnny Carson. Walsh hypes the Lincoln Savings Bank and cites "the boys…three young shortstops from the St. Bernadette Little League" who are on the show and who hope to be chosen to appear on the next program. Felton, forever upbeat, then asks each lad, who is 11 or 12 years old, to cite his father's profession and what he wishes to be when he grows up. He also asks them to name their favorite team. While one proudly cites the Brooklyn nine, a second mentions the Giants and the third chooses the Yankees. The host then interviews "the man who brought (each player) in here"—often the boys' coach—and introduces the previous night's winner. Felton then hypes the bank again and introduces a vice president and trustee.27
After briefly warming up on the field, the junior ballplayers meet Jackie Robinson. Each asks Jackie a baseball-related question, and then each fields grounders and flies thrown by the Dodger. "Stay right down on it," Robinson cautions. "Stay right on it now…Charge it now." The boys are stationed in right field, directly in front of a sign on the outfield wall that features a message that any viewer could not ignore: "Happy Felton's Knot-Hole Gang Presented by Charles Kreisler Oldsmobile, Davega for Discounts, and The Lincoln Savings Bank." As this unfolds, Ebbets Field organist Gladys Goodding's pre-game entertainment can be heard in the background.28
After the workout, Robinson heads off to select the winner—and Walsh reappears and presents all three with "big league equipment," including Robinson and Duke Snider Louisville Sluggers, Snider gloves, and a Lincoln Savings Bank account taken out in each boy's name. The bank rep then resurfaces and tells the boys, "I hope that you will start to save and add to your account in the Lincoln whenever possible. You know, a savings account can be mighty mighty handy, For instance, you might need some new baseball equipment one of these days. Or maybe you might want to take a summer vacation down at the Dodgertown camp at Vero Beach. If you've got a little money saved up in the bank, then it's easy."29
Jackie reappears and announces his selection, who receives an autographed Robinson baseball. He is asked who he wants to meet, and he responds, "Pee Wee." But that will happen on the next show. Felton and the previous winner then walk along the right field line toward the Dodgers dugout, where he too will chat with his choice: the ever-popular Pee Wee Reese. Their conversation consists of a question-and-answer session between the ballplayer and the boy. All the while, Felton hypes the show and sponsors. The episode concludes with Reese escorting the boy to the home team bench to "meet the players…meet the Dodgers." Felton then signs off with a sincere "Hope you enjoyed the show. I get a kick out of it every night." After a final plug of the sponsors he then reminds viewers to "stick around for Talk to the Stars," his post-game program.30
With his Knothole Gang success, Felton conjured up an idea for a second show which began airing at the start of the 1951 campaign. On Happy Felton's Talk to the Stars he conversed with the just-concluded game's star players, one Dodger and one from the visiting nine. Fans were encourage to phone in questions, which he posed to the players—who earned $50 for their participation, the same fee paid for Knothole Gang appearances. Regarding the show's premiere, Felton recalled, "There were so many calls you couldn't dial a phone anywhere in Brooklyn, Manhattan, the Bronx, or Long Island City without getting a busy signal."31 As a result the phone calls were replaced by questions submitted on postcards. By 1953, Felton and his staff were receiving over 5,000 cards each week.
Less than a month after the debut of Happy Felton's Knothole Gang, Red Smith, writing in the Washington Post, observed, "It is, in this book, a solid show because it brings kids into the ball park; it sells baseball." Smith described Felton as "an ample and genial actor who is himself a baseball fan…"32 At the start of its fourth season, the show was labeled a "small miracle" by The New York Times's Milton Bracker. By then Little League, American Legion, Catholic Youth Organization, and Police Athletic League players were solidly booked by the previous November, with hundreds more lining up to participate. "Once we got it started, it never changed," Felton reported.33 And in 1955, the show still was earning applause. It "performs a valuable service for youngsters interested in baseball," noted J.P. Shanley in the Times. Shanley added that Felton "knows how to talk to youngsters without making them feel foolish or hostile…" And he concluded, "At a time when television entertainment for children is a matter of concern to parents, the 'Knot-Hole Gang' show is a refreshing presentation that can have a healthy influence on young viewers."34
The show was so popular that, in late 1953, it was announced that Felton would produce a postgame show for the rival New York Giants, to be called Giant Pals, with Bud Palmer as host. "It's just my production, my idea, that's all," he declared. "I won't be doing the show. I wouldn't dare. Brooklyn might disown me."35 Not surprisingly, the show never was produced, but Felton did win other TV assignments. One was the fifteen-minute-long Happy Felton's Press Box— which preceded Dodgers road games—in which he interviewed members of the sports media. Another was Happy Felton's Spotlight Gang, a Saturday morning NBC-TV program which featured "children in the studio audience watching European vaudeville acts on film."36 He also served as the on-field master-of-ceremonies for Ebbets Field events. In 1955, he and young Vin Scully co-emceed a fête honoring Pee Wee Reese. The following year, he soloed during a ceremony for Jake Pitler, the Dodgers first base coach. And he hosted countless Dodger-related events. For example, in June 1952 he was master of ceremonies at a women-oriented baseball clinic held at the Abraham & Straus department store, joining Jackie Robinson and Pee Wee Reese and their spouses, manager Charlie Dressen, and vice president Fresco Thompson.
But the cornerstone of Felton's success was his Knothole Gang, which eventually extended beyond television. Youngsters throughout the New York City metropolitan area were encouraged to become Knothole gang members; joining was free, and the perks included attending special Saturday morning events at Loew's movie houses in which Felton and Dodgers ballplayers appeared in person. By May 1952, the Brooklyn Eagle noted that over 50,000 boys and girls were enrolled.37 Three months later, the paper reported that the membership had "soared to over 65,000 youngsters."38 In May, Felton accompanied Pee Wee Reese and Clyde King to Brooklyn's Pitkin Theater, where the players met their young fans and Take Me Out to the Ball Game (1949), the Gene Kelly-Frank Sinatra-Esther Williams baseball musical, was screened. Then in June, Gil Hodges and Bobby Morgan joined him onstage at the Kameo and Gates theaters. That September, Jackie Robinson and Billy Cox appeared at the Gates Theater. "Upwards of 2,500 boys and girls have already obtained tickets for this show," reported the Brooklyn Eagle. "Prizes will be awarded to the boys and girls who ask the best baseball questions, with a special ball autographed by all the Dodger stars for the top question."39 As for these appearances, Felton declared, "There are bound to be some problems, smooth as things are going. After our first meeting, one mother called me up to beg me to say something to her son, who had shaken hands with 'some ball player' and was refusing to wash his hands thereafter."40
Glitches occasionally surfaced during the Knothole Gang episodes. Back then major leaguers earned modest salaries—player Cal Abrams concocted a scheme to come away with an extra payday. On one occasion, the flychaser was mentoring the youngsters on the show. "I got hold of this one kid, and I said, 'Look, I'm going to pick you as the best fielder, and in turn I want you to say that you want to talk to me in the dugout.' That way I would get an extra $50. So he said, 'All right.' And so I was throwing the ball to the three kids, and Happy Felton says: 'Cal, who do you think is going to make it?' I said, 'No. 3.' And the kid I had made the deal with comes over, and Happy says, 'Congratulations, here's an autographed ball, a Baby Ruth candy bar. Now who do you want to talk to in the dugout?' I'm waiting out there, and the kid says: 'Carl Furillo'"41
On another occasion, Felton offered up a yarn whose content was more hype than fact. He recalled that "a tough li'l monkey came on [the show]…and asked to talk to Duke Snider. Our aim is to please, but this time it was a ticklish situation. The Duke, you see, was in a bad slump, having gone 0 for 21. It's not a good idea to interview 'em when they're low, but this kid was bent on talking to Snider. 'Okay,' The Duke snapped, when I went to him….The boy was waiting for Duke in front of the cameras. He immediately took charge when the show began. 'Gee, Duke,' he said, 'You are my idol, but this season you really stink!' I thought Duke's mouth was going to cave in…" Felton added that the boy wasn't purposefully trying to sass Snider, as the youngster explained that he too had been slumping. "The Duke perked up," continued Felton. "He was really interested now, had completely forgotten this was going over television. You'd have thought this was Ted Williams or Stan Musial he was comparing notes with. 'What'd you do,' he asked confidentially. 'I went to Father O'Grady, and he told me I should go to bed and pray that I'd find the strike zone again,' the boy said. 'I did and I pulled myself right out of it.' Duke Snider, to this day, hasn't mentioned that conversation—but dawgonned [sic] it if he didn't belt out three home runs and a single the very next afternoon."42
Had Happy Felton's Knothole Gang played to viewers in Cleveland, Cincinnati, or St. Louis, Felton's celebrity would likely not have transcended the borders of Ohio or Missouri. But Brooklyn is in New York City, New York City is the nation's media capital—and so Happy Felton became a nationally-known baseball personality. In October 1952, Republican Party presidential nominee Dwight Eisenhower appeared at a gathering sponsored by the National Arts and Sports Committee for Eisenhower. Among those present were Irving Berlin, Gene Tunney, Robert Montgomery, Dorothy Fields, William Gaxton, Helen Hayes—and Happy Felton.43
On September 24, 1957, the Brooklyn Dodgers played their final home game before leaving the Borough of Churches for the orange groves of Los Angeles. And as the Dodgers abandoned Brooklyn, Happy Felton's Knothole Gang quietly faded away. By this time, thousands of Knothole Gang members were being admitted to Ebbets Field for free; on August 31, six thousand youngsters filled the seats for a Dodgers-Giants tussle. This program continued the following season in Los Angeles. Ex-major leaguer and Los Angeles native Tuck Stainback oversaw the "new" Knothole Gang which, according to the Los Angeles Times, was "so dear to Walter O'Malley's heart."44 As the 1958 campaign got underway, O'Malley declared, "We hope to welcome more than 500,000 Knot-holers before this season ends."45 On May 3, the Los Angeles Times reported, "Proudest boy in Los Angeles today will be little Bobby Merwin, 8…He will become Charter Member No. 1 of the Los Angeles Dodgers Knot Hole Gang—the first of millions of youngsters who will be free guests of the Dodgers during this and future baseball seasons in Los Angeles." 46 But Happy Felton was nowhere to be found. He was a part of the Dodgers' Brooklyn-based past, much like Hilda Chester, the Dodger Sym-phony, and the Abe Stark "Hit Sign Win Suit" ad on the Ebbets Field scoreboard.
Fortunately, Felton had little difficulty securing new work. On June 1, 1957, he was the "umpire-in-chief" on the premiere offering of It's a Hit, a Saturday morning WCBS-TV quiz show for youngsters. Guesting on that first episode were Brooklyn's Randy Jackson and Dick Williams—an ex-Dodger then with the Baltimore Orioles. According to The New York Times, "The quiz is patterned on the rules of baseball. Two teams of youngsters hit a ball attached to a fixed swinging stem. Through some magical gadgetry, an illuminated board shows whether the batter has made himself eligible for a home run, a single or has been declared out. If the board registers a hit, the young batter still has a problem: he must correctly answer a question or he becomes just another out. The team that gives the most right answers pushes the most runs across home plate."47 Billboard described It's a Hit as a "delightful kids' quiz…Happy Felton has never been more relaxed and warm than he is as emcee…"48 The Times's Jack Gould described It's a Hit as "a thoroughly wholesome combination of competition and a sprinkling of knowledge, and even the parent may find it quite exciting. Mr. Felton is the firm but fair umpire of the game, of which an adult version might make good evening viewing."49 But this did not come to pass. It's a Hit was no hit; its final episode aired on September 21.
Felton also won acting roles on TV series entries. One was "Be My Guest," a comedy of American suburbia broadcast on The United States Steel Hour on August 27, 1958. Then on April 10, 1959, he appeared in "The Small Elect," an episode of the mystery series The Further Adventures of Ellery Queen. He emceed a range of events, some of which were linked to baseball. One example: In December 1961, he was the master of ceremonies at a gathering honoring Roy Campanella given by the United Cerebral Palsy Association of Nassau County and held in the Cloud Casino at Roosevelt Raceway in Westbury, Long Island.
Happy Felton died in New York on October 21, 1964, at Manhattan's Mount Sinai Hospital; the cause of death was not reported. He lived neither in Flatbush nor Bensonhurst nor Canarsie; his address was 180 East 72nd Street, Manhattan, and he was survived by his wife and daughter. Services also were held in Manhattan, at the Frank E. Campbell funeral home on Madison Avenue and East 81st Street. All these decades later, he may be long-forgotten—but he still is affectionately recalled by those who encountered him. "I don't know the date but I met Happy, Pee Wee, Campy, and Gilliam—not 100 per cent sure about Gilliam—at the Williamsburg Savings (Bank)…," recalled Frank Paciulli. "There was some kind of Dodger special occasion for the day. I have no idea what it was and it most likely was in the mid-1950s. The three baseball players and Happy were seated in a row at a long table as the line of kids passed by. I believe that the players and Happy shook every kid's hand and I am pretty sure that each kid received an autograph from each one of them too."50
Knothole Gang contestants and winners also recall the show. "I won as a second baseman," remembered Ronald Schwartz. "Robinson selected me. The next night I chose to meet Pee Wee Reese…who was my idol."51 "When I was around 11 years old, my brother [Barry] and I appeared on the [show] prior to a Dodgers game against the St. Louis Cardinals," declared Richard Zamoff, director of The Jackie Robinson Project and faculty advisor to the Jackie and Rachel Robinson Society at The George Washington University. "We were a shortstop-second base combination and, much to our delight, the guest Dodger that afternoon was Jackie Robinson. JR threw us a couple of grounders and popups and complimented us (and the other young players) on (our) skills and potential. Of course, he reminded us of the importance of practice and studying hard in school. What Barry and I probably remember most about that June afternoon is that it still feels good remembering it."52
Decades later—in 1997, to be exact—the Brooklyn Dodgers had long been a memory and although contruction wouldn't begin on a new ballyard until 2007, the New York Mets had begun agitating to replace Shea Stadium. Dave Anderson, a New York Times columnist who was old enough to have covered the team for the Brooklyn Eagle in the 1950s, suggested that in addition to restoring the quirkiness of Ebbets Field, the Mets ought to inaugurate a "pre-game TV show in the right-field bullpen. Put kids on it, along with one of the Mets, the way all those Brooklyn kids and all those Dodgers were on Happy Felton's 'Knothole Gang' on Channel 9. Whichever Dodger appeared got $50, nice money then, but the Met millionaires should do it free…."53
The Brooklyn Cyclones, the Mets' Class A New York-Penn League affiliate, may have their "Tykeclones" kids club, but there was no Happy Felton to spur on a New York Mets Knothole Gang revival.
ROB EDELMAN teaches film history courses at the University at Albany. He is the author of "Great Baseball Films and Baseball on the Web," and is co-author (with his wife, Audrey Kupferberg) of "Meet the Mertzes," a double biography of I Love Lucy's Vivian Vance and famed baseball fan William Frawley, and "Matthau: A Life." He is a film commentator on WAMC (Northeast) Public Radio and a contributing editor of "Leonard Maltin's Movie Guide." He is a frequent contributor to "Base Ball: A Journal of the Early Game" and has written for "Baseball and American Culture: Across the Diamond"; "Total Baseball"; "Baseball in the Classroom"; "Memories and Dreams"; and "NINE: A Journal of Baseball History and Culture." His essay on early baseball films appears on the DVD "Reel Baseball: Baseball Films from the Silent Era, 1899–1926," and he is an interviewee on the director's cut DVD of "The Natural."
Notes
https://sabr.org/wp-content/uploads/2020/03/research-collection4_350x300.jpg
300
350
admin
/wp-content/uploads/2020/02/sabr_logo.png
admin
2017-04-19 16:55:40
2017-04-19 16:55:40
The Many Faces of Happy Felton