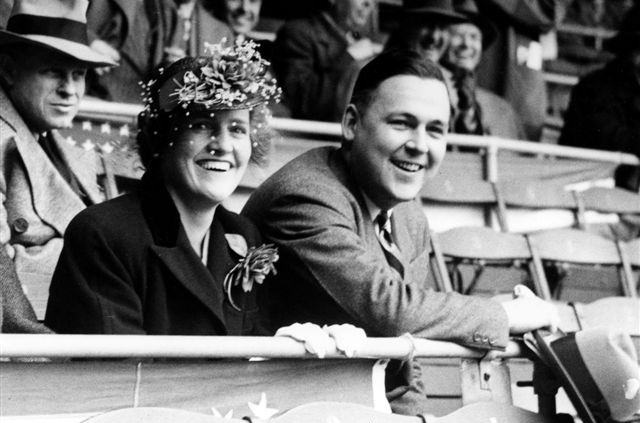 The Philadelphia Phillies' 1943 Spring Training
This article was written by James D. Szalontai
This article was published in The National Pastime: From Swampoodle to South Philly (Philadelphia, 2013)
---
By 1942 World War II was already impacting the Philadelphia Phillies' spring training activities as they prepared for the regular season in the soft sands of Miami Beach, Florida. Air corps stunts were observed above Flamingo Park; the players inspected fighters and bombers at a nearby base; and manager Hans Lobert, who had run the US Military Academy baseball team from 1918–25, persuaded Army officers to lead the squad in military drills preparing them for a patriotic display as they marched with bats on their shoulders before a Grapefruit League game against the Boston Braves.
In 1943 major league teams were forced to abandon the salubrious conditions of the South. They adhered to Commissioner Kenesaw Mountain Landis's edict, which allowed baseball to meet government travel restrictions and promote a positive image in the public mind. Teams had to scramble to find northern training camps and were often burdened by harsh weather, fewer exhibition games, inferior training facilities, second-rate playing equipment, depleted rosters, and uncertainty regarding continuation of the game as the ballplayers departing for military service were replaced with 4-Fs, teenagers, old-timers, and career minor leaguers. Dan Daniel of the New York World-Telegram penned these eloquent words in March 1943:
There is no Florida sun. There are no bathing beauties. There are fewer steaks and it is tougher to get up a perspiration. There are more aches and muscles that never hurt before, squawks against calisthenics. There are dull hours. But there are good beds and long nights in which to rest in them. And God is with us!1
Finding a spring training site north of the Ohio and Potomac Rivers was difficult for stable major league franchises. But the Phillies were in a precarious situation, concluding the last five seasons in the basement (with at least 103 losses per year) and their financially strapped owner, Gerald Nugent, heavily in debt to the National League. Chester Smith of the Pittsburgh Press insisted that the Phillies "didn't have enough talent to put up more than a fair battle in a class B league."2
Naturally, Nugent's predicament had a deleterious effect on the Phillies as they prepared for spring training. To raise funds, he traded his only decent players—Rube Melton, Nick Etten—for bodies and cash. He sent out no contracts.
It was believed that the Phillies would train near their home ballpark, possibly at the University of Pennsylvania's Franklin Field. However, Nugent had his eye on Swarthmore College, which had a large field house with a dirt floor that could be transformed into a baseball diamond. The Phillies were courted by several towns and cities. Hershey, Pennsylvania, made an attractive bid, but it was initially believed that travel restrictions would make it difficult for the Phils to accept. By mid-January, the college town of Princeton, New Jersey, had made its bid, as did the seashore resort city of Wildwood and the eventual spring training home of the New York Giants, Lakewood. Phillipsburg, New Jersey, and Lancaster, Pennsylvania, came calling by early February.
Nugent's fate was decided at the National League meeting on February 9, as the National League took control of the beleaguered franchise, and on February 18 sold it to a syndicate headed by William D. Cox, a wealthy lumber broker. Meanwhile, Swarthmore College informed the Phillies that they were unable to allow them to conduct spring training activities on their campus. The offer was rescinded because a unit of Navy engineers would possibly be assigned to the college. Cox insisted that he would allow the new manager to pick the camp site and mentioned Lancaster, Milford, and Newtown, Pennsylvania as possible destinations. Ultimately and perhaps reluctantly they settled on Hershey, a community founded by chocolate king Milton S. Hershey, as their spring training headquarters.
Former collegiate track athlete William D. Cox became owner of the Phillies at age 33 and immediately demanded changes in player conditioning, stating, "I want the team to run morning and afternoon." (National Baseball Hall of Fame Library)

Commando training
William D. Cox was an enthusiastic 33-year-old, who had played baseball and ran cross-country on the track team as a freshman at New York University before transferring to Yale and leaving during his senior year to take a job in New York. The former president of the New York Yankees football team had reportedly thrown batting practice for the 1928 Boston Braves, managed by Rogers Hornsby, and written a book titled Boxing in Art and Literature.3
Cox quickly gained a reputation as an iconoclast, insisting that he would not force his ideas on new manager Bucky Harris, but also maintaining that the Phillies would endure "commando-type" training and incessantly run. He developed his devotion to running from his freshman track coach, Emil von Elling, and said, "I want the team to run morning and afternoon, and to come down to the start of the season ready to go top speed."4
To execute his running philosophy, Cox hired Harold Anson Bruce to be the physical education director. The team's baseball activities would be augmented by two hours of rigorous calisthenics each day. Bruce was a widely respected physical education specialist who coached the track teams at Lafayette and then at Union College, was named American Olympic manager in 1932, and coached the long-distance runners at the Los Angeles Summer Olympics. From 1935–38 he was the head coach of the Austrian National Track and Field Forces, leading them in the 1936 Berlin Olympics.
Bruce quickly developed a few ideas on how the team could improve their performance; sore-armed pitchers, for example, would exercise their arms the day after pitching to work the stiffness out, and sprained ankles would be treated with hot and cold applications. Bucky Harris, an old-school skipper who disapproved of Bruce's presence, facetiously suggested he focus on speeding up the Phillies' catchers—with their incessant squatting, they would grow slower as the season progressed. Stan Baumgartner, a Philadelphia sportswriter and former Phillies pitcher, reported that after the first week of training Bruce was given an "unqualified stamp of approval."5 Instead of watching from the sidelines, Cox would often participate in workouts with the club, running around the field, practicing quick starts, going through calisthenic drills, and playing catch with the players. The sportswriters developed colorful headlines, such as the one in The Sporting News on March 25: "Chilly Phillies Warm Up to Commando Conditioning."
Bruce's unusual conditioning program included several enervating exercises with names like the "pinwheel twist," "jingle jangle," "gorilla hedgehop," and the "elephant walk," for which a player lay down on his back, with his stomach towards the sky, and walked by using his arms as legs. Baumgartner observed, "The players tried. They fell down, they collapsed in the middle. They laughed at their own awkwardness and not more than three were able to go ten feet."6
The players grew tired of some of Bruce's controversial tactics, such as forcing them to drink hot water before, during and after practice. He made sure that the players ate fruit, improving their diet. Meanwhile, Bruce was amazed that his individual physical examinations were considered unique, and not ubiquitously employed by other major league teams.
Danny Litwhiler said Bruce "was a good man, our ball club was well conditioned. We were probably in as good a shape as any team as far as conditioning is concerned. The main thing was run, run, run."7
Harris was looking for a reason to be rid of Bruce, and finally had his chance when the trainer fell asleep on the bench, surrounded by sliced oranges. His dismissal perturbed Cox and served as a harbinger of things to come. Harris was fired after 92 games (39–53) as Cox claimed he called the players "jerks" and failed to motivate them.8 Harris said, "He's a fine guy to fire me—when he gambles on games his club plays." The gambling allegations were true and on November 23 Cox was banned from baseball by Judge Landis.9
The roster
Bill Cox was not expected to be a miracle man. The Phillies, after all, had just completed a season in which they garnered only 42 wins and finished 62 1/2 games behind the pennant-winning Cardinals. He possessed enthusiasm and confidence, but also a roster that was perilously thin because of wartime departures. Hugh Mulcahy, the Phils' best pitcher, had a low draft number and was the first major leaguer inducted by Uncle Sam on March 8, 1941. Seven more Phillies joined the fight in 1942 and 11 entered the military in 1943.
Baumgartner believed that it was possible that the Phillies might win fewer than 40 games in 1943, writing, "If the Phillies suffer losses through injuries, sore arms or further calls to the service, the team is going to look like the cat that was machine-gunned on the back fence."10
At the National League meeting it was suggested that each club sell the Phillies one player at a bargain price. Branch Rickey, the Dodgers president, was apoplectic, shouting, "To Hell with that!" when asked if the league would help the Phillies solve their manpower problem. "If a club gets down, the others kick it around. To climb requires gameness, initiative, working capital, love for baseball, management, and a willingness to lose around $125,000 a year for a few seasons." He also insisted, "Baseball is no place for charity."11
The key cogs for the 1943 Phillies included position players Mickey Livingston, Buster Adams, Babe Dahlgren, Pinky May, Danny Murtaugh, Ron Northey, Glen Stewart, Coaker Triplett, and Jimmy Wasdell. On the hilltop there was Al Gerheauser, Jack Kraus, Schoolboy Rowe, Dick Barrett, Si Johnson, and Newt Kimball.
Before spring training began, the situation was so bleak for the Phillies that they held an open tryout on March 1 and the only three players to show up were "a minor leaguer, a local sandlotter who lacked the qualifications and a one-eyed youngster from Hartford, Conn."12
As the Phillies prepared for the regular season, the war was putting their roster into turmoil with players coming and going and uncertain situations. Their spring training roster was replete with career minor leaguers, 4-Fs, old-timers, and unproven youngsters. Additionally, the Phillies were very active in the trade market during early 1943, acquiring players like Rowe, Kraus, Stewart, and Dahlgren in deals. It was widely believed that the Phillies had improved their roster dramatically during the spring through trades and acquisitions and Baumgartner even wrote that with a little luck "Harris and the Phillies can be a real drawing card."13
Manager Bucky Harris (left) was not enamored of the "commando" training. The acquisition of players like Babe Dahlgren (right) was much more crucial to the team's ability to win. Dahlgren had been classified 4-F because of migraine headaches that occasionally caused blackouts. (National Baseball Hall of Fame Library)

A close examination of the Phillies' spring training roster shows how desperate they were to fill their uniforms with warm bodies and how the war was impacting their roster. In January, they signed 23-year-old Bill Anske, who had played in the low minors in 1940 and 1941 before catching for Narberth in the Philadelphia Main Line League in 1942, where his season was cut short because of an injury. He was also the bullpen catcher for the Phils during that 1942 campaign. His primary occupation was as a fireman for the Philadelphia and Reading Railroad. Anske's big league debut never materialized as he went into the Army before spring training ended.
To bolster the infield, Harris recruited Penn freshman baseball coach, Red Kellett. Kellett failed to record a hit in nine at-bats while playing for the 1934 Boston Red Sox, managed by Harris. Like Anske, he did not play in a regular season game in 1943.
The Phillies were hoping that first baseman Eddie Murphy, who had played for their Trenton Inter-State League farm team in 1942 and had a 13-game cup of coffee, could step up into the big tent. Instead, he decided to continue working at his war job in Joliet, Illinois, and asked to be placed on the voluntary retired list. Meanwhile, fly chaser Paul Busby asked to be removed from the voluntary retired list, and batted .250 in 40 at-bats for the 1943 Phillies.
Catcher Joe Holden was forced to leave spring training and return to his war defense job with the Bethlehem Steel Company because his leave of absence had expired.
George Hennessey had yielded eight runs in seven innings for the 1937 St. Louis Browns and performed much better for the 1942 Phillies, going 1–1 with a 2.65 ERA over 17 innings. "Three Star" Hennessey had paid his dues in the bushes, playing for 11 minor league teams since he started his career as a semi-pro in 1928. The former prize fighter was hoping to be a part-time player for the Phillies in 1943. The United States, however, needed his services as a vital war worker as a skilled mechanic at the Eastern Aircraft plant in Trenton, New Jersey. He worked the night shift from 11PM to 7AM. Hennessey, who had intended to skip spring training, did not play in 1943, but made it back to the big leagues in 1945, pitching in two games for the Chicago Cubs.
A headline in The Sporting News on April 8 declared, "Del Savio Fills Out Infield Of Phillies." Garton Del Savio had played independent ball in 1942 and had been training with the Reds in Bloomington, Indiana, before being released. Baumgartner insisted that the Phillies were "fortunate" to obtain Del Savio and this career minor leaguer was expected to fill the Phillies shortstop hole.14 Del Savio appeared in four regular season games, getting only one hit in 11 major league at-bats.
Pitcher Johnny "Specs" Podgajny was nearsighted and classified 4-F. He went 4–4 with a 4.22 ERA before being traded to Pittsburgh during the season. Babe Dahlgren batted .287 with a .354 on-base percentage for the 1943 Phils and made his only All-Star team. Dahlgren was also classified 4-F: When he was 12 years old, he was hit in the face with a ball, and he suffered migraine headaches into adulthood, carrying a box of aspirin wherever he went, and even occasionally blacking out during a game, unable to see a ball farther than five feet away.
Spring training
The Phillies began spring training on March 15 in Hershey with fewer than a dozen players signed to contracts and only 20 men on the roster.
During the first day of practice, Harris had to choose between a frozen field and an indoor gymnasium. The weather created problems during the first week and there were "mingled feelings" about the Northern spring training experiment.15 The Sporting News insisted that long underwear would become ubiquitous during spring training and that the players had gone from the "Citrus Belt" to the "Sinus Belt." Censorship restrictions prevented reporters from giving certain information on the conditions in which the players were training, but if it was reported that teams trained inside a gymnasium or fieldhouse, then it can be assumed that the conditions were poor.16
Harris incessantly urged his men to "forget this defeatist idea" and act as if they belonged in the majors. He treated his players like men, refusing to use a detective to see if the players complied with the midnight curfew, and insisted that they abide by the honor system. As a result the players generally trusted and respected Harris.17 Hershey was isolated, but "Chocolatetown, USA" had good food and plenty of amusement.
Because it took so long to fill holes in the roster through trades and acquisitions, Harris was not able to play an intra-camp game before the Phils took on the Philadelphia Athletics in Wilmington, Delaware, on April 4. There were fewer exhibition games in 1943, and they were generally played only against teams in the immediate vicinity of the camps. The four-game city series against Connie Mack's woeful Athletics was going to be the highlight of the exhibition season.
The Athletics took the opener, 5–3, as Si Johnson yielded all five runs in the third inning before 5,000 fans. Frank Skaff hit a two-run homer to lead the Athletics attack. Earl Naylor went yard for the Phillies, Danny Litwhiler smacked two hits and drove in a run, while Garton Del Savio and young pitcher Bill Webb also made good impressions. Johnny Podgajny and Webb pitched scoreless ball for Harris's aggregation. The starting infield consisted of Dahlgren at first, Murtaugh at second, Del Savio at short, and May at third. In the outfield from left to right there was Litwhiler, Naylor, and Busby. Livingston was behind the plate and Johnson on the hill.
On a chilly afternoon, 1,581 fans paid their way into Shibe Park on April 10, and watched Philadelphia's American League aggregation take the second game, 5–2. Johnny Podgajny authored four scoreless frames before the Mackmen posted a three-run fifth. Former Villanova collegian Frank Skaff hit a double in the big inning, while a walk and two more doubles by Jo-Jo White and Eddie Mayo did the damage. Si Johnson yielded the other two runs in the seventh stanza. In the eighth, the Phillies scored their two runs on an error, doubles by Mickey Livingston and Ron Northey and a Danny Litwhiler single. Murtaugh had two hits, plated a run, and stole a base out of the leadoff spot, while Northey, Litwhiler, Naylor, and Livingston had a hit apiece.
The Shibe Park crowd numbered 5,000 on the following day as Charlie Fuchs and Jack Kraus combined on a three-hit shutout, giving the Phillies their first victory in the city series. Pinky May drove in both runs for the Phils, singling in the second to score Naylor and hitting a sacrifice fly in the fourth. The Phillies had seven hits as Litwhiler led the way with two. Fuchs started, giving up one hit in five innings, baffling the A's with a sneaky fastball and good curve. Kraus, a left-handed pitcher with a smooth overhand delivery, worked the final four innings and was equally effective, handcuffing the A's with a live fastball.
Ron Northey was another key cog for the 1942 Phillies, who had so few men in spring training camp they held an open tryout. (National Baseball Hall of Fame Library)

On April 18, the Phillies received superb pitching from Kraus and Schoolboy Rowe as they defeated the Athletics, 4–1, to conclude the city series in a 2–2 tie. The A's mustered only one run and five hits against Kraus in five innings and then watched helplessly as Rowe pitched four perfect frames. Earl Naylor hit a two-run bomb in the three-run sixth off John Burrows. The 3,500 Shibe Park fans watched the Phillies collect nine hits, including two by Litwhiler and May.
Burleigh Grimes's Toronto Maple Leafs of the International League trained in Lancaster, Pennsylvania, and did not encounter the warm weather which they anticipated, instead dealing with snow and low temperatures. They were forced to cancel three games with the Phillies.
The foul Northeastern weather also forced the Phillies to endure an unpleasant road trip to Hagerstown, Maryland, on April 13. The Phils boarded the 6AM train out of Harrisburg, traveled to Hagerstown, and had the game with the Buffalo Bisons halted by rain in the bottom of the second inning.
Besides the city series the only other game against major league competition took place on April 15 in Trenton, New Jersey, against the Washington Nationals before 300 freezing fans. Podgajny and Al Gerheauser held the Nationals to one run and four hits in nine innings as the two teams fought to a 1–1 tie. Ron Northey garnered a triple off Dutch Leonard in the fourth inning and scored on a sacrifice fly. Mickey Haefner followed Leonard to the bump and held the Phillies to two singles in four scoreless innings.
Perhaps the most famous exhibition game played by the Phillies in 1943 took place in New Haven, Connecticut, against Yale University. The Phillies battery in the first inning consisted of owner Bill Cox as catcher and Yale athletic director Ogden Miller as the pitcher. At the plate, Cox walked and Miller struck out. Red Rolfe, a former Yankee who was coaching the Yale team, played third base for the collegians. Gerheauser and Padden took over "the battery duties from the two tired businessmen" and the Phillies won, 7–0.18
The Phillies played well during the abbreviated exhibition schedule, which included two impressive wins against local Army teams. The first game took place on a cold, blustery day, in New Cumberland, Pennsylvania, on April 7, as they defeated the 1301st Service Unit team, 5–3, in a six-inning game. Manager Joe Lawler's Army team consisted of several former major and minor leaguers, including former Phillies pitcher Tommy Hughes, catcher Bill Peterman, and second baseman Harry Marnie. Hank Simmons of the Philadelphia Inquirer insisted that the "game had its points, despite a slight snowfall and the unpleasant wind," as Kraus and Fuchs impressed their manager while firing bullets. Murtaugh and Northey set the table, batting first and second in the Phillies lineup, collecting four of their six hits and scoring three runs.19
The second game was a rout, as the Phillies faced little resistance from a group of youngsters playing for the Indiantown Gap Army Service team, on April 8 in Lebanon, Pennsylvania. Harris's aggregation prevailed 14–0 as Rowe, Gerheauser, and Andy Lapihuska combined to pitch a no-hitter in the seven-inning contest. The offensive eruption was spearheaded by Northey, Litwhiler, May, and Padden, who each hammered out two hits.
The Phillies drastically improved their roster during spring training, played well during the exhibition season, and then won 22 more games than they had in 1942. They avoided the cellar, finishing in seventh place with a 64–90 record. All the running they did in Hershey did not make them any faster, as they finished last in the major leagues in steals, pilfering an abysmal 29 bases. It had been a memorable spring training with a colorful new owner, an old-fashioned skipper and an innovative physical education director who brought the best conditioned team to the starting line. 
JAMES D. SZALONTAI is the author of three books published by McFarland, including a history of the 1945 major league season, and "Small Ball in the Big Leagues: A History of Stealing, Bunting, Walking and Otherwise Scratching for Runs." Two of his favorite subjects are World War II baseball and spring training.
1943 Philadelphia Phillies Spring Training Schedule
| Date | Opponent | Location | Result | Pitcher of Record |
| --- | --- | --- | --- | --- |
| April 4 | Philadelphia Athletics | Wilmington, DE | L, 5-3 | Si Johnson |
| April 7 | 1301st Service Unit team-x | New Cumberland, PA | W, 5-3 | Jack Kraus |
| April 8 | Indiantown Gap Army team-y | Lebanon, PA | W, 14-0 | Schoolboy Rowe |
| April 10 | Philadelphia Athletics | Philadelphia, PA | L, 5-2 | Johnny Podgajny |
| April 11 | Philadelphia Athletics | Philadelphia, PA | W, 2-0 | Charlie Fuchs |
| April 13 | Buffalo Bisons-z | Hagerstown, MD | T, 0-0 |  — |
| April 15 | Washington Senators | Trenton, NJ | T, 1-1 |  — |
| April 18 | Philadelphia Athletics | Philadelphia, PA | W, 4-1 | Schoolboy Rowe |
| April 20 | Yale University | New Haven, CT | W, 7-0 | Al Gerheauser |
x-Six-inning game
y-Seven-inning game
z-One-and-a-half-inning game
Sources
Newspapers
Philadelphia Inquirer
The Sporting News
Books and Articles
Dickson, Paul. The New Dickson Baseball Dictionary. San Diego: Harcourt Brace, 1999.
Finoli, David. For the Good of the Country: World War II Baseball in the Major and Minor Leagues. Jefferson, N.C.: McFarland, 2002.
Goldstein, Richard. Spartan Seasons: How Baseball Survived the Second World War. New York: Macmillan, 1980.
Graham, Frank, Jr. "When Baseball Went To War." Sports Illustrated, April 17, 1967.
Jordan, David M., Larry R. Gerlach, and John P. Rossi. "A Baseball Myth Exploded: Bill Veeck and the 1943 sale of the Phillies." The National Pastime: A Review of Baseball History 18, 1998.
Mead, William B. Baseball Goes to War. 1978. Washington, D.C.: Broadcast Interview Source, 1998.
Palmer, Pete, and Gary Gillette, eds. The 2006 ESPN Baseball Encyclopedia. New York: Sterling, 2006.
Roberts, Robin, and C. Paul Rogers III. The Whiz Kids and the 1950 Pennant. Philadelphia: Temple University Press, 1996.
Internet
www.baseball-almanac.com
www.baseball-reference.com
www.sabr.org
Notes
1. The Sporting News, March 25, 1943.
2. Finoli, For the Good of the Country, 55.
3. The Sporting News, February 25, 1943.
4. The Sporting News, March 4, 1943.
5. The Sporting News, March 25, 1943.
6. Ibid.
7. Goldstein, Spartan Seasons, 103.
8. Mead, Baseball Goes to War, 108.
9. Roberts and Rogers, The Whiz Kids and the 1950 Pennant, 27.
10. The Sporting News, March 18. 1943.
11. The Sporting News, February 18. 1943.
12. The Sporting News, March 11, 1943.
13. The Sporting News, April 22, 1943.
14. The Sporting News, April 8, 1943.
15. The Sporting News, March 25 1943.
16. The Sporting News, March 11, 1943.
17. The Sporting News, March 25, 1943.
18. The Sporting News, April 29, 943.
19. Philadelphia Inquirer, April 8, 1943.
https://sabr.org/wp-content/uploads/2013/07/Cox-William-226-82_Grp_NBL.jpg
488
640
admin
/wp-content/uploads/2020/02/sabr_logo.png
admin
2013-07-10 17:47:29
2023-08-10 18:41:29
The Philadelphia Phillies' 1943 Spring Training