The Silver Anniversary of Tony Gwynn's Quest for .400
This article was written by Geoff Young
This article was published in The National Pastime: Pacific Ghosts (San Diego, 2019)
---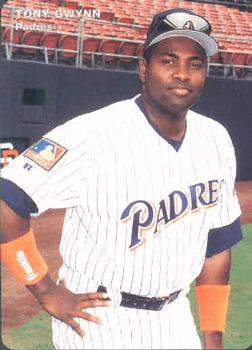 The 1994 players' strike deprived baseball fans of many simple pleasures. Among the casualties were postseason play, Matt Williams's assault on the single-season home-run record, and Tony Gwynn's pursuit of the hallowed .400 batting average — a feat not achieved since Ted Williams batted .406 in 1941.
The Padres entered the season, their 26th in the major leagues, still reeling from the previous year's fire sale orchestrated by owner Tom Werner.1 With the glory of their inaugural World Series appearance in 1984 well behind them and the wounds of a 101-loss season still fresh in everyone's minds, expectations were minimal.
The Padres delivered on their lack of promise, finishing 47–70 in the abbreviated campaign thanks to the talent vacuum created by Werner.2 Some youngsters acquired by general manager Randy Smith in the fire sale — Brad Ausmus, Derek Bell, Andy Ashby — flashed potential and gave hope for a brighter future, but for the most part, this was a team ill-equipped to compete and deserving of the worst record in the majors.
One bright spot for San Diego in 1994 — perhaps the only bright spot — was Gwynn, who entered the campaign with a .329 batting average over 12 seasons, all with the Padres. He had won four National League batting titles and been an integral part of the 1984 team. As a nine-time All-Star with five Gold Glove awards and more than 2,000 hits under his belt, he had already compiled an impressive résumé.
After a few lackluster seasons (by his standards) as he entered his thirties, Gwynn rebounded with a .358 batting average in 1993. Dogged by chronic knee issues, he had been limited to 122 games, but entering his age-34 campaign, Gwynn looked to be as locked in as ever at the plate.
He came out of the gate strong, notching hits in each of his first six games. On April 23, at home against the Phillies, he went 5-for-5 with a double and a homer. The following afternoon he added three more hits, concluding a four-game multihit streak during which he went 13-for-17 against the Expos and Phillies.
Despite going 1-for-9 in the month's final two games, Gwynn ended April with a .395 batting average — impressive, but not too difficult to achieve in 76 at-bats, particularly for someone who once batted .370 over an entire season. Still, it was his highest showing for the month since he'd batted .434 a decade earlier in April 1984. Gwynn collected hits in 15 of the 18 games he played in and already had nine multihit games to his credit.
Gwynn started May just as he'd started April, collecting hits in each of his first six games. After three consecutive three-hit games from May 11–14, his batting average stood at .419. An 11-game stretch during which he went 9-for-36 dropped Gwynn's batting average to .379, though four multihit games in the next six brought it back up to .393 at the end of the month.
Something else worth mentioning happened in May. On May 9, Gwynn's 34th birthday, he went hitless against the Reds. He did the same the following night. Then, on May 15, he went 0-for-3 against the Dodgers. The next night he repeated that performance against the Cubs. Those marked the only times he went hitless in consecutive games all season. Both came during a 13-game losing streak.
June brought more consistency from Gwynn, who had 14 multihit games in the 27 he played, batting .387 for the month. Highlights included a four-single game in a 3–1 victory at San Francisco on June 11 and a three-hit contest at home against the Dodgers on June 21. In the latter, Gwynn singled in the tying run in the bottom of the 13th inning and scored the game-winner.
June 21 also marked the beginning of a 10-game hitting streak, his longest of the season. Gwynn had two hits or more in eight of those games and brought his batting average back up from .378 (the last time it would fall below .380 all year) to .391 by month's end.
People were starting to notice. As Phillies batting coach Denis Menke told the Philadelphia Tribune, "If anyone can hit .400, in my opinion, it's Tony Gwynn. There are a lot of excellent hitters out there but I really can't think of anyone who has as good of a chance of doing it better than him."3
Over the decades, few had seriously threatened to end the long drought since Williams had achieved the feat, and .400 was coming to be seen as a baseball unicorn. Rod Carew batted .388 in 1977, George Brett batted .390 in 1980, but nobody else had made a legitimate run at the mark. Gwynn downplayed his own chances, saying, "I'm too busy up there trying to hack" and "I know what type of hitter I am, so I never worry about .400. Talk to me in September. We'll see where I am then."45
Meanwhile, the threat of a work stoppage continued to grow stronger, casting Gwynn's words in a more ominous light. It was one thing to be chasing unicorns, but trying to avoid a seemingly inevitable strike was a different beast altogether. As he said, "I hope it doesn't happen, but my gut feeling is that it will, and anybody who's been around baseball for a long time feels the same way."6
Would Gwynn still be hitting well enough to seriously threaten .400 come September? Would he be playing baseball at all?
With such questions hanging over everyone's heads, Gwynn started July slowly, going 7-for-25 in his first eight games. He followed that with five straight multihit games, during which he went 12-for-23.7 A few days later, he went 6-for-8 in a July 22 doubleheader at Philadelphia, raising his batting average to .393. He finished with an 8-for-28 slide and ended up batting .370 for the month, his lowest mark for any month in 1994. Still, his season batting average stood at .385.
Despite his continued excellence, Gwynn remained unconvinced he could bat .400, though he did add an enticing caveat: "Sooner or later, somebody's going to do it. Realistically, I don't think I can do it. But the way things are going this year, who knows?"8 Others held a different view. Former teammate Fred McGriff said, "Tony can hit .400 if anyone can."9 Cincinnati Reds right-hander Jose Rijo agreed: "If he really wants to, yes, he can."
The next month promised to be a good test. When Carew made his run at .400 in 1977, he entered August batting .383 and batted "only" .363 for the month, dropping his season batting average to .378. When Brett made his run in 1980, he entered August batting .390 and proceeded to bat .430, raising his season batting average to .403. For Gwynn's part, he'd batted .448 in August a year earlier.
Gwynn seemed to enjoy the month again in 1994, starting it with three straight multihit games. After going 0-for-1 as a pinch-hitter on August 4, he went 12-for-27 over his next six games, the last of which proved to be the season finale. In that Thursday afternoon affair at Houston, he went for 3-for-5, lifting his batting average to .394, the highest mark in baseball since Williams' .406 in 1941 and the highest in the National League since Bill Terry batted .401 in 1930.10
When comparing Gwynn's run with those of Brett and Carew before him, it's interesting to note just how consistent Gwynn was throughout the season. He did not experience the same ebbs and flows as his predecessors:
| | | | |
| --- | --- | --- | --- |
| Month | Gwynn 1994 | Brett 1980 | Carew 1977 |
| Mar/Apr | .395 | .259 | .356 |
| May | .392 | .329 | .372 |
| June | .387 | .472 | .486 |
| July | .370 | .494 | .304 |
| Aug. | .475 | .430 | .363 |
| Sept./Oct. | NA | .324 | .439 |
Brett entered June with a respectable but pedestrian .301 batting average and then batted a ridiculous .459 over the next three months before fading at the end. Carew essentially had a typical Carew season punctuated by two surreal months.11 Gwynn, though, just hit and hit and hit.
Brett pushed his batting average from .267 to .406 from May 27 to August 30 thanks to a .469 batting average over 289 plate appearances. Carew had a similar streak from April 28 to July 1, when he batted .439 over 251 plate appearances. Gwynn's best streak pales in comparison: From June 10 to season's end he batted "only" .410 over 254 plate appearances. Unfortunately, the baseball world never got to see what could have been a very special final act, as the season came to an abrupt halt after the games of August 11.
A week before that, despite that scorching stretch, Gwynn continued to downplay his pursuit of history, saying, "Right now I don't even allow myself to think about it very much. If we get to September and I'm close then I'll take a shot at it. If not, I'm not going to worry."12
He also finally acknowledged what had become obvious to everyone else: "I honestly think I am a better hitter now than I've ever been. In terms of knowing what the pitchers are doing, what I'm capable of doing and then putting all the pieces together, I am definitely better. I am more mature and more patient. At the same time, I'm more aggressive and more under control."13
Still, Gwynn's run at .400 didn't seem to capture imaginations in quite the same way as Brett's and Carew's runs had. Part of this was due to the strike, but Gwynn's consistency may have also played a role. Where Brett's average remained above .400 into September and Carew's into July, Gwynn fell off in May and played catch-up the rest of the way.
| | | | |
| --- | --- | --- | --- |
| Last time | Gwynn 1994 | Brett 1980 | Carew 1977 |
| Below .300 | NA | May 30 | April 16 |
| Below .320 | April 20 | June 3 | April 17 |
| Below .340 | April 20 | June 10 | May 3 |
| Below .360 | April 21 | July 13 | May 14 |
| Below .380 | June 20 | July 27 | Sept. 13 |
| At/above .400 | May 15 | Sept. 19 | July 10 |
That being said, it's hard to muster much enthusiasm for a sport that cancels the final six weeks of its season because of labor issues. Then again, even before the work stoppage, the Padres were terrible, which couldn't have helped.14
Now, a quarter century later, we can reflect on what actually happened and speculate on what might have been. There are numerous ways to do the latter, many of which will surely spark lively debate among dedicated fans and ultimately decide nothing (an agreeable diversion in its own right).15 As for the former, poring over the numbers and quotations from that time is enough to satisfy, at least for a little while.
Gwynn didn't bat .400 in 1994, but he came as close as anyone has in the last 75 years. He won the National League batting title that year, as he did each of the following three seasons, batting .371 from 1994 to 1997.
Gwynn continued to play as long as his body would let him. He retired after the 2001 season, at age 41, with a .338 career batting average and 3,141 hits. He remains at or near the top of the leader board in almost every offensive category for the Padres.
After retiring, Gwynn became head coach of the San Diego State baseball team, where he remained until his untimely death from parotid cancer in 2014, at age 54. He was inducted into the Hall of Fame in 2007 and continued to be active in the community until his passing, forever cementing his legacy in San Diego. There is a Tony Gwynn Drive near Petco Park and a statue inside the park. The stadium at his alma mater bears his name.
Perhaps most fittingly, just a few miles northeast of the ballpark he called home for 20 years, the Tony Gwynn Memorial Freeway meets the Ted Williams Parkway. Gwynn couldn't quite catch his fellow San Diegan in life, but now the two names come together in a daily reminder of their greatness. While passing the interchange during rush hour, it's hard not to think of the last man to bat .400 and the one to come closest since.
GEOFF YOUNG founded Ducksnorts, one of the world's first baseball blogs, in 1997. He penned regular columns at The Hardball Times from 2007 to 2011 and at Baseball Prospectus from 2011 to 2013. He is a co-author of Baseball Prospectus annuals 2012–2016, a co-editor of Baseball Prospectus 2018, and a contributor to several other baseball books.
Notes
1 Dave Sheinin, "Fire Sale in San Diego Leaves Players, Fans Steaming," Washington Post, July 5, 1993.
2 Statistics and records throughout are from Baseball Reference.com, https://www.baseball-reference.com/.
3 Daryl Bell, "This could be the year for a record hitter," Philadelphia Tribune, June 24, 1994.
4 Paul Hagen, "Bear down, contenders: this could be stretch drive," Philadelphia Daily News, June 11, 1994.
5 Mike Burroughs, "Gwynn, teammates enjoying last laugh," Colorado Springs Gazette-Telegraph, June 28, 1994.
6 "Players say cap proposal likely will put lid on season," St. Petersburg Times, June 16, 1994.
7 Six if you count the All-Star Game, in which he went 2-for-5 and scored the winning run in the bottom of the 10th.
8 Jennifer Frey, "There's No Easy Out With Gwynn at Work," New York Times, July 3, 1994.
9 Rod Beaton, "Gwynn punches away at hitting .400 for year," USA Today, July 12, 1994.
10 Shortly before his passing, Gwynn collaborated with San Diego brewery AleSmith on .394 Pale Ale to commemorate his 1994 season. It has become one of the more popular local beers and serves as an ongoing reminder of Gwynn's brush with .400, as does the Tony Gwynn museum now housed within AleSmith's headquarters.
11 To be fair, Carew sustained his efforts longer than Brett or Gwynn did. Carew came to the plate 694 times in 1977, versus 515 times for Brett in 1980 and 475 for Gwynn in 1994.
12 "Gwynning spirit: In the batter's box, Padre knows best," Vancouver Province, August 4, 1994.
13 Vancouver Province.
14 For what it's worth, Gwynn played in 45 of the Padres' 47 victories in 1994. In those games, he batted .511 (90-for-176). One is tempted to quip that if Gwynn wanted to hit .400, the Padres should have simply won more often.
15 For example, one might note that Gwynn had batted .434 (53-for-122) over the final two months of 1993. Gwynn also once batted .402 (251-for-624) over a 162-game stretch from July 27, 1993, to May 13, 1995. See "The year that Tony Gwynn hit .400," High Heat Stats, June 4, 2012. http://www.highheatstats.com/2012/06/the-year-that-tony-gwynn-hit-400/.
https://sabr.org/wp-content/uploads/2020/03/research-collection4_350x300.jpg
300
350
admin
/wp-content/uploads/2020/02/sabr_logo.png
admin
2019-08-01 14:05:29
2021-04-09 20:09:15
The Silver Anniversary of Tony Gwynn's Quest for .400