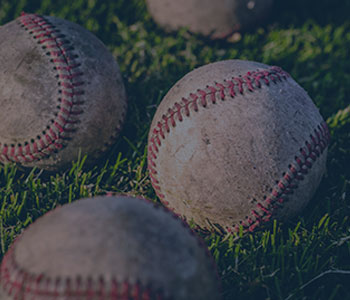 Toledo Toppled by Buzz Saw in 1934
This article was written by Robert Tholkes
This article was published in 1982 Baseball Research Journal
---
For the members of the Toledo Mud Hens, as for most Americans, 1934 was a year to forget. America was beset by flood, drought, and tornado in that Depression year; but for the American Association Mud Hens, disaster took the form of 6'3″, 225-pound slugger Russell (Buzz) Arlett.
When Buzz Arlett was obtained by Minneapolis on May 22, 1934, the 35-year-old switch-hitting outfielder brought with him a long and richly deserved reputation as a slugger, earned almost entirely in the minor leagues. A long-time star with the Oakland Oaks of the Pacific Coast League, Arlett had finally been purchased by the Phillies in 1931 and given, at age 32, his first crack at major league pitching. Despite a .3 13 batting average, 18 home runs, and 72 RBIs, he did not return. Injuries led to a late-season batting slump, and his age and lack of fielding skills (10 errors and a .955 FA) were also against him.
After two years of battering International League pitching for Baltimore, the beginning of the 1934 season found him with Birmingham of the Southern Association, from whom the Millers obtained him for pitcher George Murray, outfielder Dave Barbee, and cash. Arlett was to complement resident slugger Joe Hauser (69 homers in 1933) in battering — and clearing — the fences of cozy Nicollet Park, where the right field wall, at 279 feet from home plate, fairly loomed over the shoulders of the unfortunate moundsmen who labored there. Arlett's acquisition was timely because Hauser missed a big segment of the 1934 season with a broken kneecap.
Arlett found American Association pitching (and Nicollet Park) to his liking, producing a league-leading 41 home runs with 132 RBIs and a .321 batting average. He also had 293 total bases for a slugging percentage of .593. The contribution of Toledo pitchers to these totals is summarized in the following table.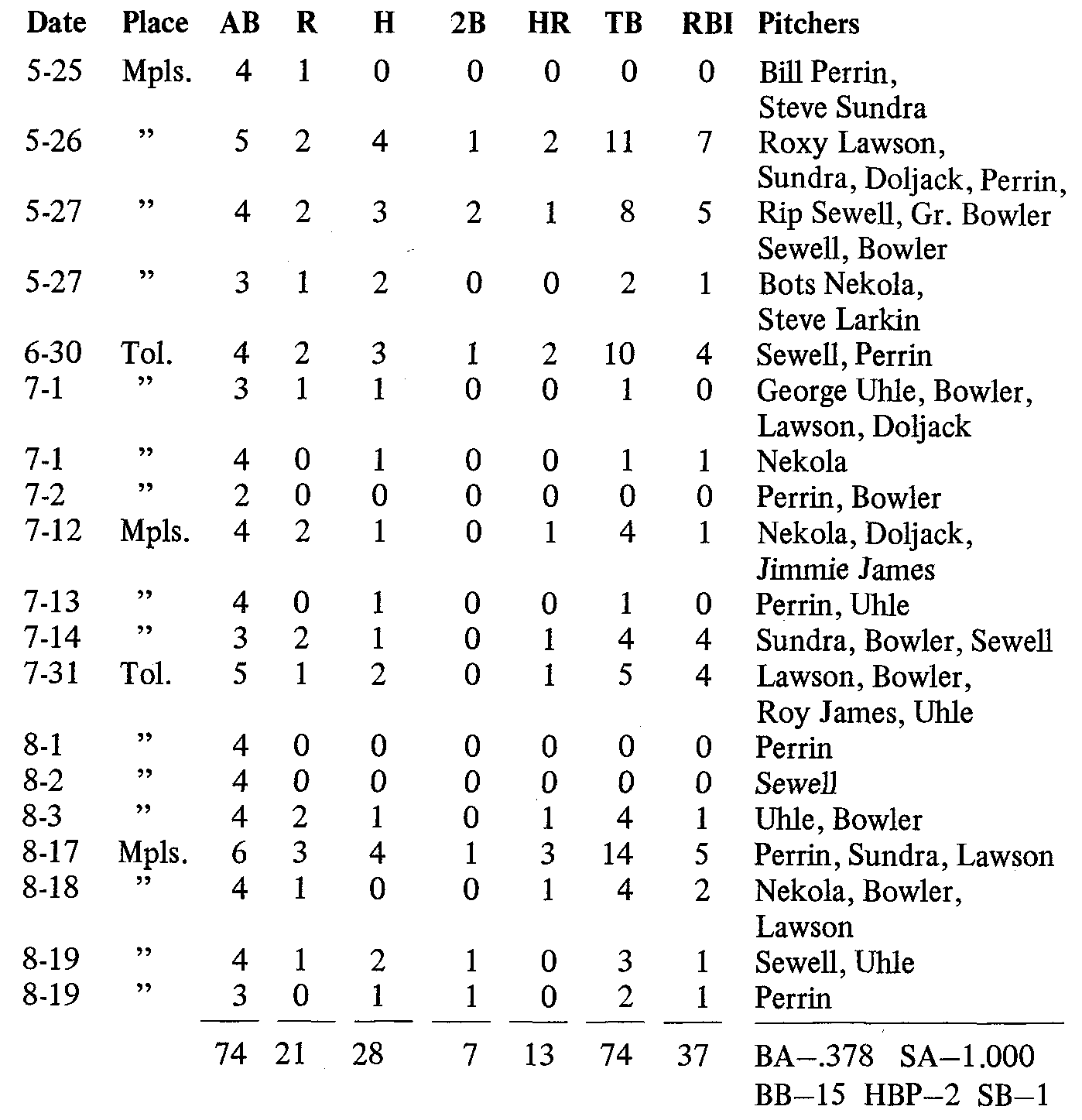 (Click image to enlarge)
In sum, Arlett accumulated 32% of his homers, 28% of his RBIs, and 20% of his hits and runs scored against this one team in the eight-team Association. He exceeded his overall batting average by 57 points and his slugging average by 407 points. He hit no triples but had 74 total bases in 74 at bats.
Some individual highlights:
Friday, May 25. Arlett's second game as a Miller and first against the Hens gave no indication of what was to come. Buzz tapped twice to the pitcher and reached base twice on infield errors in a 14-7 Minneapolis win. The Minneapolis Tribune commented acidly that "the erstwhile dynamiter of the International League and Southern Association was the only member of the Minneapolis team to fail to collect a hit."
Saturday, May 26. On his first big day as a Miller and against the Mud Hens, Arlett hit two homers and knocked in seven runs, including the winner, in a 9-8, 11-inning game. Said the Tribune: "an amazing one-man show."
Sunday, May 27. Arlett was 5-for-7 in the doubleheader, including two more homers, and knocked in the winner in the first game. The Millers won both, 11-10 and 11-0. Buzz, whose fielding, the Tribune noted, was supposed to have kept him out of the major Leagues, also contributed "the greatest catch in the history of Nicollet Park" — a bare-handed stab of a liner to deep right.
Sunday, June 30. Arlett's first look at Swayne Field, Toledo, produced two more homers and four RBIs. The Millers, near the end of a poor road trip, lost anyway, 12-9.
Tuesday, July 2. Bill Perrin and Grant Bowler walked Arlett three times in five trips as the Hens won again, 10-6. Toledo was learning.
Saturday, July 14. Arlett's grand slam broke open a close contest in the seventh inning; Minneapolis went on to an 11-1 triumph.
Tuesday, July 31. Joe Hauser fractured his left kneecap July 29, sidelining that great slugger for the season and leaving Arlett the team's primary long-ball threat. Buzz responded with a homer and four RBIs as the Millers coasted, 14-6.
Friday, August 3. After blankings by Perrin and Rip Sewell in the two preceding games, Arlett's homer was the game-winning hit in an 8-2 Miller win.
Friday, August 17. Arlett, who had two four-homer games to his credit for Baltimore in 1932, socked three and ran up 14 total bases as the Millers won 15-10. Under the heading "Large Day For Big Buzz," the Tribune, long since won over, credited Arlett with promoting domestic tranquility in the city of Minneapolis that evening: "Arlett sent a ladies day crowd of 5000 homeward after the game unmindful of the heat (the temperature was in the 90's) and determined to give Friend Husband a tempting dinner in celebration of the occasion." His outburst was also well-timed on the field. Minneapolis had slipped into second place after leading the American Association race most of the season. The triumph sparked a winning streak which propelled the Millers into the lead once more.
While Toledo was a sixth-place ball club in 1934 (68-84, the pitchers Arlett clobbered so consistently featured some outstanding arms. George Uhle had only recently been demoted to the minors after a 15-year major league career, and would earn a return trip in 1936. Rip Sewell, later of eephus-bal1 fame, Roxy Lawson, and Steve Sundra all went on to major league careers. Bill Perrin and Steve Larkin both pitched briefly in the majors during that same 1934 season, and Grant Bowler and Bots Nekola had both spent parts of two previous seasons with major league clubs.
The Millers, meanwhile, finished first with a large assist from Arlett. However, they lost the 1934 playoff to Columbus, four games to three; Arlett was 6-for-24 in that series with two homers.
He followed up his 1934 triumphs with 25 homers, 101 RBIs, and a .360 average in 1935 for the Millers. Reduced to a part-time role by injuries and age in 1936, his production dropped to 15 HRs, 52 RBIs, and .3 17. He had four at bats for Syracuse in 1937 and his career was finished. He returned to Minneapolis where he resided until his death in 1964. Though Arlett's performances against Toledo returned to humbler planes in 1935-36, his departure to the sidelines was undoubtedly greeted with a profound sigh of relief by Mud Hen followers who recalled the carnage of 1934.
https://sabr.org/wp-content/uploads/2020/03/research-collection4_350x300.jpg
300
350
admin
/wp-content/uploads/2020/02/sabr_logo.png
admin
1982-02-25 15:04:47
2020-11-30 15:28:13
Toledo Toppled by Buzz Saw in 1934