2013 SABR Analytics Conference highlights: Brian Kenny
Brian Kenny, host of MLB Network's "Clubhouse Confidential," felt right at home speaking to what he called the critical thinkers of baseball at the SABR Analytics Conference on Thursday, March 7, 2013 at the ASU Cronkite School in Phoenix, Arizona. Kenny addressed how his show has evolved, where he sees it going, and the questions that he continues to ask himself while analyzing the game.
---
Video: Click here to watch Brian Kenny's speech at the 2013 SABR Analytics Conference (YouTube)
Audio: Click here to listen to Brian Kenny's speech at the 2013 SABR Analytics Conference (51:14; 46.8 MB)
---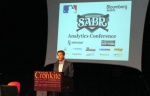 Here are some highlights:
ON THE EFFECT OF BASEBALL ANALYTICS ON HIS EDUCATION
"I just want to thank a lot of the people in this room, so many of you that are here already had such a profound effect on my thinking, and not just my thinking about baseball, by my critical thinking. And thinking critically didn't really come from anywhere in my education as much as it did from baseball writing, and sabermetric baseball writing."
ON HERD MENTALITY STIFLING INNOVATION
"We know there are repercussions from straying from the herd. … You might remember Dave Duncan, Tony La Russa starting a rotation with each pitcher only going three innings at a pop, they eventually scrapped that. … It's the only industry I can think of where being called a genius is embarrassing. Tony La Russa has fought the genius label for 25 years."
ON THE FUTURE OF THE GAME
"Here's my prediction in baseball. There will be a day, there will be a rule on the books limiting pitching changes. Because somebody is going to start exploiting that, and it's going to have to be stopped. I believe the all-out pitching attack will be too much, and people will have to stop it. It's too effective. There's no rule now on that, so why don't teams do it?"
ON THE MVP DEBATE
"In the MVP debate, what I tried to tell all of our ex-players, if I tried to crystalize the thought, there is a different way we value the game as we watch it unfold in real time, all these small things. A difference between the way we value things when we watch the game in real time, and then when the game is over and we've collected the data. … In the end, as the years progress, and here's the Bill [James] quote, the numbers speak louder."
ON QUESTIONS HE HASN'T ANSWERED YET
"In the last two years I've found just what a gap there is in defense. Finding the right blend, taking the time to try to find it. … I found conflicting metrics all over the place at shortstop, and that's a problem. So that's the great unknown. Obviously a greater unknown is at catcher. What is really quantifiable in pitch framing, and even beyond? And we just got to pitch framing."
For more coverage of the SABR Analytics Conference, visit SABR.org/analytics.
---
Originally published: March 7, 2013. Last Updated: July 27, 2020.
https://sabr.org/wp-content/uploads/2020/03/research-collection4_350x300.jpg
300
350
jpomrenke
/wp-content/uploads/2020/02/sabr_logo.png
jpomrenke
2013-03-07 16:20:15
2020-07-27 15:56:57
2013 SABR Analytics Conference highlights: Brian Kenny