2013 SABR Analytics General Managers Panel
Brian Kenny of MLB Network moderated the 2013 SABR Analytics General Managers Panel with Rick Hahn of the Chicago White Sox, Jed Hoyer of the Chicago Cubs and Jon Daniels of the Texas Rangers on Friday, March 8, 2013 at the SABR Analytics Conference.
The Chicago general managers both said they have about a half-dozen full-time staffers devoted to analytics, and Hoyer is currently hiring for a research position. Daniels said the Rangers don't dedicate a position solely to analytics, but spread the responsibilities among several departments.
---
Video: Watch the 2013 SABR Analytics General Managers Panel (YouTube)
Audio: Listen to the 2013 SABR Analytics General Managers Panel (1:06:42; 60.9 MB)
---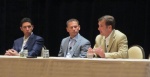 Here are some highlights:
ON TRANSLATING ANALYTICS INTO USEFUL INFORMATION
Hahn: "I don't want to get a report on my desk from someone in a back room saying, 'Here's what the numbers say.' We want the numbers to be part of the entire conversation with our scouts, with our coaching staff, and all the decision makers in the room. One of the challenges is being able to translate what the number says into a way that's accessible to everyone in the room."
ON THE ROLE OF SCOUTS
Hoyer: "The scouts they know that I have an analytical bent, and that my bosses have that. The worst thing you can do is change their mindset. You're hiring them for their eyes and their instincts, and you want them to go out and scout. You want to take their report and combine it with the numbers. And if the numbers are influencing their report, or they're saying something they think you want to hear, then the report is tainted. So we really try to keep those things separate."
ON BASEBALL WEBSITES YOU CHECK DAILY
Hahn: "There's actually a very fine White Sox fan blog called South Side Sox that I see every day and I like. Maybe not additional information, because obviously their information is incomplete, but I like to see how they approach our decisions and analyze where we're going and not just how it's playing, so to speak, but what is an outsider's point of view from someone who clearly wants what's best for the organization. There is a real role for fan blogs, for lack of a better description."
ON SIGNING PITCHER YU DARVISH
Daniels: "It's so hard to base a $100 million decision on one number, no matter how much research and work you do into it. The bigger the decision, the bigger the resource and assets you have to put behind the decision, whether it's a trade or free agency dollars, the more information you need. … For a $100 million investment we've got to go before ownership and it's got to be a lot more than 'Here's his Major League equivalency.' So we did do some of that work, but we also had 12 different guys see him, we saw 40 of his starts, we watched his starts on video."
ON WINNING AND LOSING
Hoyer: "The drive home after you lose is awful. You're competitive. … In this game if you win six out of 10 night's you're a fantastic team. … The wins feel good, but the losses are so much worse. Part of that is the nature of baseball. We're trained to never get very high about a win or never get very excited about a winning streak, because we know the minute you feel good about yourself, the losing streak is right behind it."
For more coverage of the SABR Analytics Conference, visit SABR.org/analytics.
---
Originally published: January 10, 2013. Last Updated: July 27, 2020.
https://sabr.org/wp-content/uploads/2020/03/research-collection4_350x300.jpg
300
350
jpomrenke
/wp-content/uploads/2020/02/sabr_logo.png
jpomrenke
2013-01-10 12:43:03
2020-07-27 15:56:58
2013 SABR Analytics General Managers Panel