2013 SABR Analytics highlights: Joe Posnanski
Joe Posnanski is driven by the power of narrative. He spoke at the 2013 SABR Analytics Conference on Thursday, March 7, 2013, in Phoenix, Arizona, on how he tries to combine stats and stories as a writer and how he's less certain of what he knows about sports than ever before.
Posnanski was recently named National Columnist at NBC Sports. He was formerly a Senior Writer for Sports on Earth, a joint venture between The USA Today Sports Group and Major League Baseball Advanced Media, and a Senior Writer at Sports Illustrated. From 1996 to 2009, he was sports columnist for The Kansas City Star, where he was named best sports columnist in America twice by the Associated Press Sports Editors. He has been nominated for 21 APSE awards and has written two books on baseball, The Machine: The Story of the 1975 Cincinnati Reds and The Soul of Baseball: A Road Trip Through Buck O'Neil's America.
---
Video: Watch Joe Posnanski's speech from the 2013 SABR Analytics Conference (YouTube)
Audio: Click here to listen to Joe Posnanski's speech "The Romance Of WAR (and FIP and DIPS and Runs Saved)" at SABR Analytics (48:33; 44.5 MB)
---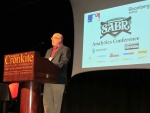 Here are some more highlights:
ON NARRATIVE'S ROLE IN BASEBALL
"The numbers are going to get better, defensive numbers are going to get better, everything is going to get better. But it's still going to come down, I think, [to narrative] … and I think you don't want to lose this. Baseball is fun, it's a great game and it's a game of stories. We were actually talking a few minutes ago about Bill James … he changed the landscape for so much of this, and he did it by telling stories. He came up with some great concepts and numbers and so on, but he did it as a writer and as a storyteller."
ON DEMONIZING STATS AND SCOUTS
"I don't like that divide at all. First of all, I don't think it exists at the level people think it does and I don't think it should exist at all. If you're running a baseball team, certainly, you want someone there at the game watching. There's so many things scouts can see and use, and that should absolutely be a part of it. And analytics should absolutely be a part of it, too. … If you're going to be a good organization, you're going to embrace it all. And if you're going to be a good writer, you're going to marry it all in the same way."
ON THE POWER OF CERTAINTY
"Look, I think certainty in all realms is bad. I don't think you should be that certain of anything. … To me, it's embracing some of that uncertainty … you're not necessarily writing truth, that this is the only way the game should be played, that this is the only way you can win at baseball. You can win at any sport many, many, many different ways. There's so many elements that come together. I think we need to embrace that."
ON USING STATS IN OTHER SPORTS
"Baseball statistics have been a much bigger part of the game [than in any other sport.] There are a lot of basketball statistics that are commonplace now, blocked shots, steals, that don't go back very far at all. Basketball and football in general, there's just a gap. People don't think they have it figured out like they do in baseball. Baseball is just more measurable. … I love writing about football, but I literally don't know what I'm talking about. A guy scores a touchdown and I don't know how he did it! … It might be that the left tackle got a great block or that the middle linebacker was out of place or the quarterback went on a quick count. And the coach doesn't know, he says, 'Oh, I don't know, I gotta look at the film.' "
For more coverage of the 2013 SABR Analytics Conference, visit SABR.org/analytics.
---
Originally published: March 18, 2013. Last Updated: July 27, 2020.
https://sabr.org/wp-content/uploads/2020/03/research-collection4_350x300.jpg
300
350
jpomrenke
/wp-content/uploads/2020/02/sabr_logo.png
jpomrenke
2013-03-18 11:55:29
2020-07-27 15:56:56
2013 SABR Analytics highlights: Joe Posnanski