2013 SABR Analytics Player Agent Panel
The 2013 SABR Analytics Player Agent Panel discussed how the growth in data and information has impacted the role of the agent in baseball, implications of the new Collective Bargaining Agreement and how the landscape has changed for agents over the past few decades. The panel included Gregg Clifton of Jackson Lewis, LLP; Casey Close of Excel Sports Management; and Rex Gary of Turner-Gary Sports. It was moderated by Dan Migala of Property Consulting Group.
---
Video: Watch the 2013 SABR Analytics Player Agent Panel (YouTube)
Audio: Click here to listen to 2013 SABR Analytics Player Agent Panel (58:07; 53.1 MB)
---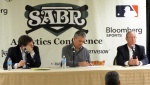 Here are some highlights:
ON WHAT INFORMATION AGENTS USED 20 YEARS AGO
Gary: "Obviously, it's our job to know everything there is to know about our clients. But what has changed is the wealth of information. Back then, you would go to an arbitration case and you would have The Baseball Register, which is a great publication but it had their traditional stats: at-bats, runs, hits, home runs, RBIs, whatever. Now in an arbitration setting, arbitrators are given The Bill James Handbook, which has a lot more …"
ON USING ANALYTICS IN ARBITRATION CASES
Clifton: "The rules of arbitration haven't changed. You still have the same limited time period within which to present your evidence and your case about your client. One of the biggest challenges teams and players have in this era … is being able to use the funnel approach: You have to figure out what is going to be the best information to win your case in a one-hour presentation. … We can't assume, as people who are presenting the cases, that all the arbitrators are going to understand all these advanced analytics. We also don't have the 10 minutes to explain the analytic and explain why it's important and why it's relevant to our case, because now we've just lost 10 of our 60 minutes."
Close: "I was going back to 1999 and when Derek Jeter was first-time eligible with the Yankees … and I was frankly quite embarrassed to look at what we had done at that particular time. The basic, rudimentary stats we looked at … he had a great case to sell, but where it's gone in the 14 years since then, is amazing. … There's so much information you can throw into the hopper, but what are your most effective arguments, what are your most persuasive arguments?"
Gary: "Every bit of information that you present in that hour needs to meet something. And you have to determine, as you're going through this increasing statistic available: Does this statistic advance your case? And if it doesn't, you do not want to present it. … All I know is, if I have to start talking about coefficients, I'm done."
ON EXPLAINING ANALYTICS TO PLAYERS
Clifton: "You have to be mindful that there's a lot of money at stake. And I think sometimes players and teams lose sight of that — it's all about the fight or the presentation. So I always try to take time out and explain to the player where we're at and what this means. I had the good fortune of representing David Wells for a long time, and early in his career, I remember having this discussion about getting to 2-1 ($2.1 million.) "I want to get to 2-1," which back in the early 1990s was a lot of money. And I said, "Did you really ever analyze what 2-1 is? What does this mean to you?" … We started talking about his friends he grew up with, and I asked if he knew anyone making $100,000. He said, "I don't think I know anyone making $100,000. A lot of hard-working people, but I don't know anybody" I said, "Well, $2.1 million is 21 people making $100,000." It helped him understand the perspective of what we were talking about."
For more coverage of the 2013 SABR Analytics Conference, visit SABR.org/analytics.
---
Originally published: February 7, 2013. Last Updated: July 27, 2020.
https://h2j7w4j4.stackpathcdn.com/wp-content/uploads/2020/03/research-collection4_350x300.jpg
300
350
jpomrenke
/wp-content/uploads/2020/02/sabr_logo.png
jpomrenke
2013-02-07 14:59:30
2020-07-27 15:56:58
2013 SABR Analytics Player Agent Panel