2013 SABR Analytics Player Development Panel
When fans watch baseball games, they're seeing only the finished product of what is often years of player development within the organizations. Baseball Nation's Rob Neyer moderated the Player Development Panel at the SABR Analytics Conference on Saturday, March 9, 2013, in which he tried to uncover the secret recipes of three organizations. Panelists included Tyrone Brooks, Pittsburgh Pirates' Director of Player Personnel; Derek Falvey, Cleveland Indians' Director of Baseball Operations; and Yeshayah Goldfarb, San Francisco Giants' Director of Minor League Operations and Quantitative Analysis.
---
Video: Watch the 2013 SABR Analytics Player Development Panel (YouTube)
Audio: Click here to listen to the 2013 SABR Analytics Player Development Panel (1:04:22; 58.8 MB)
---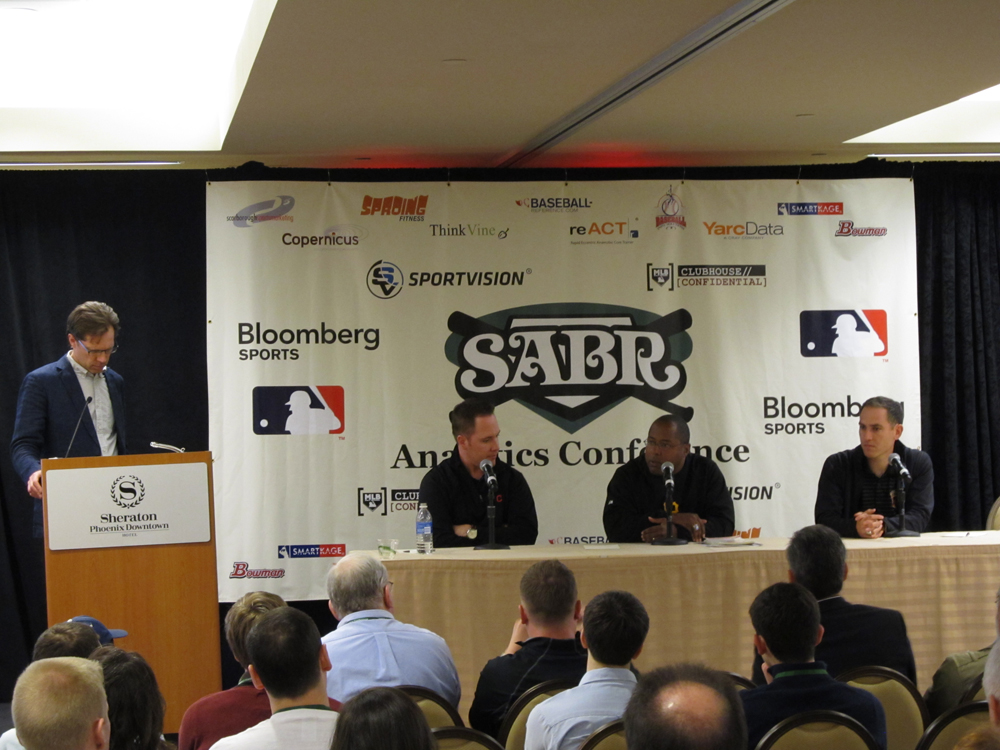 Here are some highlights:
ON PROGRAMS AVAILABLE FOR MINOR LEAGUE PLAYERS
Goldfarb: "We've got strength and training programs … and a lot of players will show their character through that. Nutrition parts of it (too.) We've got (programs on) the mental side of the game; we've built up that side of our development program. And also we encourage our staff to get to know the players not just as baseball players but off the field. We're one of the few teams that have an EAP [employee assistance program] director, so if there are issues off the field related to drugs or abuse, or something going on at home, there's someone there for them to talk to."
ON PROJECTING FOR HITTING POWER
Falvey: "Every scout in every organization, they assess raw power, they try to determine what kind of usable raw power does this player have or what do you think he will develop later as he grows and mature into his body. … The more data we have on the minor league side, the more we can explore maybe types of ways that power isn't showing up in the regular stats. We use some internal metrics, some proprietary metrics to determine whether or not a guy has plate discipline or some of the other pieces that are essential to becoming a good overall hitter, and good overall hitters eventually reach their power."
ON CHANGES TO THE COLLECTIVE BARGAINING AGREEMENT
Brooks: "The one good thing, especially, has been players have gone out and they've signed. The biggest thing is getting out, the chance to play, getting started, the chance to get to the major leagues earlier by getting going that first year. … That, to me, has just meant a lot to us. In many cases before [with the old CBA], we weren't able to sign guys until relatively late with the previous signing deadline, so that year was essentially lost."
ON NUTRITIONAL EDUCATION OF MINOR LEAGUE PLAYERS
Falvey: "We feel strongly we've committed resources in that area, to help our players get the right nutrition while they're under our supervision. But I think the important point is the education point. When players go away from your organization, you don't have control of that. Whether it's during the offseason or on road trips and guys get out and they eat different types of food, that's where I think there may be some setbacks in their diet. And I think the other part in a clubhouse setting you have kids from different backgrounds, so you have players from Latin America and players from different places in the United States. Sometimes the food tastes are different. So you're trying to manage, with limited resources, you're trying to manage some of what players are willing to eat and would like to eat, so sometimes that plays a role."
ON THE IMPORTANCE OF CONTINUAL IMPROVEMENT
Goldfarb: "It's important for players to know who they are, but be willing to make the adjustments. Adjustments are a huge part of the development. To be open to them, it's called being coachable. They're surrounded by people who have taught this game for years and years, and know certain characteristics about players that really won't play at the next level. … The players who realize that sooner are a lot more effective."
ON BREAKING INTO THE BASEBALL INDUSTRY
Brooks: "If you're trying to get into the industry make sure you have a passion for this game, and have a love for it. Once you get fully ingrained in it, where you're actually working and you're dealing with everything, and sometimes this job becomes like a 24/7 type of job. … And after that really understand your skill set and know how you can bring value to a franchise. If you have a case where you understand what you can do and how your skill set can be applied, we're always looking for intelligent people who have great ideas."
For more coverage of the SABR Analytics Conference, visit SABR.org/analytics.
---
Originally published: February 7, 2013. Last Updated: July 27, 2020.
https://sabr.org/wp-content/uploads/2013/02/Player-Development-Panel1-SABR-Analytics-20130309.jpg
750
1000
jpomrenke
/wp-content/uploads/2020/02/sabr_logo.png
jpomrenke
2013-02-07 12:53:12
2020-07-27 15:56:58
2013 SABR Analytics Player Development Panel