2014 SABR Analytics: Analytics From the Players' View
In Analytics From the Players' View at the 2014 SABR Analytics Conference, major league players Brandon McCarthy — who returned for his third appearance at the event — and Brian Bannister discussed how players use analytics to help their performance on and off the field. Moderated by ESPN announcer Jon "Boog" Sciambi, the panel was held on Thursday, March 13, 2014, in Phoenix, Arizona.
---
---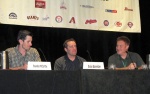 Here are some highlights:
ON HOW YOU GOT INTO SABERMETRICS
McCarthy: "I got interested almost out of necessity. I had started to push myself into becoming more and more of a fringe big-leaguer where the line between surviving and being forced out is increasingly thin. That, combined with the fact that I was hurt all the time, it makes you easier to get rid of. … It started with the "Fire Joe Morgan" blog. That made me laugh enough, so I started looking deeper into what they were actually talking about, and I just fell into the wormhole from there."
Bannister: "My career was a battle the whole time. For me, just for moral and ethical reasons I wasn't going to take steroids, I wasn't going to go down that path, which some kids were unfortunately choosing to do because it was in the game at the time. Analytics for me kind of happened by accident. PITCHf/x wasn't out, all this other stuff, Moneyball hadn't really happened. I started tweaking my pitches. It was the start of all this, and like you said, once you take the blue pill or the red pill and you're in the Matrix, you're stuck in it."
ON THE NEXT SET OF DATA AVAILABLE TO PLAYERS
McCarthy: "All the stuff that was released recently (by MLB Advanced Media) with the efficiency ratings, I thought that was fascinating. I think being able to look at the game defensively will change a lot of stuff."
ON USING DATA ANALYSIS WITH TEAMMATES
Bannister: "Zack [Greinke]'s Cy Young year — it would be really fun if we could have documented it in real time — but that was probably one of the greatest sabermetric years, from a player perspective, of all time. We had all this information, we were in between innings running in and checking the PITCHf/x data. … It was really fun, we were literally tweaking pitches to get the optimum break, and it was one of the greatest years I've ever witnessed personally, and we had a lot of fun that year using all this data and really going out there and trying to beat the game."
ON USING PITCHf/x DATA MORE IN THE FUTURE
McCarthy: "I think Pittsburgh last year was the only stadium I saw that actually had PITCHf/x data coming up live on the scoreboard next to the velocity, and it blew everyone's mind in the dugout. 'What the hell is this? Minus, plus, all this.' You're trying to explain it, but it's really interesting to see that stuff happen real quick. … I think guys will slowly grab it and understand the concepts, but that will still be a slow-moving thing until you can get more people who can teach that to them."
ON CLOSER USAGE AND EFFICIENCY
McCarthy: "I've actually had this discussion more in a baseball clubhouse, on plane flights, than I have any other thing that follows sabermetric principles, and that's the misusage of your relief ace. I've never understood it, it makes no sense to me. You don't save your number one starter for Game 7 of the World Series if you can win it in Game 6. It just doesn't make any sense."
ON CHANGES IN THE STRIKE ZONE
Bannister: "For me I struck out guys in the minor leagues because the umpires would expand the zone for me. So when I got to the big leagues it was a shock, and I remember talking to Tom Glavine about this. QuesTec kind of revolutionized the game as far as the umpires being held accountable for the pitches they called. And then that transitioned into PITCHf/x. Tom told me in 2006, 'I can't pitch the way I used to pitch.' … You can't throw a pitch one or two pitches off the plate and earn it the way that you used to."
For more coverage of the 2014 SABR Analytics Conference, visit SABR.org/analytics.
---
Originally published: March 15, 2014. Last Updated: July 27, 2020.
https://h2j7w4j4.stackpathcdn.com/wp-content/uploads/2020/03/research-collection4_350x300.jpg
300
350
jpomrenke
/wp-content/uploads/2020/02/sabr_logo.png
jpomrenke
2014-03-15 09:00:21
2020-07-27 15:55:48
2014 SABR Analytics: Analytics From the Players' View