2014 SABR Analytics: Clubhouse Confidential Panel
In the Clubhouse Confidential Panel at the 2014 SABR Analytics Conference, SABR President Vince Gennaro, Baseball Prospectus Editor-in-Chief Ben Lindbergh, FanGraphs' Managing Editor Dave Cameron and FoxSports.com Senior Baseball Editor Rob Neyer discussed a wide range of topics related to the state of baseball today.
Our panelists appear regularly on MLB Network's signature sabermetrics program, "Clubhouse Confidential" (airing at 5:30 p.m. and 7:30 p.m. daily).
---
---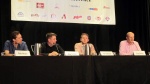 Here are some highlights:
ON THE TREND OF LONG-TERM EXTENSIONS TO YOUNG PLAYERS
Lindbergh: "I wondered why they (Braves) hadn't done it sooner. They're one of the teams that are locked into one of the worst TV contracts. The idea that they have to win in a small market is like the A's or the Indians or the Rays. … The Braves have one of the youngest teams and one of the most productive teams … it seemed like a perfect situation for them to lock up their young talent. I talked recently to John Hart, who pioneered the concept of these extensions (when he was the Indians' GM in the 1990s) … he pointed out that once you get one deal done, you can sell the other guys on a deal, too. You're going to have a competitive team when you get that stability."
Cameron: "It will be fascinating to see how the players association will respond to this trend. We have big league teams who spend about $3.5 billion a year … and we see some mediocre, overpriced players get huge contracts and fantastic, talented young players get relatively peanuts."
Neyer: "Before the money became so huge, young players wanted to wait and then get the big payday. There will always be some guys who say, 'I want to make the most money I can possibly make.' But I think there are more guys who will say, 'Yeah, that's enough money.' Pedroia said, 'I don't need Robinson Cano money.' That's enough. Glen Perkins said it today. That's enough. I think that's a change in the culture and we'll continue to see that."
Cameron: "But when is the players association going to begin to intervene and say, 'We have a responsibility to all the players coming up'? They let their teams continue to grow their revenue without getting the players getting their share. This isn't about you getting the most money possible. It's about you setting the market for the players coming after you."
ON MEASURING CATCHER DEFENSE
Lindbergh: "Historically, people have tended to judge catchers on their arms, on throwing out baserunners. But we're finding out more and more that the pitchers have a lot to do with stolen bases. But there are other factors like blocking or framing, and that's turning out to be so important in measuring how catchers have an impact on defense."
ON THE MARINERS' SIGNING OF ROBINSON CANO AND THE IMPACT OF TV MONEY
Gennaro: "I think there is an element of credibility, but I don't think it justifies the $240 million contract. The next generation of TV contracts … sends a new signal to the fan base. Maybe I'm underestimating that factor, but I don't think it justifies the type of risk associated with the Cano deal. Maybe this is just an inflection point in the history of the franchise, but I think it's really disproportionate."
Neyer: "So much of the money that comes in is local TV money, and it's almost accidental how much you get. I don't see a model. But it affects their payroll for the next 20 years. … The way the money comes in is so drastically different from what it's been before, that I think it has to be addressed in coming years."
ON THE NEW INTERNATIONAL FREE AGENT SYSTEM
Gennaro: "I'm not a huge fan of the system because I think it closes the small-market teams out of the elite international market, and they're already closed out of the elite domestic market. I'd rather see a system where by paying a certain fee, teams get entered into a lottery where five teams are picked and those teams have exclusive negotiating rights to acquire a player on the level of a (Masahiro) Tanaka."
Cameron: "I can't wait. It's going to be hilarious. Go Yankees! Spend all the money!"
ON THE NEW MLB ADVANCED MEDIA TRACKING SYSTEM
Gennaro: "To me, there's nothing that happens on a baseball field that's more interesting and more exciting than great defense. That's just my personal bias. But I think the (new MLBAM system) is going to be great for the game because it's going to put more attention on all the great defense that's being played."
For more coverage of the 2014 SABR Analytics Conference, visit SABR.org/analytics.
---
Originally published: March 14, 2014. Last Updated: July 27, 2020.
https://h2j7w4j4.stackpathcdn.com/wp-content/uploads/2020/03/research-collection4_350x300.jpg
300
350
jpomrenke
/wp-content/uploads/2020/02/sabr_logo.png
jpomrenke
2014-03-14 17:20:54
2020-07-27 15:55:48
2014 SABR Analytics: Clubhouse Confidential Panel