2014 SABR Analytics: How Fans Consume Baseball in the Digital Age
An innovative panel on How Fans Consume Baseball in the Digital Age was held on Saturday, March 15 at the 2014 SABR Analytics Conference in Phoenix, Arizona. Moderated by SABR President Vince Gennaro, the panel of young fans discussed how they got into and follow baseball, their ideal fan experience at the ballpark, and the effect of social media on their fandom.
Panelists included Hunter Gilbertson of NYU; Jake Sotir of Elon University; Lewie Pollis of Brown University; and Olivia Wyatt of Tufts University.
---
---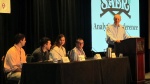 Here are some highlights:
ON DEVELOPING AN ATTACHMENT TO BASEBALL
Gilbertson: "My grandfather grew up as a White Sox fan, and my father grew up as both a Cubs and a White Sox fan. I actually have a picture of me on one of those custom Sports Illustrated covers in a full White Sox uniform, and I was like, 'No, that's not happening.' As hard as they tried, like I said, Sammy [Sosa]'s power was more convincing."
Wyatt: "Once I reached high school it was get up every morning at 5:30, get home every night at 9 p.m. [Life] was always really hectic, and with baseball there is no clock, there is no rush, you can just take time and enjoy what you're doing, who you're watching."
Sotir: "Baseball is unique in a sense also that during the summer, when hardly anything else is going on, there's always baseball every single day. Growing up, we weren't in school in the summer. So you wake up, watch baseball highlights, go to baseball practice, come home from baseball practice and watch more baseball, watch more baseball, watch more baseball. Whereas, during other points in the year, the focus can be shifted elsewhere. But during the summer it's just baseball, which is beautiful."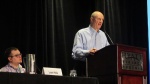 ON GAINING AN APPRECIATION OF STATISTICAL ANALYSIS
Pollis: "A story my mom tells everyone she meets is when I was in tee-ball, when I was 4 or 5, my teammates would come in from the field after an at-bat and they'd say, 'What's my RBI now, Lewie?' … It was that combination of having the numbers there that really told the story of the game, and then having such a great game to watch."
ON HOW YOUR FRIENDS RELATE TO BASEBALL
Sotir: "For a sport that has been viewed so long as America's Pastime, it's almost become a niche interst among our generation. … With my group of friends, if we're just watching a game, and there's no invested interest with fantasy baseball, if I turn on a game it's like, 'Where did everybody go?' But if there's fantasy involved, people are much more willing to sit through an entire baseball game with me."
ON HOW YOU CONSUME BASEBALL GAMES AND INFORMATION
Gilbertson: "I have the MLB At Bat app and it sends me updates every single time the Cubs finish a game. I'm checking FanGraphs, I'm checking ESPN, I'm checking Baseball Prospectus every single day. I also have the MLB.TV package so I'm watching on my phone, or my iPad or my laptop or my TV almost every single game. … It's basically baseball all the time, everywhere."
ON THE MESSAGES BEING SENT TO YOUNGER FANS
Pollis: "There's this narrative of how great the past was in baseball, and how current baseball doesn't measure up to that. … There's a very strong narrative of 'things used to be better.' I don't know if that's directly affecting the way younger fans see the game, but it certainly won't help bring new fans in if you're telling them so blatantly the game isn't as good as it used to be. Even if it's right, which I don't think it is, that's a harmful message to be sharing with people whom you are trying to engage."
ON FOLLOWING ACTIVE PLAYERS ON TWITTER
Wyatt: "I think it's really great when you're following players, because you can see a more humanized aspect of them. You can see what they're really going to say, not necessarily what you're going to get when they're in a proper interview. And just them talking with their friends, or you can talk to them, so it makes them seem more tangible than they used to be."
ON HOW MLB TEAMS COULD ENHANCE THE FAN EXPERIENCE
Gilbertson: "I'm a numbers person, so selfishly I would want more readily accessible information while you're at the game. I like looking into the matchups, I like looking into every single detail, shifts and stuff. … Finding a way to really optimize that and make it as accessible as possible while you're at the game. Not taking away from the game, so that people are staring at their phones the whole time, but just a nice way to make it kind of be a seamless compliment to what's going on on the field."
For more coverage of the 2014 SABR Analytics Conference, visit SABR.org/analytics.
---
Originally published: March 15, 2014. Last Updated: July 27, 2020.
https://sabr.org/wp-content/uploads/2020/03/research-collection4_350x300.jpg
300
350
jpomrenke
/wp-content/uploads/2020/02/sabr_logo.png
jpomrenke
2014-03-15 14:17:54
2020-07-27 15:55:48
2014 SABR Analytics: How Fans Consume Baseball in the Digital Age