2014 SABR Analytics: One-on-One with Milwaukee Brewers owner Mark Attanasio
At the third annual SABR Analytics Conference, Milwaukee Brewers owner Mark Attanasio held an exclusive one-on-one session with moderator Ken Rosenthal of MLB Network/FoxSports.com on Friday, March 14, 2014 at the Hyatt Regency Phoenix in Phoenix, Arizona.
Attanasio is entering his 10th season as the Chairman and Principal Owner of the Milwaukee Brewers. The Brewers have qualified for the postseason twice during his tenure, advancing to the National League Division Series in 2008 and the NL Championship Series in 2011. The Brewers won the NL Central Division championship in 2011, their first division crown since 1982.
---
---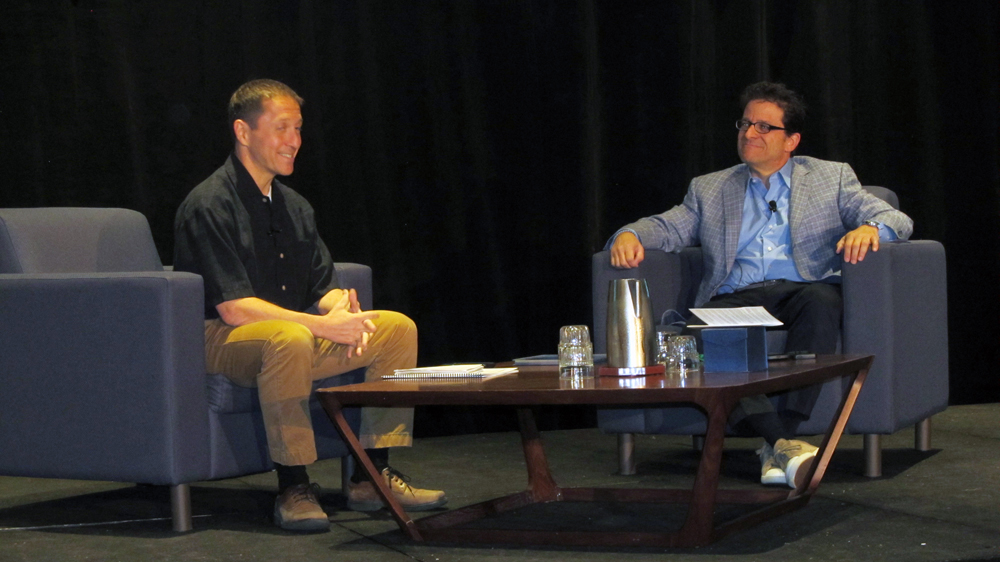 Here are some highlights:
ON THE BREWERS' SPRING TRAINING FACILITY IN ARIZONA
"We're at Maryvale, which the best thing about Maryvale is it's really quaint and it's really old school. … It's a throwback. But not in the way that Wrigley Field is a throwback. It needs some capital spending."
ON THE HIGHS AND LOWS OF BASEBALL
"There's nothing else that I know of, even working on Broadway, you have 162 games in 180 days, with that amount of travel. … The best thing and the worst thing is there's a game the next day. So if you're playing poorly, there's hope the next day, but also there's the grind of that. I had to draw on my experience in the financial markets. We would get a scorecard every day on the team, winning or losing, and on Wall Street the market's up, the market's down, your portfolio's up, your portfolio's down. If you look at any stock graph, what you need is the trend. Hopefully your trend is good in baseball."
ON BEING A SMALL-MARKET TEAM
"From our perspective, we want to be able to compete. I think the large-market teams need to have the benefit of their bargain. They run a business and they all spend a lot of money in terms of delivering a quality product to their fans, and there's a limit on how much they should be asked to give up. Those of us who receive the money need to be using it to put a competitive product on the field and not to put money in our pockets."
ON REVENUE SHARING WITH MERCHANDISE SALES
"I believe if you buy a T-shirt from a team on MLB.com that is not yours, everybody shares in 1/30th. … (So someone like) Masahiro Tanaka is good for baseball. Tanaka is good for the Yankees, and he's good for baseball."
ON RYAN BRAUN AND HIS SUSPENSION FOR PERFORMANCE-ENHANCING DRUGS
"I was just stunned that he had done that. Forget about that he had lied about it and had the press conference, I was just stunned that he had done it. … We had a private meeting for an hour, and I expressed how I felt. Once I did that, and he committed to me that he was going to do everything he could to win back my trust, the trust of the fans and the community. A baseball team is a public trust. So I ultimately needed to do the right thing here, but the right thing I felt was to give him the opportunity to win back everyone's trust. Also, the guy is a really good player. There was even an editorial in the local paper, 'well, run him out of town.' Well, MVPs don't come through Milwaukee that often, so you can't just run someone out of town. … America is founded on giving folks a second chance, but he needs to make the most of his second chance, and he knows that."
For more coverage of the 2014 SABR Analytics Conference, visit SABR.org/analytics.
---
Originally published: March 14, 2014. Last Updated: July 27, 2020.
https://h2j7w4j4.stackpathcdn.com/wp-content/uploads/2020/03/research-collection4_350x300.jpg
300
350
jpomrenke
/wp-content/uploads/2020/02/sabr_logo.png
jpomrenke
2014-03-14 14:38:46
2020-07-27 15:55:48
2014 SABR Analytics: One-on-One with Milwaukee Brewers owner Mark Attanasio