2014 SABR Analytics Panel: Decision Making in the Front Office
At the 2014 SABR Analytics Conference, major league executives engaged in a wide-ranging discussion, Decision Making in the Front Office, on how front offices are using analytics to develop a competitive edge and stay ahead of their competition. The panel was held on Friday, March 14, 2014, at the Hyatt Regency Phoenix in Phoenix, Arizona.
The panelists included: Jack Zduriencik, Executive Vice President and General Manager, Seattle Mariners; Bill Geivett, Senior Vice President/Assistant General Manager, Colorado Rockies; Bobby Evans, Vice President and Assistant General Manager, San Francisco Giants; and moderator Ken Rosenthal, MLB Network/FoxSports.com.
---
---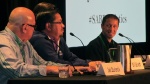 Here are some highlights:
ON THE SPEED AT WHICH TRADE TALKS ARE CONDUCTED
Geivett: "What I'm getting disturbed by, we had one trade where we were in talks and discussions, the only problem was, it was all by text. I had to pick up the phone and call, I said at this point we can not have the first trade completed all by text. … Everybody in today's game is very quick to act. … It was really a time-consuming process. Now everybody is ready to go. They know who they want from you, and they've done all the research."
ON THE ROCKIES' UNIQUE FRONT OFFICE STRUCTURE
Geivett: "I lead the league in offices. I have one upstairs, I have one downstairs, I have them all over the place. As an organization just in its entirety I think we are much more connected between the front office ownership and our major league manager and field staff, and I think that was the whole idea of putting me in a role like this."
ON THE ACQUISITION OF ROBINSON CANO
Zduriencik: "The third meeting they brought the whole Roc Nation group, Jay-Z came, Robinson Cano came. … It was Jay-Z's birthday the day before, so we had a birthday cake for him, we sang Happy Birthday. … I told him I was the original JZ. We tried to make it really light, and we did a really good presentation for them. They were really engaged. … Robinson had great questions, he's a very astute baseball guy. Direct: this is what I want to know, this is what I see. He knew our club inside-out."
ON PROJECTING FUTURE PERFORMANCE
Zduriencik: "You've got guys who surprise you and guys who break your heart. We're living it right now with some players who we made deals with, we were really excited about, and haven't been quite who we thought they were. … The bottom line to a lot of this, real simple, is the human element. You can do the analytics, which are phenomenal, and our scouts can see with their eyes. In so many cases it's what's in a guy's heart and soul that allows a guy to achieve what he should achieve."
ON MAKING TOUGH OFFSEASON ROSTER DECISIONS
Evans: "For us every year is a clean slate in a sense, whether there are guys under contract but there are also guys coming up that we're going to have to make decisions about. The toughest one this offseason could have been Tim Lincecum for us, just because of all that he's accomplished as a Giant. Two World Series, Two Cy Youngs, amazing job in the 2012 postseason in relief. What is the future for Tim Lincecum? Those kind of decisions can't all be based on emotion. … Decisions are very complex sometimes, but you try to take everything into account: the person, the performance, the potential, the age, the dollar value, how it stacks up against your alternatives. Ultimately we want to put a team out there that we think has the best chance to win, regardless of whether it's the same team from the year before."
Geivett: "There are four basic components of the construct of making a decision. Jack really hit on all four of them, whether it's contract or acquisition cost, whether it's medical information, whether it's your scouting reports, or whether it's statistical research. There's four ways to basically kill a player, as I like to say."
For more coverage of the 2014 SABR Analytics Conference, visit SABR.org/analytics.
---
Originally published: March 14, 2014. Last Updated: July 27, 2020.
https://h2j7w4j4.stackpathcdn.com/wp-content/uploads/2020/03/research-collection4_350x300.jpg
300
350
jpomrenke
/wp-content/uploads/2020/02/sabr_logo.png
jpomrenke
2014-03-14 16:00:52
2020-07-27 15:55:48
2014 SABR Analytics Panel: Decision Making in the Front Office