2014 SABR Analytics Panel: Inside the SABR Defensive Index
In the Inside the SABR Defensive Index Panel at the 2014 SABR Analytics Conference, we discussed developments with the SABR Defensive Index, which beginning with the 2013 season was used to help select the winners of the Rawlings Gold Glove Award and Rawlings Platinum Glove Award, presented by SABR.
Our panel included: Vince Gennaro, President, SABR; Sean Forman, President, Sports Reference LLC; Ben Jedlovec of Baseball Info Solutions (replacing John Dewan); Kurt Hunzeker, Senior Director of Brand Marketing, Rawlings; and moderator Jon Sciambi, Announcer, ESPN.
---
---
Here are some highlights:
ON THE VALUATION OF DEFENSE
Gennaro: "One of the things that I do is I model the pricing in the free agent market. … So two players (with) equal WAR, the one who has higher defensive stats gets paid a little bit less. It tells me, for better or worse, that the marketplace is not valuing the defensive information that we're producing at quite the level that they're valuing offensive information. That doesn't mean they're right."
ON THE POSSIBILITY OF A TEAM AWARD FOR THE RAWLINGS GOLD GLOVES
Hunzeker: "I do think at some point because of what these teams are doing — (Tampa Bay Rays manager) Joe Madden would love to have a defensive team award — I think we'll eventually get to that point, but I don't know when."
ON THE VALIDATION OF CURRENT METRICS
Forman: "Getting back to MLB's [new defensive] data set for a moment, even if they sit on all the data for the current year or last year, if they were to release it two years, three years in — release old data to the research community — that would have a tremendous benefit. Because even if I'm looking at 2014 data and it's now 2017, I can compare those values to what the public metrics are currently available and see how it correlates. … Based on that I can say, even if I don't have the current season data, I know that this metric that we already have most closely matches what's available in the public."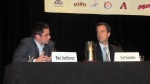 ON THE EFFECT OF DIFFERENT BALLPARKS ON DEFENSIVE PERFORMANCE
Jedlovec: "We did a study on it for the third edition of The Fielding Bible. Anecdotally, that certainly seems true. We did a study on it, and we found the effects were minimal if any. … In individual years sometimes that's true, that there's a difference between how they played (defense) at home and on the road that year, but it's not something that we found that persists on a large scale year-to-year."
ON THE PUBLIC AVAILABILITY OF MLB TEAM ANALYTICS
Forman: "The (MLB) teams are incredibly opaque. Even just talking to people in the hallway (here at the conference), I can't get a straight answer on any single question, even on if they use analytics and the degree to which they do. … I would like to see a little more transparency. I don't think we're dealing with state secrets here. We could answer a few questions every once in a while. But it's certainly become an arms race, and they're treating it as such."
ON THE RAWLINGS GOLD GLOVE BALLOTING PROCESS
Hunzeker: "The balloting process that we do with the teams, it's not a trade secret. Prior to 2010 it was honestly a sheet of paper with nine lines, and sign here. 2010 is when we started incorporating a resource guide. … So we kind of packaged [stats and information] together to make it easy for them to see everything in one fell swoop. … We had managers all during spring training come up to us while we're doing our photo shoots saying, 'Hey, thank you so much for including that. It became a tiebreaker, that helped me validate what I saw with my own eyes.'"
ON PEOPLE IN BASEBALL WHO REJECT STATISTICAL ANALYSIS
Gennaro: "Creating organizational change, or mind-set change, within an organization that is as entrenched as some baseball organizations are takes a lot of time. But beyond time, it takes an extraordinary amount of work. … It's organizations like the Rays, who probably have very little slippage from the idea to the ballfield, that are really the winners in the sense of innovating."
For more coverage of the 2014 SABR Analytics Conference, visit SABR.org/analytics.
---
Originally published: March 15, 2014. Last Updated: July 27, 2020.
https://sabr.org/wp-content/uploads/2020/03/research-collection4_350x300.jpg
300
350
jpomrenke
/wp-content/uploads/2020/02/sabr_logo.png
jpomrenke
2014-03-15 11:00:00
2020-07-27 15:55:48
2014 SABR Analytics Panel: Inside the SABR Defensive Index