2014 SABR Analytics Panel: Medical Analysis and Injury Prevention
The 2014 SABR Analytics Medical Analysis and Injury Prevention panel on March 13, 2014, discussed how Major League Baseball and its teams are working to better diagnose, track and prevent injuries in the future.
The panelists included: Dr. Stan Conte, Vice President of Medical Services, Los Angeles Dodgers; Dr. Glenn Fleisig, Research Director, American Sports Medicine Institute; Chris Marinak, Vice President, League Economics and Strategy, MLB. The panel was moderated by Buster Olney, Senior Writer, ESPN.com.
---
---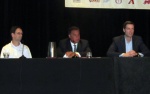 Here are some highlights:
ON USING QUOTAS AS INJURY PREVENTION

Fleisig: "Just counting, mathematically, is not the whole picture because these are real people, these are not math equations, and different people react differently. I think pitch counts and inning limits should be like a guideline at the professional level. But then you (have to) get the feedback from the medical staff and figure out who can do a little more and who can do a little less."
ON RESEARCHING INJURIES
Marinak: "Injury research, medical research, I think is relatively at its stages of infancy, especially relative to all the things you normally talk about at a SABR conference. … You may have seen quotes from Billy Beane and others that say injury research is the next frontier of analytics and baseball, and I think that's really true."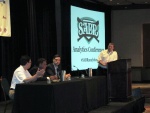 ON PITCHERS SHOWING INCREASED VELOCITY AFTER TOMMY JOHN SURGERY
Fleisig: "Statistically, some pitchers do pitch faster a year after their surgery than a year before the surgery. … What's happened is, if you compare who they were a year before their surgery, maybe they weren't 100 percent who they should have been. … It's not the surgery alone that makes them a better pitcher a year later. It's the rest, the rehab exercises, maybe re-analyzing the mechanics, and we're very proud that a lot of times they do as well as they've ever done."
Conte: "There are two very interesting studies that have just come out in the medical literature looking at performance after Tommy John and velocity after Tommy John. Basically the idea is they come generally back to where they were before the injury, which is the objective of the surgery. They don't generally, statistically, come back at a higher velocity. In fact, the study that we just finished, that we haven't published yet, shows that at least during their first year they're reduced about three-quarters of the miles per hour on the average."
ON MLB TEAMS USING INJURY RESEARCH
Marinak: "Just like 10 or 15 years ago it was the latest and greatest thing to have a stats guy in your baseball operations department, now the latest thing is to have a medical guy in your baseball operations department."
ON PUBLIC AVAILABILITY OF MEDICAL DATA
Marinak: "This area is a little tough, too, because it has the one unique issue of the fact that it's medical information, and it's a person's private information. I'm not sure that you're going to get the same public access that you're used to getting from offensive data, defensive data, whatever. This is someone's medical history. None of us would want our medical histories posted online for everyone to see. We're pretty cautious about how we protect that information for players, because it's important to them."
For more coverage of the 2014 SABR Analytics Conference, visit SABR.org/analytics.
---
Originally published: March 13, 2014. Last Updated: July 27, 2020.
https://sabr.org/wp-content/uploads/2020/03/research-collection4_350x300.jpg
300
350
jpomrenke
/wp-content/uploads/2020/02/sabr_logo.png
jpomrenke
2014-03-13 17:57:51
2020-07-27 15:55:48
2014 SABR Analytics Panel: Medical Analysis and Injury Prevention