2014 SABR Analytics Panel: Prospect Analysis and Evaluation
At the 2014 SABR Analytics Conference, the Prospect Analysis and Evaluation panel discussed how analytics has impacted the scouting and evaluation of minor league prospects. This panel was held on Saturday, March 15, 2014.
The panelists included: Jim Callis, Senior Writer, MLB.com; Jonathan Mayo, Senior Writer, MLB.com; Bernie Pleskoff, Columnist, MLB.com; and moderator Barry M. Bloom, MLB.com.
---
---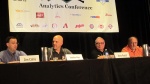 Here are some highlights:
ON THE INCREASE IN SIZE OF MAJOR PITCHING PROSPECTS
Pleskoff: "If you'll look at MLB.com and our first-round draft choices, the cream of the crop … particularly pitchers … I'm just going to name a few: Archie Bradley, 6-4, 225; Jon Gray, 6-4, 255; Max Fried, 6-4, 185; Aaron Sanchez, 6-4, 190; Alex Meyer, 6-9, 220; Taijuan Walker, 6-4, 220 … now, people say to me, why are there so many swings and misses? When you have a guy 6-6 throwing downhill, his hand is in your face. It is very, very difficult to follow the ball. That is a major change."
ON PIGEON-HOLING MINOR LEAGUE PROSPECTS
Mayo: "Because there's so much statistical information now, you have all his college and minor league numbers, that all creates a certain profile for a guy that they sometimes can be pigeon-holed. It's up to that guy, once he gets to a certain level, to outperform the profile. I can remember when Paul O'Neill came up to the Reds and he had a profile. And if Paul O'Neill came up now and there was all this information that he couldn't hit left-handers at all … well, when he went to New York, he showed that he was good enough to be an everyday right fielder. And the one danger from all of this information, this portfolio that gets built up from their amateur days on up, is there has to be some allowance for these guys to outgrow and make adjustments from what that profile says."
ON HIGH SCHOOL SHOWCASE TOURNAMENTS
Callis: "I think one of the positives about it, and there are some negatives, is you get a sense of what guys can do against top competition. … You might be interested in a high school pitcher and he might face, if you're lucky, one or two hitters in his area who are pro-caliber hitters. … There's more scouting and tools information than there was on these guys 15 or 20 years ago, which is great (because) there's that much more to base an evaluation on."
ON USING STATISTICS TO EVALUATE PLAYERS
Mayo: "There's so much more readily available information, I can look up minor league stats on my smartphone here if I wanted. But they're not the complete picture. You have to take the context into account. And probably the most important part of that context is the player's age relative to his league. I'm a lot more excited about a 19-year-old or 20-year-old kid performing well in High-A than I am about a 22-year-old kid who's tearing up the Midwest League or the South Atlantic League when they're three years older than the optimal age for that league."
Pleskoff: "As a scout, I'm taught not to look at statistics at all, but mechanics. Not only with my eyes but with my ears. So it's not all stats, it's how he goes about his business. Not everybody likes chocolate or vanilla, that's why they have chocolate and vanilla. What I like in a player is not going to be the same as what Jonathan or Jim like, and that's why everybody's different. So you take those statistics, and you take what people like me observe, and you blend them together. And then you have a player (evaluation.) It's not all statistics and it's not all mechanics."
For more coverage of the 2014 SABR Analytics Conference, visit SABR.org/analytics.
---
Originally published: March 17, 2014. Last Updated: July 27, 2020.
https://sabr.org/wp-content/uploads/2020/03/research-collection4_350x300.jpg
300
350
jpomrenke
/wp-content/uploads/2020/02/sabr_logo.png
jpomrenke
2014-03-17 13:57:27
2020-07-27 15:55:48
2014 SABR Analytics Panel: Prospect Analysis and Evaluation