2014 SABR Analytics Panel: Which Numbers Athletes Love, Which Numbers Athletes Hate
At the 2014 SABR Analytics Conference, our Which Numbers Athletes Love, Which Numbers Athletes Hate panel on Thursday, March 13, 2014, discussed how baseball players-turned-broadcast analysts use analytics to cover baseball from the booth.
The panelists included: Aaron Boone, Analyst, ESPN; Eduardo Perez, Analyst, ESPN; Manny Acta, Analyst, ESPN; and Kirk Goldsberry, Staff Writer, Grantland.com. The moderator was John Walsh, Executive VP/Executive Editor, ESPN.
---
---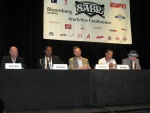 Here are some highlights:
ON BEING INTRODUCED TO SABERMETRICS
Acta: "I started learning all that and I was like, 'Holy smoke, why have I been managing like Casey Stengel for so long?' … When you use the word sabermetrics, a lot of people get scared. It's just a word that a lot of people … (they) don't want to be pigeonholed into a bunch of geeks. What I do, I see it as common sense."
ON WHICH STATISTICS HE LIKES
Boone: "I like the WAR when I'm looking and comparing positions. I don't necessarily like it when we just throw it up as a blanket, 'This guy leads in WAR.' I like it when I'm comparing other people in his position. I like FIP for predicting what a pitcher might do going forward. I like BABIP — there it is, I do like BABIP for a young pitcher maybe that I may not know a lot about."
ON THE CONNECTION BETWEEN HIGH CHARACTER AND EMBRACING STATISTICAL ANALYSIS
Acta: "You need to find enough people that embrace that type of chart, and those type of numbers. And it goes back to what we were talking about earlier, about chemistry. When you have good chemistry, you have more guys who care about that. … When you have people that don't have high character, they're just going to look at that and go, 'Hey, man, I don't care about that, all I care about is throwing the ball and hitting it hard.'"
ON PLAYERS GETTING OVERWHELMED BY NUMBERS
Perez: "A lot of players, they don't like looking at numbers, and a lot of coaches, they don't like the players looking at the numbers, because then it takes them away from their game, their strength. They start worrying … If they don't know who they are, those numbers can really bury them."
ON ASKING THE RIGHT QUESTIONS
Goldsberry: "What are we looking for in the data? Don't just turn the data guy out there and say 'Find out if this is a good third baseman,' because he'll probably make a lot of mistakes without knowing what the baseball intelligence is, what the right research question is. So these big data questions really depend on formalizing the process from the get-go with the domain experts."
ON THE PERCEPTION OF STATISTICS BY LATINO PLAYERS
Perez: "I was with the White Sox today and I asked the Latin players, what is your favorite number to look at? And they kept it simple. Average. They didn't go with on-base percentage. … At the end of the day people ask you, 'Hey, what did you hit? How many home runs did you hit?' They keep it old school, they keep it simple. It's the organization's job to educate them."
For more coverage of the 2014 SABR Analytics Conference, visit SABR.org/analytics.
---
Originally published: March 13, 2014. Last Updated: July 27, 2020.
https://h2j7w4j4.stackpathcdn.com/wp-content/uploads/2020/03/research-collection4_350x300.jpg
300
350
jpomrenke
/wp-content/uploads/2020/02/sabr_logo.png
jpomrenke
2014-03-13 18:30:00
2020-07-27 15:55:48
2014 SABR Analytics Panel: Which Numbers Athletes Love, Which Numbers Athletes Hate