2014 SABR Analytics: Telling Stories in the Age of Sabermetrics
At the 2014 SABR Analytics Conference, three national sports writers detailed their approaches to Telling Stories in the Age of Sabermetrics. This panel was held on Saturday, March 15, 2014, in Phoenix, Arizona.
The wide embrace of metrics as a way to both explain and understand all sports, not just baseball, has changed the way sports writers and editors must approach their jobs. Our panelists discussed ways in which metrics have changed coverage of games, and the very nature of what readers have come to expect from, and writers must be able to bring to, the daily sports press.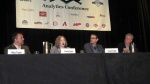 Our panelists included: Howard Megdal, Contributing Writer, Sports on Earth; Emma Span, Senior Editor, Sports on Earth; Mike Tanier, Staff Writer, Sports on Earth; and moderator: Steve Madden, GM, Sports on Earth.
---
---
Here are some highlights:
ON USING STATISTICS TO FIND A NEW STORY ANGLE
Megdal: "When you can find numbers that separate from what the story that's being driven most other places can be, that's when you know you're going to be able to depart from what's already being written and be able to write something different. Especially when it's about a familiar subject or a popular subject, that's arguably the best of all possible worlds, because you can impart something new about something that people already care about a great deal."
Tanier: "The question would be, [are] you going to bore and lose everyone with statistics? And the real answer is, no, we're going to bore and lose everyone by saying the same things everyone's been saying since 1954 about these sports. 'Does this guy have his stuff? Does this guy have heart?' If we're going to keep telling the same story — 'the rookie quarterback has IT, he has the special quality' — if we're going to do that ad nauseam, we're going to lose everyone because now everyone can read everyone else's articles. Everyone can google-search last year's articles. If we're going to bore everyone with that, we may as well take a chance doing this other thing."
ON USING STATISTICS TO FORMULATE BETTER INTERVIEW QUESTIONS
Span: "When you're trying to talk to a player and trying to get him to say something interesting, the more general and broad and open-ended your questions are, the duller the response that you're going to get. … The more specific that you can get, and one of the ways you do that is by looking at the numbers, those kind of data-driven questions often get you better answers and a better human story from the player in question, too."
ON INTELLIGENT WRITING VERSUS ONLINE CLICKBAIT
Madden: "The best-performing piece, the piece that's been most viewed, is a story that one of our writers Aaron Gordon did, and it ranks the NFL TV announcers. Usually a piece like that is a guy writing off the cuff … Aaron actually made statistical grids and rubrics to measure how accurate they were in terms of what the guy was saying, how it meshed with what was actually happening on the screen. The disconnect is much more common than you would think. It's sort of Internet gold to do a ranking of something, but what I liked most about the piece is it was a ranking, but it had a lot of data to back it up."
ON WHICH STATS YOU USE LESS OFTEN THAN BEFORE
Span: "I used to probably use defensive stats more, and I'm more careful with them now. Not that they're not still useful, but they often disagree, they jump around, and I feel like you want to look at a long chunk of time for those for me to feel comfortable with them. So I would never look at one season anymore and think, 'Oh, he had a bad season defensively, or a good season.'"
ON THE USE OF STATISTICAL ANALYSIS IN BASEBALL COMPARED TO FOOTBALL
Tanier: "From a statistical standpoint, you guys have so many resources, thanks to going back to Bill James and John Thorn and all those guys. You have a 30-year vantage point where someone can grow up with SABR. … If we tried to do a football version of [the SABR Analytics Conference] it would be like a Star Trek convention in 1974. … [To access football statistics], sometimes you have to have a password or a credit card or you have to know the guy who runs the site. ESPN Stats and [Information] keeps track of these things, and they give them out on a need-to-know and who-has-the-secret-password basis, and that's not good, that's not ideal, that's not how this advances."
For more coverage of the 2014 SABR Analytics Conference, visit SABR.org/analytics.
---
Originally published: March 17, 2014. Last Updated: July 27, 2020.
https://h2j7w4j4.stackpathcdn.com/wp-content/uploads/2020/03/research-collection4_350x300.jpg
300
350
jpomrenke
/wp-content/uploads/2020/02/sabr_logo.png
jpomrenke
2014-03-17 09:00:00
2020-07-27 15:55:48
2014 SABR Analytics: Telling Stories in the Age of Sabermetrics