2014 SABR Analytics: The International Baseball Landscape
At the 2014 SABR Analytics Conference, The International Baseball Landscape panel discussed how analytics have changed the landscape of international scouting and player development in baseball.
Panelists included Leonte Landino, ESPN Deportes; Tyrone Brooks, Pittsburgh Pirates; Josh Rawitch, Arizona Diamondbacks; and moderator Rob Neyer, FoxSports.com.
---
---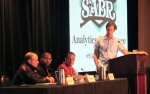 Here are some highlights:
ON THE EXCITEMENT OF THE WORLD BASEBALL CLASSIC
Rawitch: "I've been involved in all three of them. … The single best sporting event I have ever been to was the 2009 WBC finals between Japan and Korea. I have never seen a building (rocking) like that. It was mind-blowing. … I don't think the goal of the WBC is to teach the U.S. about baseball abroad. Really what it is, is to capture the emotion and excitement in other countries. This is the biggest thing that goes on in a number of countries. … I think we're a little bit myopic in that way. Baseball does revolve around the U.S., obviously, but I think we're failing to see the larger goal."
Landino: "If you guys haven't embraced the World Baseball Classic, you don't know what you're missing. … In other countries, this is serious business. That's why players are very willing to participate, because they're proud of representing their country."
ON THE FUTURE OF THE WBC
Landino: "The biggest setback it has is that owners are still reluctant to let their players perform fully in the World Baseball Classic. There are a lot of limitations. It's affected the level of (play) and the natural development of the tournament. You don't go to Brazil (for soccer's World Cup) with any limitations because FIFA is over the leagues. In this case, MLB is over the World Baseball Classic."
ON THE NEXT EMERGING BASEBALL COUNTRY
Brooks: "China, at some point, is going to have something. I'd say even in the next two to three years. … There's so many people there and the big thing is having someone who is athletic and we can help them transfer the skills related to our game. They've already shown they have a huge passion for basketball, especially with Yao Ming and what he did in the NBA."
Landino: "In the short term, it's Colombia. Twenty years ago, there were 10 signed players in professional baseball. Now they have over 100. Colombia has developed with a huge help from Edgar Renteria and his family. They have developed a fully operational league. They're coming from the Japanese school and learning the game the Japanese way. … Colombia played in the WBC qualifiers and have brought up MLB-caliber players, like Julio Teheran (of the Braves) and Jose Quintana (of the White Sox.)"
ON LEARNING SPANISH AND WORKING IN BASEBALL
Rawitch: "Anybody out there who's looking to break into sports, when I was an 18-year-old intern, a gentleman with the Dodgers told me to go learn Spanish. I'm sure he told everyone to go do that, but I actually listened to him. I cannot tell you how valuable it's been in my career, to be able to speak to reporters, to speak to players, to dealing with a number of issues. If you can speak Spanish, you're automatically four steps ahead of everyone else in baseball."
ON INTERNATIONAL MLB ACADEMIES
Landino: "A player who signed at 16 years old goes to one of these state-of-the-art academies, they get to learn English at an early state. By the time they're 19 or 20, they can communicate well, they can understand the coaching orders and the philosophy of the organization. And when they come to the U.S., it's just about embracing the culture. … The technology and resources make it easier. They know what's going on, they're aware of other things than baseball. It helps ease the process."
For more coverage of the 2014 SABR Analytics Conference, visit SABR.org/analytics.
---
Originally published: March 15, 2014. Last Updated: July 27, 2020.
https://h2j7w4j4.stackpathcdn.com/wp-content/uploads/2020/03/research-collection4_350x300.jpg
300
350
jpomrenke
/wp-content/uploads/2020/02/sabr_logo.png
jpomrenke
2014-03-15 16:00:09
2020-07-27 15:55:48
2014 SABR Analytics: The International Baseball Landscape