2015 SABR Analytics: Baseball Operations Panel
At the 2015 SABR Analytics Conference, our Baseball Operations Panel focused on how baseball operations departments throughout Major League Baseball are using analytics.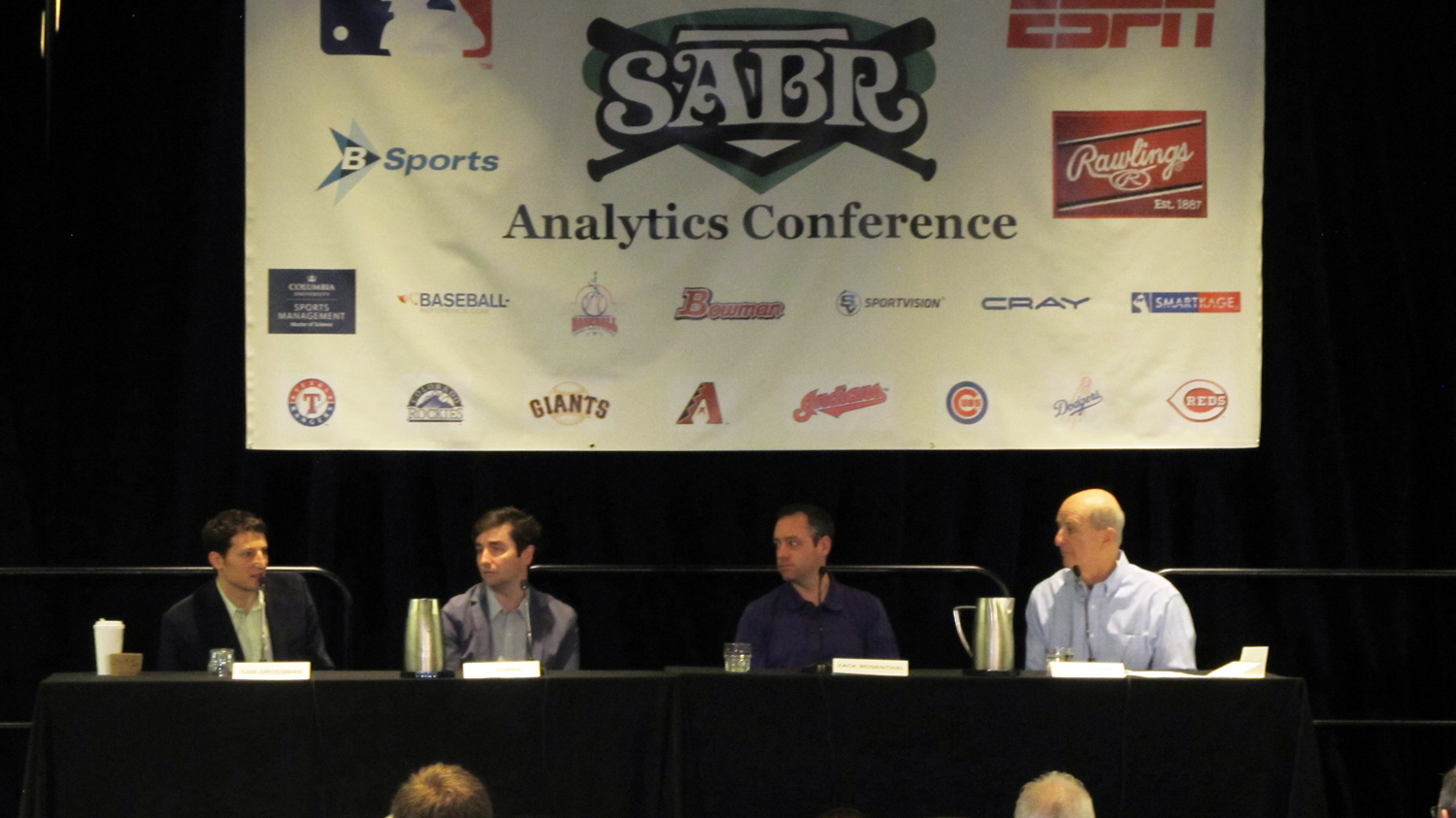 Panelists included: T.J. Barra, Manager of Baseball Research and Development for the New York Mets; Sam Grossman, Director of Baseball Research and Analysis for the Cincinnati Reds; and Zack Rosenthal, Assistant General Manager/Baseball Operations for the Colorado Rockies. The panel was moderated by SABR President Vince Gennaro.

Here are some highlights from the SABR Analytics Baseball Operations Panel:
ON THE QUANTITY OF DATA NOW AVAILABLE
Barra: "A lot more data has become available on amateur players in the last five to ten years than we've had previously. A lot of the player tracking data that we've had at the big league level is now available on 16, 17-year-olds playing in the Perfect Game Tournament. I think it's figuring out how to utilize that data and how a 16-year-old's curve ball translates to the big leagues."
Rosenthal: "The other thing that's changed is the speed with which we get the data. It's real time, most of the time now. There's never a good excuse anymore that 'I need some time to put that together' — they expect it now. And typically we can get it now. That's good and bad."
ON USING HITTING DATA IN THE CONSTRUCTION OF THE NEW CITI FIELD
Barra: "What we did was we presented a variety of options to our ownership group, and said here's our expected home run rate, the expected run value, expected runs in various dimensions, raising the height of the walls, bringing the walls in. At the end of the day we ended up getting within I think 0.0003 of our home run rate."
ON PLAYERS WHO ARE INTO ANALYTICS
Rosenthal: "Michael Cuddyer was one. … Asking how we look at things, what he should be reading on the Internet, what websites he should be going to, what his value should be in the marketplace, whether we should make him a qualifying offer. Those types of things."
ON THE ROLE ANALYTICS PLAY IN THE AMATEUR DRAFT
Grossman: "Especially on the amateur level we don't separate the stats and the scouting. We're just trying to compile as much information as possible from any source. Our amateur guys do a great job of reading the scouting reports, looking at video, talking to us about the statistics, injury history, trying to dig on the makeup, even psychological tests, all that stuff."
ON THE LOWER SCORING ENVIRONMENT TODAY
Rosenthal: "A lot of the offensive players we have in the league now grew up watching guys hit a lot of home runs, because it was a different day and age. … I think a lot of these guys have been conditioned to try to play that way. … There's a lot of swings and misses still. Hopefully we'll get back to playing the game the right way, but right now we may have a group of guys that think they know what they're doing to play it the right way, but they're playing it in a totally different environment."
For more coverage of the 2015 SABR Analytics Conference, visit SABR.org/analytics.
---
Originally published: March 14, 2015. Last Updated: July 27, 2020.
https://h2j7w4j4.stackpathcdn.com/wp-content/uploads/2015/03/2015-Analytics-Baseball-Operations-Panel.jpg
843
1500
jpomrenke
/wp-content/uploads/2020/02/sabr_logo.png
jpomrenke
2015-03-14 16:18:29
2020-07-27 15:54:55
2015 SABR Analytics: Baseball Operations Panel