2015 SABR Analytics: Brian Kenny's opening remarks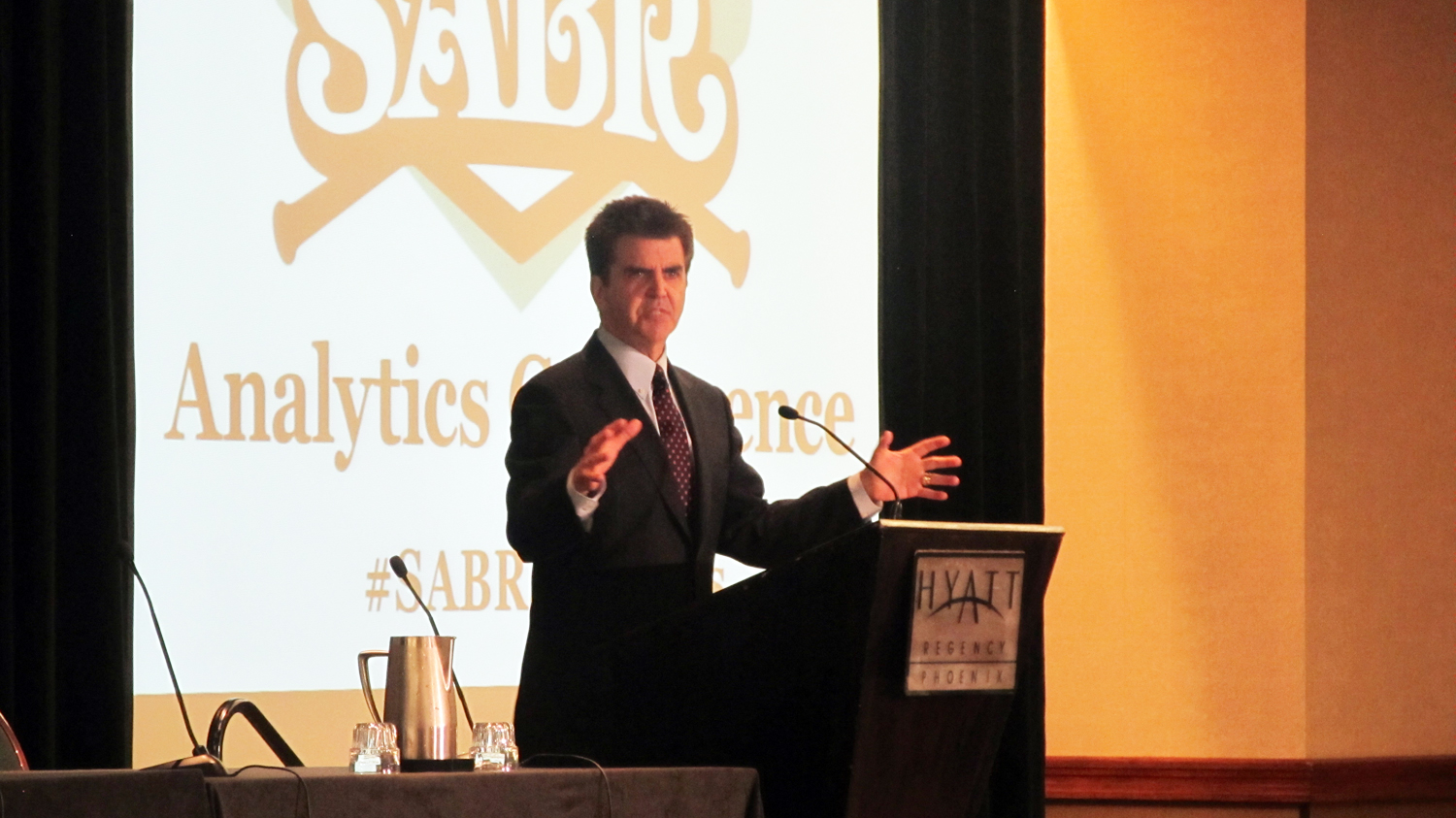 MLB Network host Brian Kenny returned to the SABR Analytics Conference on Thursday, March 12, 2015, at the Hyatt Regency Phoenix in Phoenix, Arizona. Kenny delivered a series of thoughtful opening remarks that addressed new developments in the sabermetric world and how he thinks MLB teams will adapt to the changes.
Here are some highlights from Kenny's opening remarks:
ON THE EVOLVING NATURE OF BASEBALL INTELLIGENCE
"Is it sabermetrics? Is it analytics? Is it scouting? It's thinking. It's thinking in baseball. And we're seeing it more and more. We're getting into a golden age, there's more way to approach it, and it's exploding."
ON THE CHANGING FORCES IN INTERNATIONAL SOCCER
"Europe became a cauldron, forging a new football. A new style was emerging in soccer. If you wanted to win, you had to play along. Think like the Dutch, work like the Germans, pass like the Spanish, play defense like Italians. That's world soccer. That's how you win. It didn't all have to come together, just like in baseball everyone could have been doing their own thing. But you reach a point where everything starts to come together."
ON MLB COMMISSIONER ROB MANFRED AND MAKING SABERMETRICS MORE ACCESSIBLE
"(New MLB commissioner Rob Manfred recently) said, 'We want the fans to have access to it.' This is very different, isn't it? This is very different from decades ago when the statistics were kept in a corner somewhere. Now, no. You want this out there, like radio broadcasts were decades ago. 'Oh, we can't give this away for free.' No, you want to give it away for free, you want everyone to get more and more interested in this fabulous game."
For more coverage of the 2015 SABR Analytics Conference, visit SABR.org/analytics.
---
Originally published: March 12, 2015. Last Updated: July 27, 2020.
https://sabr.org/wp-content/uploads/2015/03/Kenny-Brian-opening-remarks-2015-Analytics.jpg
843
1500
jpomrenke
/wp-content/uploads/2020/02/sabr_logo.png
jpomrenke
2015-03-12 17:40:55
2020-07-27 15:54:56
2015 SABR Analytics: Brian Kenny's opening remarks