2015 SABR Analytics: Business of Baseball Panel
At the 2015 SABR Analytics Conference, our Business of Baseball Panel took an inside look into how Major League Baseball front offices are using analytics and data to progressively drive incremental revenue growth.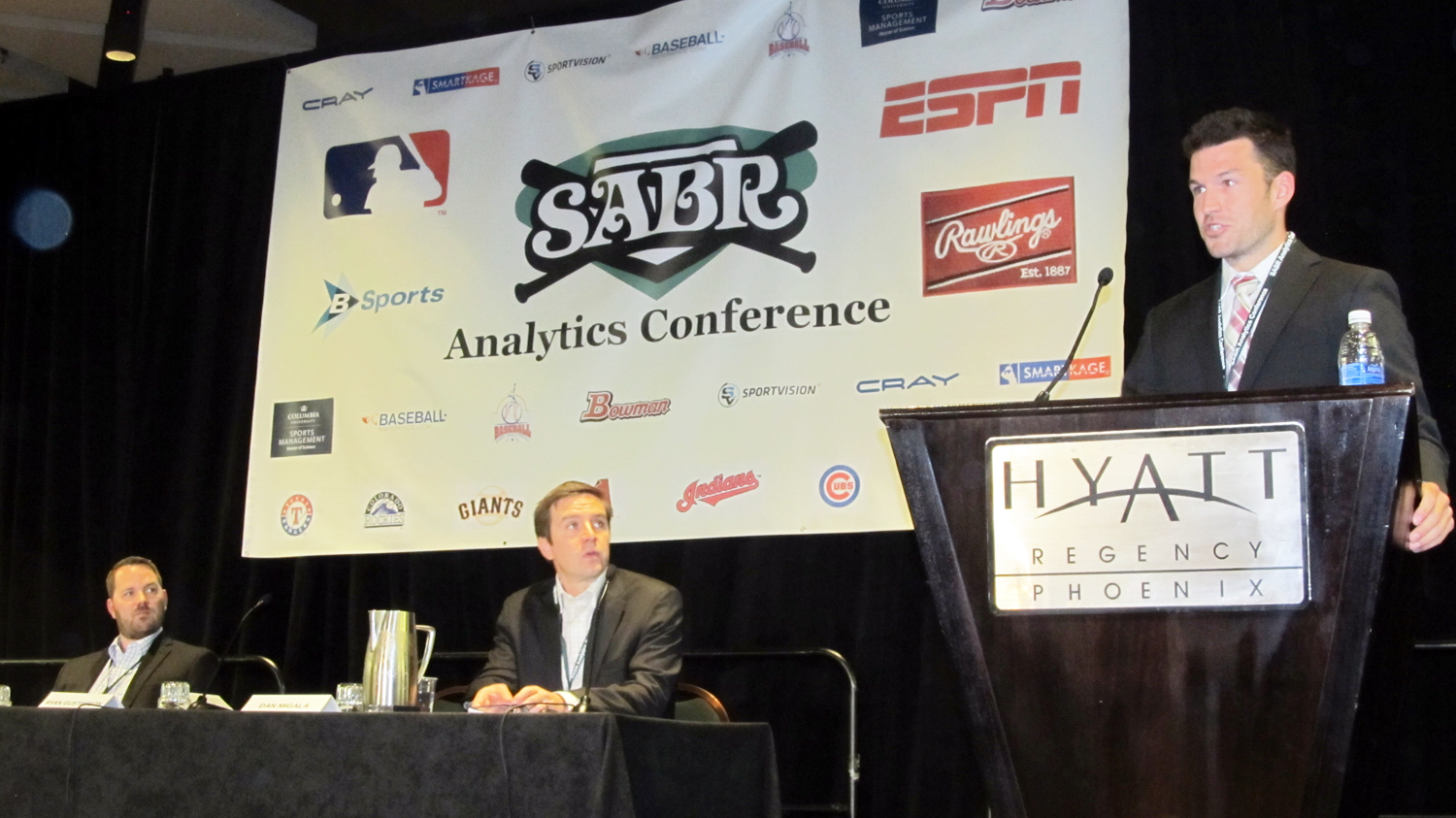 Panelists included: Kenny Farrell, Vice President of Business Analytics for the Arizona Diamondbacks; and Ryan Gustafson, Senior Director of Business Strategy and Innovation for the San Diego Padres. The moderator was Dan Migala, Founding Partner of the Property Consulting Group.
Here are some highlights from the Business of Baseball Panel at the 2015 SABR Analytics Conference:
ON THE IMPORTANCE OF COMMUNICATION ON THE BUSINESS SIDE
Gustafson: "I think it's probably 20 percent identifying problems, 20 percent doing the analysis, and 60 percent how do I communicate to ownership, how do I communicate to senior executives exactly what the data is saying, to hopefully make smarter business decisions."
ON A SIGNIFICANT AND SURPRISING VARIABLE THAT POPPED UP IN RESEARCH
Farrell: "(We learned about the) number of years that they've lived in Arizona. … Do people, when we talk about remembering our World Series victory or we're going to retire Randy Johnson's number, does that resonate with our fans? Phoenix is a very transient market, how many people were even here then? Or were a part of that, or remember what we were doing? So we brought that into the model."
ON THE PADRES' USE OF ATTENDANCE PROJECTIONS
Gustafson: "Inventory management, this has been a huge one for us this off-season with all the new demand that we're having. But strategically, how do we sell our ballpark? Do we sell it as a season ticket? Do we sell it as a single game ticket? Where do we put our big groups? Where do we put people that want premium seating? Inventory management is a big thing that we use this for."
ON THE USE OF DATA IN PLANNING STADIUM RENOVATIONS
Gustafson: "We spent six months diving into every single row of the ballpark, every single space of the ballpark. Understanding utilization, overall revenue by row. What would happen if we cut out this section entirely? What would happen if we were able to price it higher because we created a new product or added beer to a certain area of the stadium? … What is selling best and how do we create more of that? And what isn't selling and how do we convert that into revenue-driving opportunities?"
ON A CASE STUDY OF BOBBLEHEAD GIVEAWAYS
Farrell: "The idea isn't to necessarily to narrow down exactly what is going to work every time, but to help us think about those decisions on who our fans are, how they're different, and understand that the data we have will help us determine where we can be most efficient with our marketing."
ADVICE FOR ANYONE LOOKING TO WORK IN BASEBALL
Farrell: "I think what people need to recognize about sports franchises is that we are high profile, but we're small businesses. … I think kind of knowing where you want to go, understand that it takes a lot of hard work and a lot of luck, and just manage expectations."
ON MONETIZATION OF SOCIAL MEDIA
Migala: "You probably hear a lot of teams talk about how many Facebook followers they have, how many likes they have. But how do you actually connect that to revenue? We studied the data of this Texas League team of how they sell tickets. We started to learn that Facebook, within a 48-hour period, is the number one driver for them to sell individual game tickets. So they started serving that same targeted media off that, and they started acquiring customers at a pretty phenomenal rate."
ON CONSUMER PURCHASING DATA FOR SPONSORSHIP OPPORTUNITIES
Migala: "You can see here two-thirds of (Cleveland) Browns fans in that 24-hour period owned a dog. We were able to prove mathematically the amount of Purina dog food that those fans had bought in a 30-day period. We took that data to the Browns sponsorship partnership. That Monday they cold-called Purina in St. Louis. That

Thursday

they presented the data and closed a half-million dollar sponsorship."
For more coverage of the 2015 SABR Analytics Conference, visit SABR.org/analytics.
---
Originally published: March 18, 2015. Last Updated: July 27, 2020.
https://h2j7w4j4.stackpathcdn.com/wp-content/uploads/2015/03/2015-SABR-Analytics-BizBall-Panel.jpg
843
1500
jpomrenke
/wp-content/uploads/2020/02/sabr_logo.png
jpomrenke
2015-03-18 12:59:11
2020-07-27 15:54:55
2015 SABR Analytics: Business of Baseball Panel