2015 SABR Analytics: General Managers Panel
At the fourth annual SABR Analytics Conference, our General Managers Panel on Friday, March 13, 2015, discussed how major league front offices are using analytics to develop a competitive edge and stay ahead of their competition.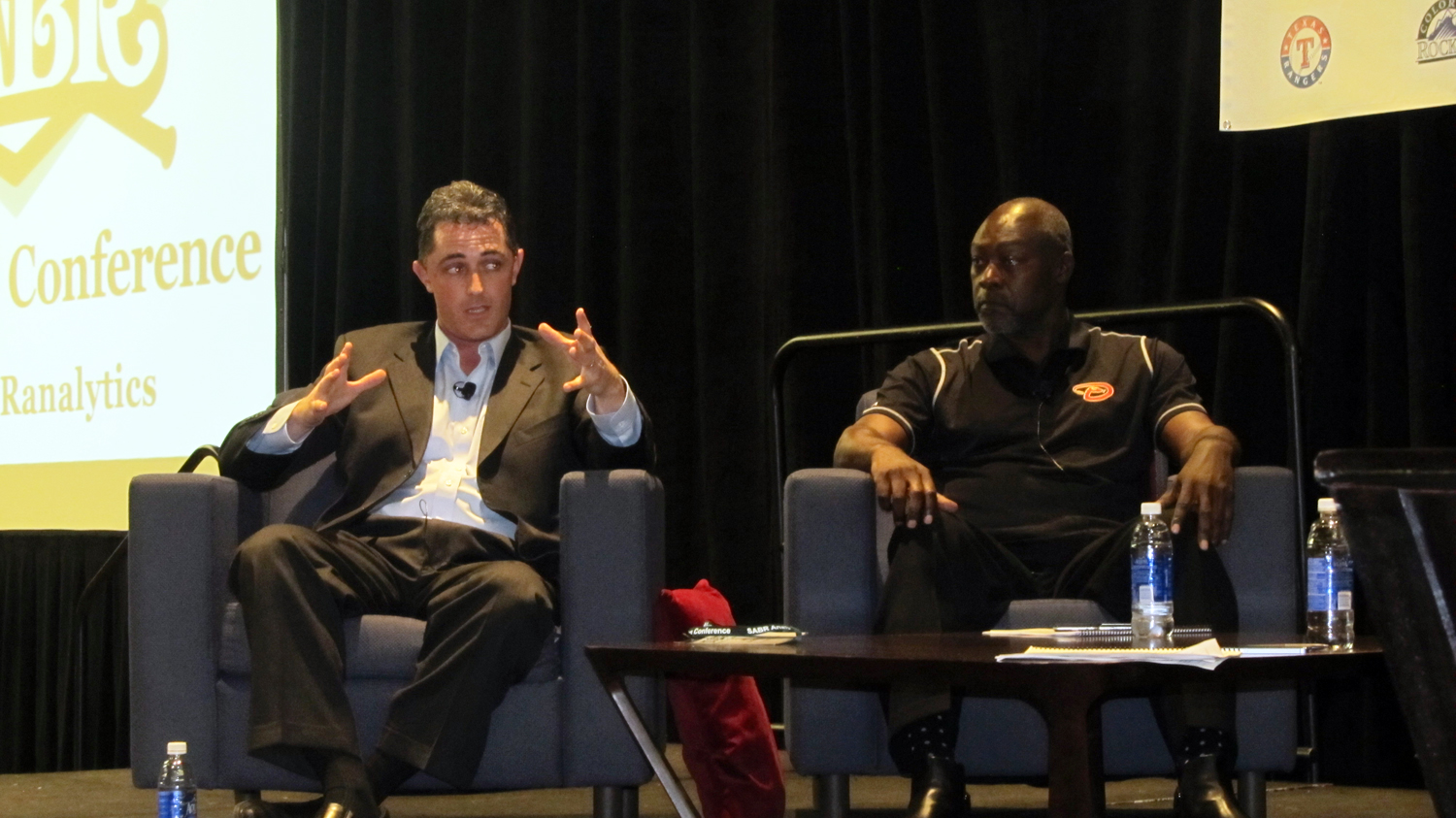 Panelists included Jeff Bridich, Senior Vice President/General Manager of the Colorado Rockies, and Dave Stewart, Senior Vice President/General Manager of the Arizona Diamondbacks. The panel was moderated by Brian Kenny of MLB Network.
Here are some highlights from the General Managers Panel at the 2015 SABR Analytics Conference:
ON HOW PLAYER NEGOTIATIONS HAVE CHANGED
Bridich: "The element of the Cuban players now is a big thing, and certainly with Tomas and a lot of these guys, it's almost daily where there's more Cuban players who are out of the country and creating residences somewhere and trying to get signed. That has added a 'wild wild west' element of where we're at right now."
ON THE ROCKIES' USE OF ANALYTICS
Bridich: "Stats, analytics, we've used and utilized and made use of, and made good use of, for a long time. Now it's about the how because there's so much new, and so much that continues to be new. It's really about the how, and how much. It's a choice. It's there, there's so much that can be done now. … At the end of the day, you still have to decide how you're going to utilize that in your organization and what values you place on that."
ON THE DIAMONDBACKS' USE OF ANALYTICS
Stewart: "We're going to find a place where it's comfortable for us to use both the knowledge of the game, the in-game experience, to allow the manager to do what comes natural for him to do in a situation that takes place in a game. But before we go in a game give ourselves every advantage that we possibly can when that game starts."
ON PLAYERS' ACCEPTANCE OF ANALYTICS
Stewart: "I speak as a (former) player. We're stubborn mules. We don't make adjustments very easily. There's the egotistical part that's involved, then there's the rest of it that just doesn't allow a player to hit the ball the other way, or to bunt a ball when a guy's giving you a hit. There's that machoism that says, 'Hey, I'm going to hit the ball through the shift.' … My dad always told me never let ego get in the way of good judgement and a lot of athletes do that."
ON THE INCREASE IN AVAILABLE DATA
Bridich: "The fact that we're going to have so much information, specifically defensively, right at our fingertips. Can we be predictive in that? Not next year, not in two years, but next week, can we make some adjustments that are going to allow us to gain an advantage and win a couple of extra games we weren't expecting to win?"
For more coverage of the 2015 SABR Analytics Conference, visit SABR.org/analytics.
---
Originally published: March 18, 2015. Last Updated: July 27, 2020.
https://sabr.org/wp-content/uploads/2015/03/2015-SABR-Analytics-GM-Panel.jpg
843
1500
jpomrenke
/wp-content/uploads/2020/02/sabr_logo.png
jpomrenke
2015-03-18 12:32:35
2020-07-27 15:54:55
2015 SABR Analytics: General Managers Panel