2015 SABR Analytics: Impact of Analytics on the Field
At the fourth annual SABR Analytics Conference on Friday, March 13, 2015, in Phoenix, our Impact of Analytics on the Field panel focused on how on-field personnel — players, managers, and coaches — can better understand and utilize baseball analytics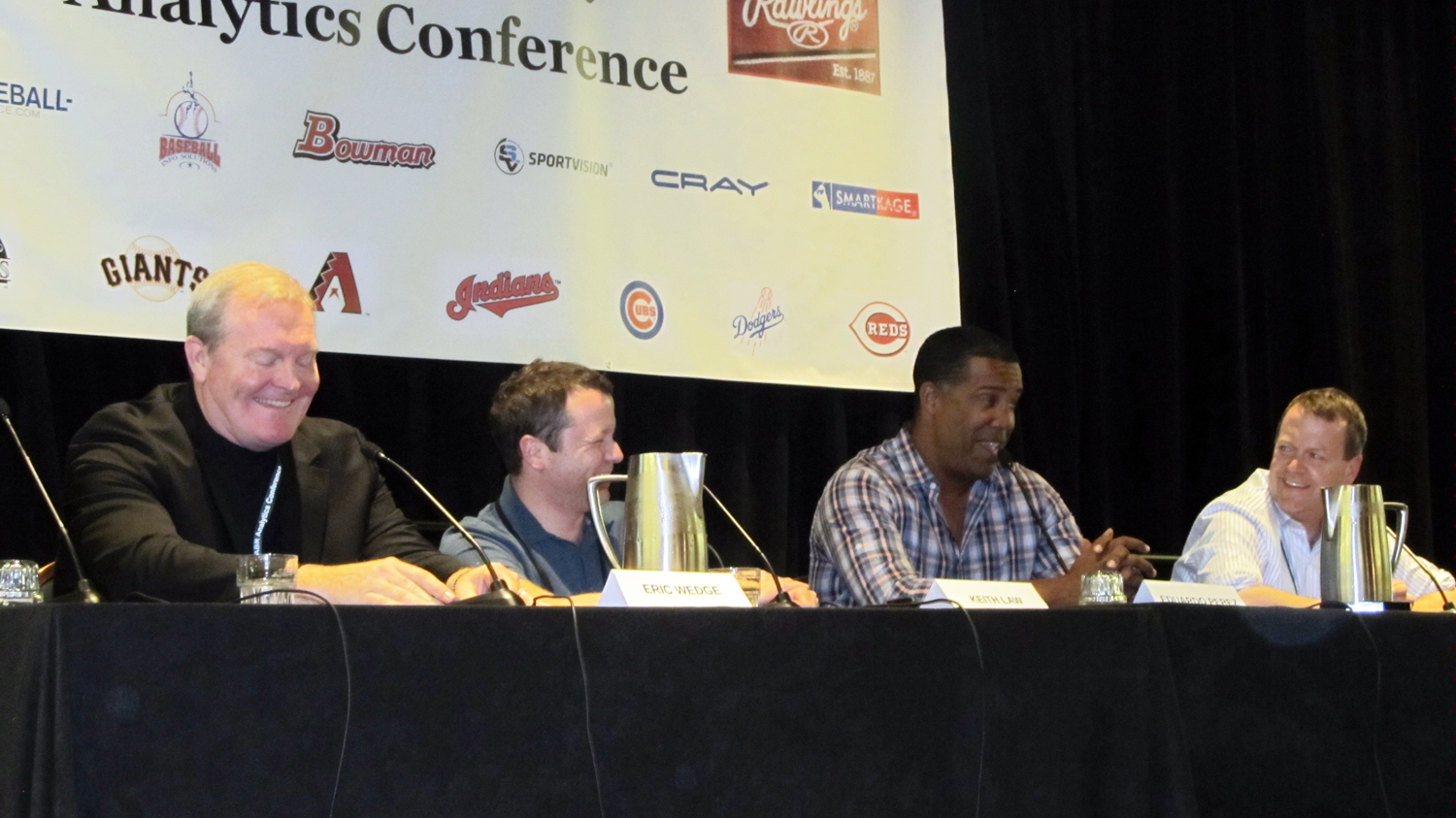 Panelists included: Keith Law, Senior Writer for ESPN.com; and former major-leaguers Eric Wedge and Eduardo Perez, now ESPN analysts. The moderator was Buster Olney, Senior Writer for ESPN.com.
Here are some highlights from the Impact of Analytics on the Field panel:
ON THE CONCEPT OF CLUTCH HITTING
Perez: "Don't forget, I was raised by a family which believed in a big word, which I found out today it's not going to be used anymore in baseball. And that word is clutch. It broke my heart. As far as everyone tells me, 'Eduardo, your father (Tony Perez) in the '70s was the best clutch hitter in the game.' Now what, am I going to live off of?"
Law: "The clutch ability, at the major league level, may exist. But we haven't found it, we can't identify it, we can't measure it. So my opinion is, don't pay for it. Don't pay extra for a skill you can't measure, that doesn't seem to produce tangible results."
ON THE HOUSTON ASTROS' REBUILDING PROCESS
Perez: "What I like about the Astros was they were willing to try things and they weren't afraid of messing up. In baseball you have to be able to mess up in order to find a solution, to find a way."
ON A MANAGER'S RELATIONSHIP WITH STATS
Wedge: "I think Bob Melvin (of the Oakland A's) is one of the hardest working managers in the game. You talk about having to manage his players and manage above him. … But you have to make sure as a manager you have to be the one that bridges that gap, and create that type of relationship with your players and coaching staff, as well as with the front office. You have to be the one that really does all the managing. That's why they call it manager and not head coach."
ON THE BALANCE OF ANALYTICS AND COMMUNICATION
Wedge: "You've got to be smart enough to understand the numbers aren't the end-all. It's so important. But how it translates and how you ultimately make this happen with human beings, that is the end-all."
For more coverage of the 2015 SABR Analytics Conference, visit SABR.org/analytics.
---
Originally published: March 14, 2015. Last Updated: July 27, 2020.
https://sabr.org/wp-content/uploads/2015/03/2015-Analytics-Impact-panel.jpg
843
1500
jpomrenke
/wp-content/uploads/2020/02/sabr_logo.png
jpomrenke
2015-03-14 11:17:42
2020-07-27 15:54:55
2015 SABR Analytics: Impact of Analytics on the Field