2015 SABR Analytics: One on One with Tony La Russa
The SABR Analytics Conference reached a milestone on Friday, March 13, 2015, by welcoming its first Baseball Hall of Fame inductee in Tony La Russa. The Hall of Fame manager, who now serves as Chief Baseball Officer for the Arizona Diamondbacks, talked at length about his own history as a pioneer of advanced metrics in the dugout and his ideas on how stats should best be used throughout the game.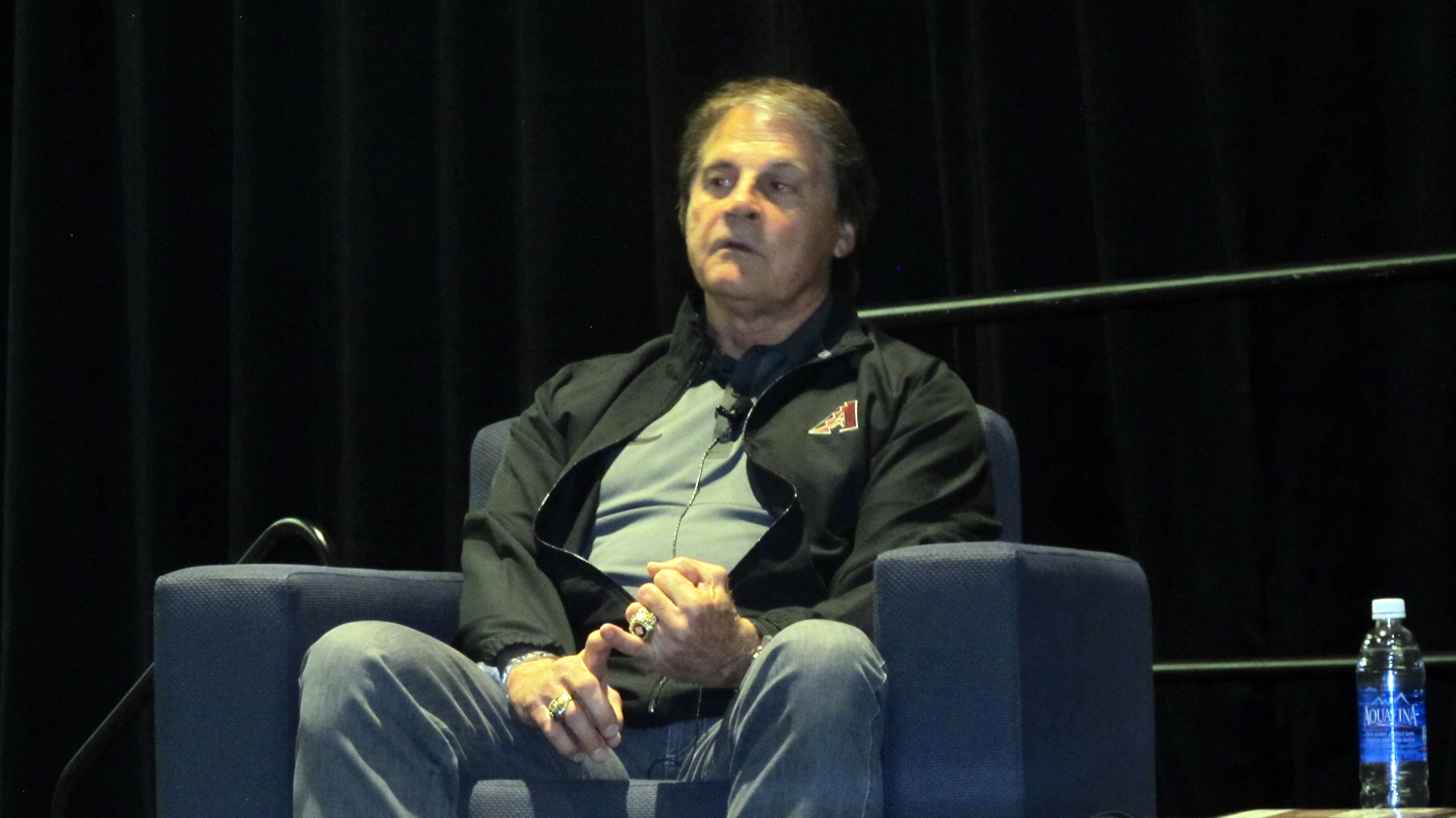 Here are some highlights from La Russa's one-on-one session with moderator Steve Berthiaume, TV broadcaster for the Diamondbacks:
ON RELATING TO PEOPLE WHO PERFORM STATISTICAL ANALYSIS
"One of the things that I admire the most about people in this room, and the people that I've met over the last X years as this movement has grown is, there's a love of the game of baseball. And I have always respected, applauded, enjoyed the folks that have gotten into the metrics and want to be part of a major-league organization."
ON EXPLAINING THE DIAMONDBACKS' FRONT-OFFICE APPROACH WITHOUT TIPPING YOUR HAND
"We're not going to tweet it, Facebook it, we're not going to write articles about it because you're trying to win (against) the competition. So I'm hoping that our fans will trust that we're going to help us compete by how we use the analytics."
ON THE RELIANCE OF METRICS IN HALL OF FAME VOTING
"We all understand we have a stained period … there's a 10-year period with the enhancing stuff that has really created a lot of confusion, and nobody has the same formula that they're applying. … I don't think numbers is the biggest culprit right now, I think the biggest one is there's just confusion about (whose) stats are enhanced and whose are not. I also think if you start using metrics, be careful as a Hall of Fame voter that you don't undervalue something that is so clear about what a pitcher or player has done, and overvalue something that some guy who is really not a Hall of Famer has done, and you make bad votes."
ON KNOWING WHEN TO UTILIZE RELIEF PITCHERS
"One of the psychological realities is there are some guys who can't pitch the ninth inning. There's that special pressure when you take the mound. … Some guys have the fortitude to be able to block out, and the stuff to get three outs. Other guys can pitch the eighth inning and be really good, because they know there's a backstop in the ninth."
For more coverage of the 2015 SABR Analytics Conference, visit SABR.org/analytics.
---
Originally published: March 13, 2015. Last Updated: July 27, 2020.
https://sabr.org/wp-content/uploads/2015/03/2015-Analytics-La-Russa.jpg
843
1500
jpomrenke
/wp-content/uploads/2020/02/sabr_logo.png
jpomrenke
2015-03-13 15:10:52
2020-07-27 15:54:56
2015 SABR Analytics: One on One with Tony La Russa