2015 SABR Analytics: Player Panel with Curt Schilling, John Kruk, Doug Glanville
At the SABR Analytics Conference on Thursday, March 12, 2015, three longtime major-league players discussed how players feel about the role of analytics in the game today.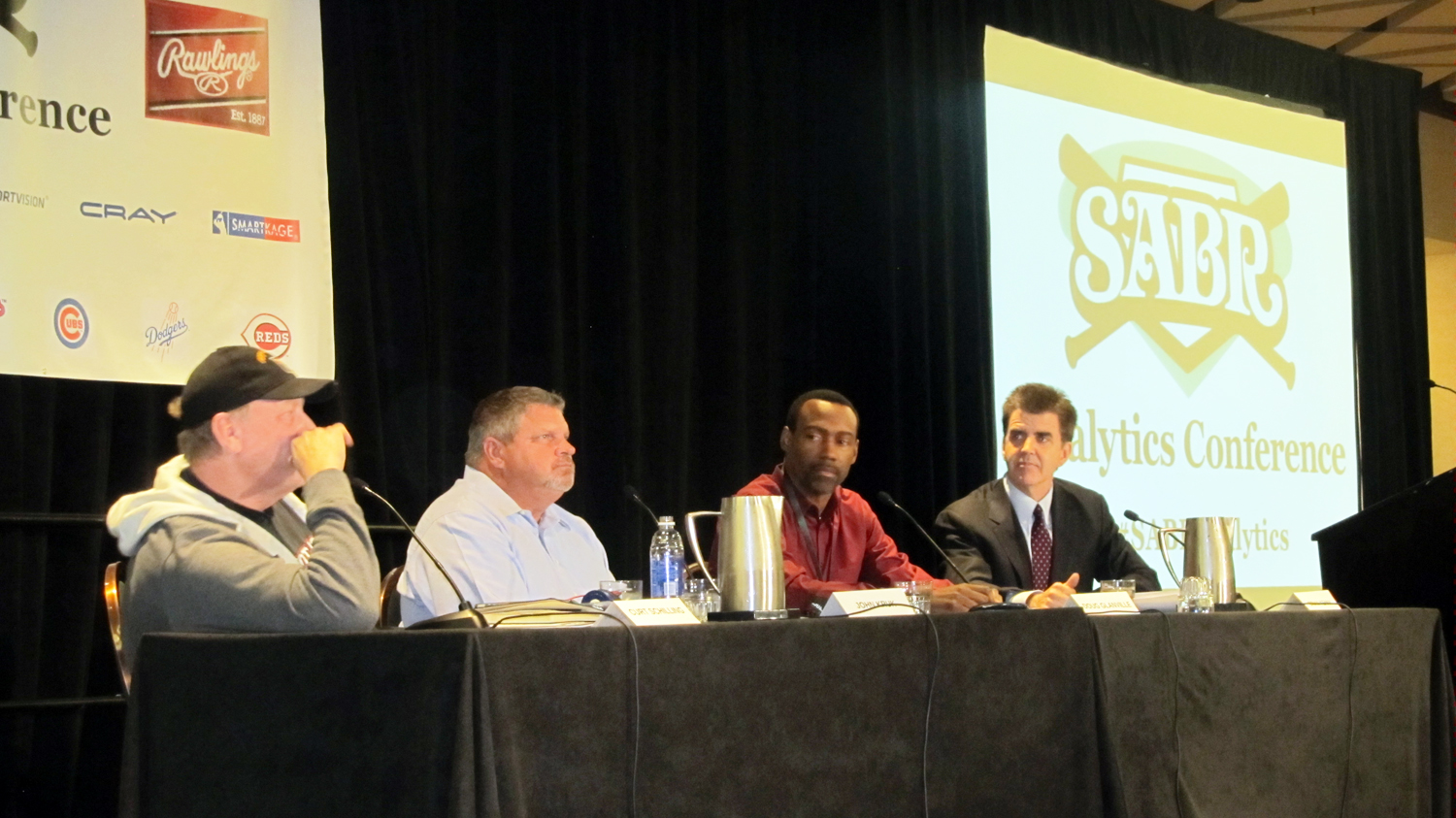 The panel included ESPN analysts Curt Schilling, who recorded more than 200 wins and 3,000 strikeouts and is considered one of the greatest postseason pitchers of all-time; John Kruk, an All-Star first baseman and outfielder who retired with a .300 career average; and Doug Glanville, who spent nine years in the majors as a star defensive center fielder. The panel was moderated by Brian Kenny of MLB Network.
Here are some highlights from the 2015 SABR Analytics Player Panel:
ON HOW PLAYER PREPARATION HAS CHANGED
Kruk: "The iPad. Everyone gets all this data fed to them from the organization on iPad. You go into the clubhouse and see probably 10 players on their iPad studying that day's pitcher, and tendencies, and shifts if they shift, and all that stuff. That's to me where the game has changed."
Schilling: "There's still very much a trickle-down effect with regard to sabermetrics, statistics, preparation, study. Most of the front offices now have figured out that you don't have to have have a background on the field to be smart about the game. A lot of the technology upstairs trickles down to the clubhouse."
ON EFFORTS TO SPEED UP THE GAME
Kruk: "I was watching a spring training game and every time they would come back from commercial the guy was in the box, the pitcher was in his wind-up. It was beautiful. It makes our job (as broadcasters) easier, too, because we don't have to fill with some crap we might say and get in trouble."
ON VIEWING HIGHLIGHTS ON DEMAND VERSUS A 3-HOUR BROADCAST
Schilling: "People want to be gratified instantly, and that doesn't line up with baseball. Baseball's not that way. It's always been a timeless sport, and it's one of the sports that's a whole lot more enjoyable to play, to some people, than it is to watch."
ON THE CLUBHOUSE CULTURE OF ANTI-INTELLECTUALISM
Glanville: "People do ask me about that, and I had no issue. I was of the mind that you learn from everybody. Everybody is bringing their experience, whether it's Billy Wagner as an alpaca farmer (or someone else.) I grew up in Teaneck, New Jersey, which was an early pioneer in integration, so I was always with so many different kinds of people. I was very comfortable in a major-league clubhouse, especially with the diversity."
Kruk: "Doug Glanville is Ivy League-educated (University of Pennsylvania), I went to a juco in West Virginia, and we had the same job."
For more coverage of the 2015 SABR Analytics Conference, visit SABR.org/analytics.
---
Originally published: March 12, 2015. Last Updated: July 27, 2020.
https://h2j7w4j4.stackpathcdn.com/wp-content/uploads/2015/03/2015-Analytics-Player-Panel-Schilling-Kruk-Glanville.jpg
843
1500
jpomrenke
/wp-content/uploads/2020/02/sabr_logo.png
jpomrenke
2015-03-12 19:36:37
2020-07-27 15:54:56
2015 SABR Analytics: Player Panel with Curt Schilling, John Kruk, Doug Glanville