2016 SABR Analytics: Analytics of Hitting and Pitching Panel
At the SABR Analytics Conference on Thursday, March 10, 2016, two former major-league players and a baseball analyst discussed how analytics are used from a hitters and pitchers' point of view.
---
---
The panel included ESPN analyst Aaron Boone, whose 12-year career was highlighted by his game-winning home run in the 2003 AL Championship Series; ESPN's Dallas Braden, who pitched a perfect game for the Oakland A's in 2010; analyst Eno Sarris of FanGraphs, and moderator Mike Ferrin of the Arizona Diamondbacks and MLB Network Radio.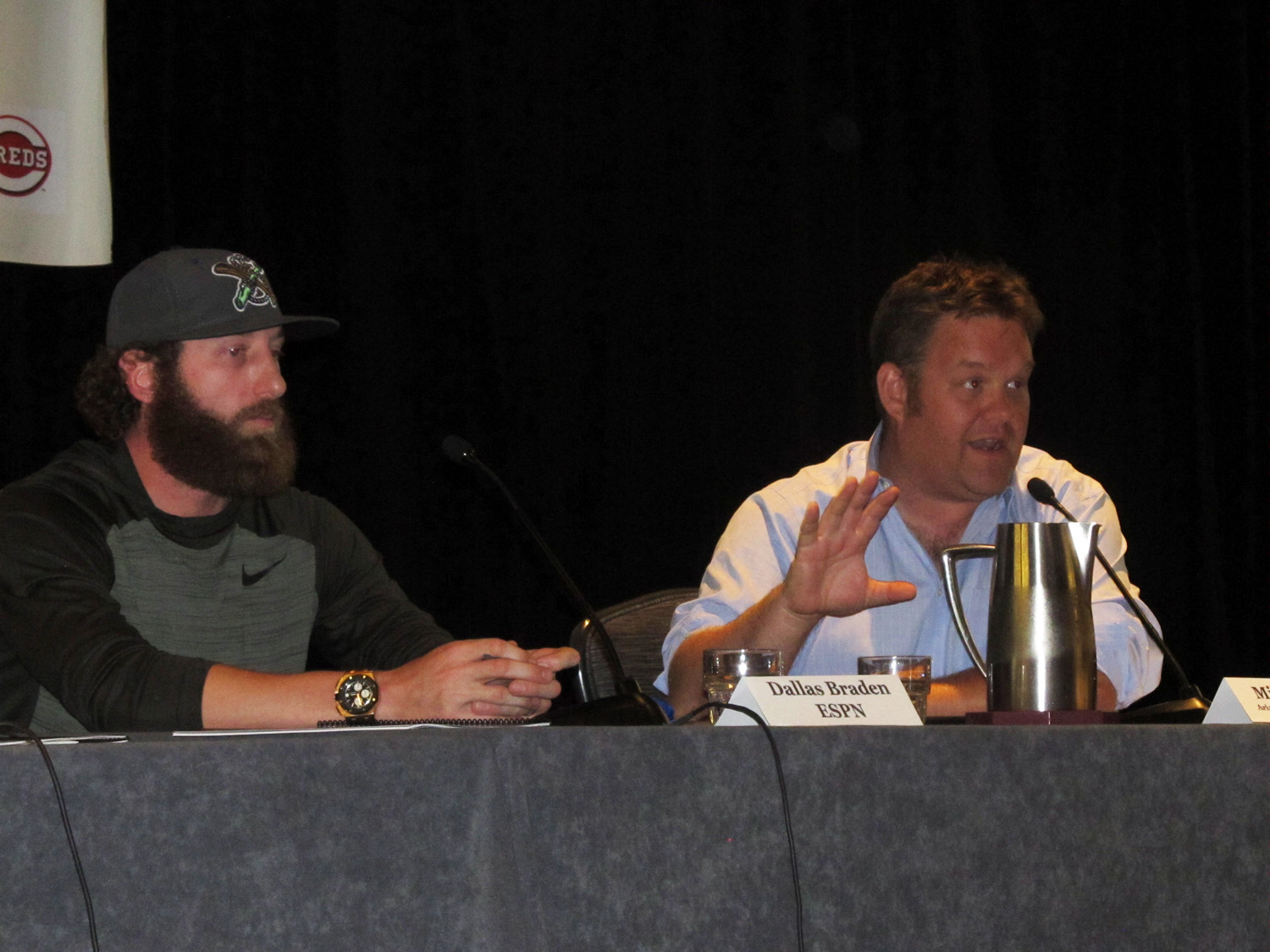 Here are some highlights from the 2016 Analytics of Hitting and Pitching Panel:
ON COACHES TRYING TO CHANGE BALLPLAYERS
Sarris: "I talked to a coach recently and he said, 'These people are grown men by the time I talk to them. I'm not going to change all their mechanics, we're not going to revamp it, we're not going to completely change anything.' … Sometimes this saber stuff or this analytics stuff sounds like it's too much number-crunching, but sometimes it's actually a coaching tool where you can say, 'Hey, I think someone's coached you along this way to do this over-the-top curveball, let's try the slurve instead.' "
ON BRANDON McCARTHY MAKING ADJUSTMENTS
Braden: "He was getting whacked hard, early in his career. He talked about the repertoire that he had, and that was a four-seam fastball over-the-top, a big overhand curveball, not much as far as a changeup or any arm-side movement on the fastball to create any deception or lack of velocity. And injuries occurred. He felt like the injuries were occurring due to an arm slot. He went back to the drawing board and created a pitcher that throws a cutter and a sinker, and he uses the curveball as more of a changeup. And the injuries — he's still dealing with Tommy John [surgery], obviously — the injuries sort of went away. It gave him an ability to repeat and bounce back and recover, and now he's getting outs differently."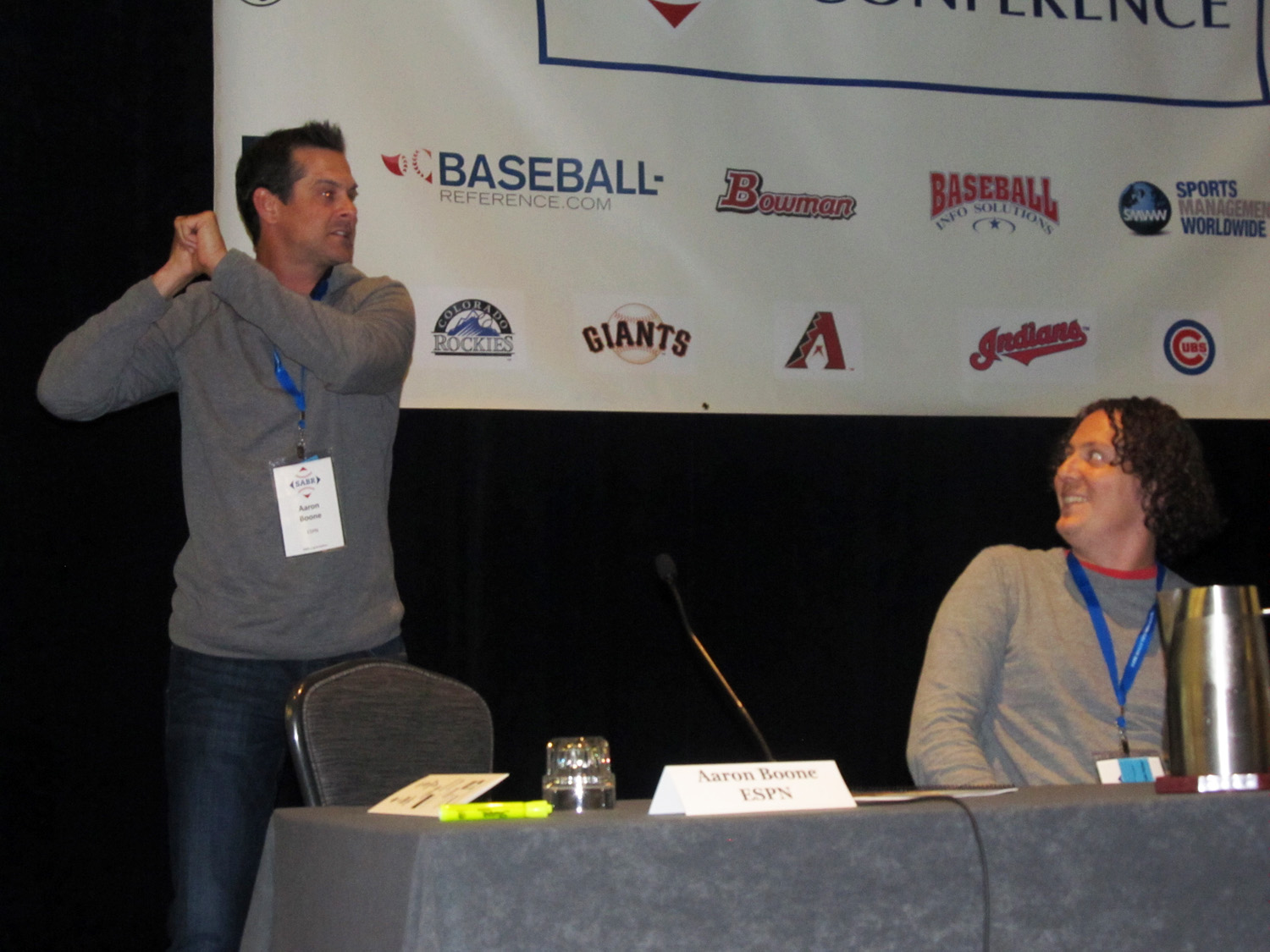 ON ADJUSTMENTS HITTERS CAN MAKE TO CREATE MORE POWER
Boone: "I grew up in the age of 'Hey, get on top of it, stay back, get the head out', these things we use as sayings all the time. What the heck does that mean? That's dumb. … More and more, I'm starting to see guys load this way [with bat knob facing down and back], and that makes kind of a whip [movement]. I think about Bryce Harper now. And then when I translate it back to the old days, I think of Babe Ruth, what do you see Babe Ruth do? Darryl Strawberry, Ted Williams, Roberto Clemente. There was tremendous torque that these guys were able to create. And more and more, we're seeing it with the way Albert Pujols loads [his swing]. … There's something that if you can time it up right and do it correctly, it creates a whip that translates into power."
ON WHEN STATISTICAL ANALYSIS CAN BE COUNTERPRODUCTIVE
Braden: "It can be paralysis by analysis. When you're starting to think about the numbers far more than you're starting to think about your physical performance, how you physically feel about how you're going about your business and the physical results."
ON THE QUANTIFICATION OF INTANGIBLE ELEMENTS
Sarris: "There's probably a lot of people here who want to get into baseball, and want to get a job in baseball. One of the best ways to do it is to be a developer, be able to devleop a system. There are a lot of jobs out there for that. One of the reasons that is a job that is in demand right now is building better systems that take in all this data and help the analysts better analyze it. And one of the things they're doing now is taking scouting reports, converting them into numbers, and not just the traditional 20-80 scouting scale numbers, I'm sure they have other things in there. I'm sure they actually do have a number for makeup in the vaunted Cardinals database."
ON LOWERING OF THE STRIKE ZONE
Boone: "I thnk the lowering over time of the strike zone, and you can track it, it's definitely shrunk several inches down to the bottom where that's more consistently called. I think that's as big a reason as PED testing in offense being down a little bit. And yes, guys will make adjustments, but I think if they were to adjust it back, there would be all kinds of unintended consequences."
For more coverage of the 2016 SABR Analytics Conference, visit SABR.org/analytics.
---
Originally published: March 10, 2016. Last Updated: July 27, 2020.
https://h2j7w4j4.stackpathcdn.com/wp-content/uploads/2020/03/research-collection4_350x300.jpg
300
350
admin
/wp-content/uploads/2020/02/sabr_logo.png
admin
2016-03-10 21:08:20
2020-07-27 15:53:55
2016 SABR Analytics: Analytics of Hitting and Pitching Panel