2016 SABR Analytics: Highlights from Brian Kenny's "Ahead of the Curve" talk
MLB Network host Brian Kenny returned to the SABR Analytics Conference on Thursday, March 10, 2016, at the Hyatt Regency Phoenix in Phoenix, Arizona. Kenny delivered a series of thoughtful opening remarks that addressed the evolution of sabermetrics and its increased importance in the baseball industry.
---
---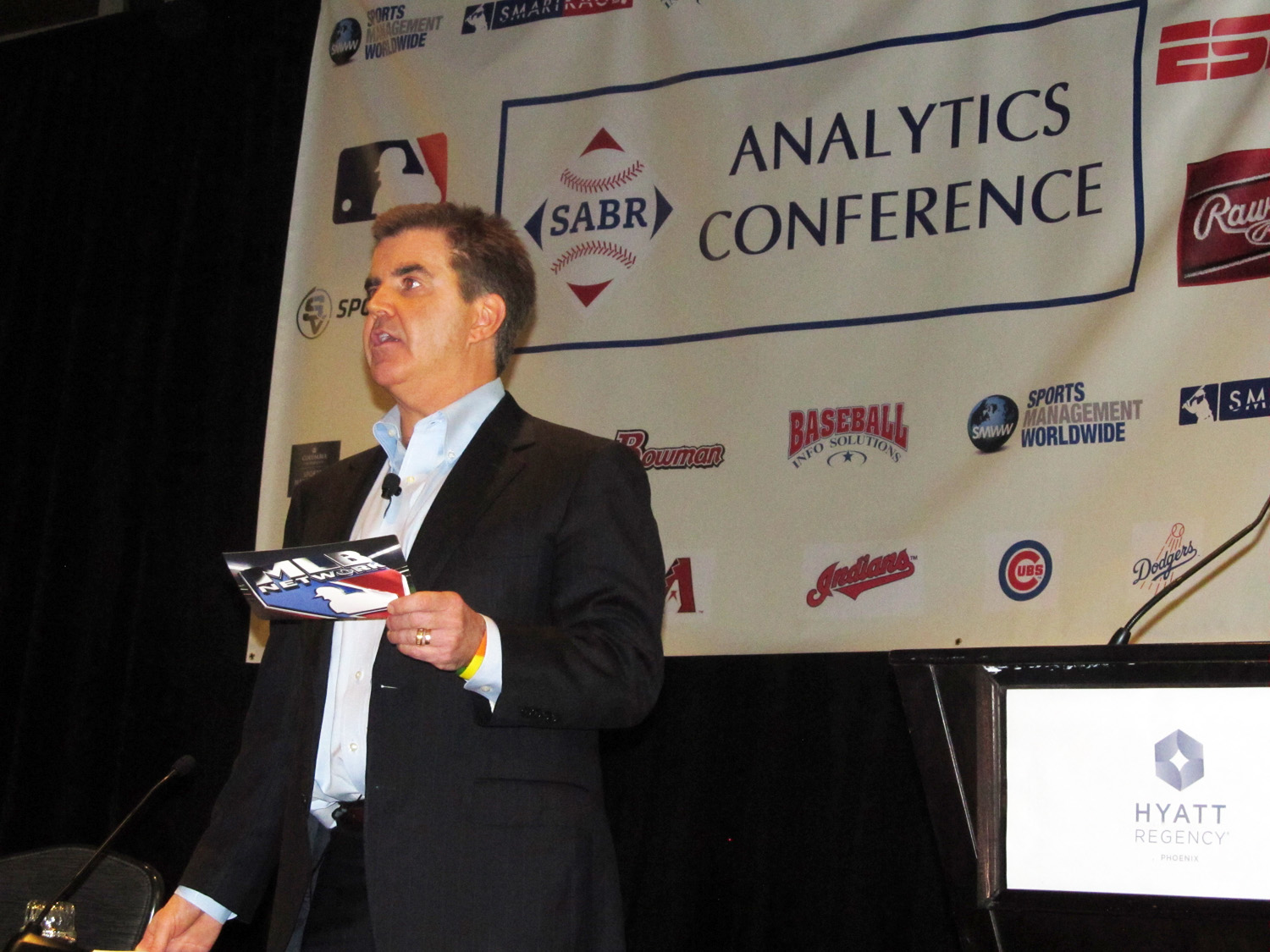 Here are some highlights from Kenny's talk, "Ahead of the Curve," also the title of his upcoming book:
ON THE BOOK
"I did write a book, it's coming out this July. I truly tried to pay respect to the people here. I tried to pay the proper respect. Part of the reason why I did write a book is I could see it all [sabermetrics] becoming part of the game, and I could see revisionist history already taking place. So for my small part, I tried to point out, 'No, no, no, these guys [like Bill James, Pete Palmer, and Dick Cramer in the 1970s] were saying it and you were rejecting it for a long period of time.' And I hold people accountable."
ON CHANGING STRATEGIES, SUCH AS BATTING THE PITCHER EIGHTH
"I realize one of the big reasons we don't accept information is we are herd animals. We are very reticent to go outside of the herd, very much so. So all of these managers doing these small things and not facing ridicule, that is significant. … The herd has changed. Even if they're going to get ripped by the local beat writer, which can still happen, there's still FanGraphs, there's Baseball Prospectus, there's other websites that will back him up. … Also, their owners, this is very important, obviously a lot of their owners are in the financial world and they understand the application of data and the real connection between data and the physical world. So now they're covered [by] their bosses and the media, and now they can actually do it."
ON THE 'NEXT BIG THING' IN BASEBALL
"The full bullpen attack. Why have a starting pitcher? Well, because we used to have one. He was the starter, and the closer, and the finisher, and everything in between. Why do you start with a guy? Why in the National League do you let a guy pitch the first two innings and have him bat? Why not have an opener, have a guy pitch two innings, pinch-hit for him, then bring in your Adam Wainwright type and let him go from the third to the eighth? It's just tradition, really."
ON THE NEXT GENERATION COMING UP IN A SABERMETRIC WORLD
"Better living through sabermetrics: what is the message for kids out there? It's to have an open mind, and to realize our associative memories, the things that pop into our heads on a regular basis, we have very little control over them. … You need to question your assumptions constantly and think things through. You ask about the lessons for kids out there. What's more fascinating than learning about the sabermetric revolution in baseball and then how to apply it to the rest of your world, given that baseball is such a great game."
For more coverage of the 2016 SABR Analytics Conference, visit SABR.org/analytics.
---
Originally published: March 10, 2016. Last Updated: July 27, 2020.
https://h2j7w4j4.stackpathcdn.com/wp-content/uploads/2020/03/research-collection4_350x300.jpg
300
350
admin
/wp-content/uploads/2020/02/sabr_logo.png
admin
2016-03-10 20:37:44
2020-07-27 15:53:55
2016 SABR Analytics: Highlights from Brian Kenny's "Ahead of the Curve" talk