2016 SABR Analytics: Highlights from the Baseball Operations Panel
At the 2016 SABR Analytics Conference on March 12, 2016, our Baseball Operations Panel discussed how Major League Baseball front offices are using analytics to improve their teams' performance.
---
---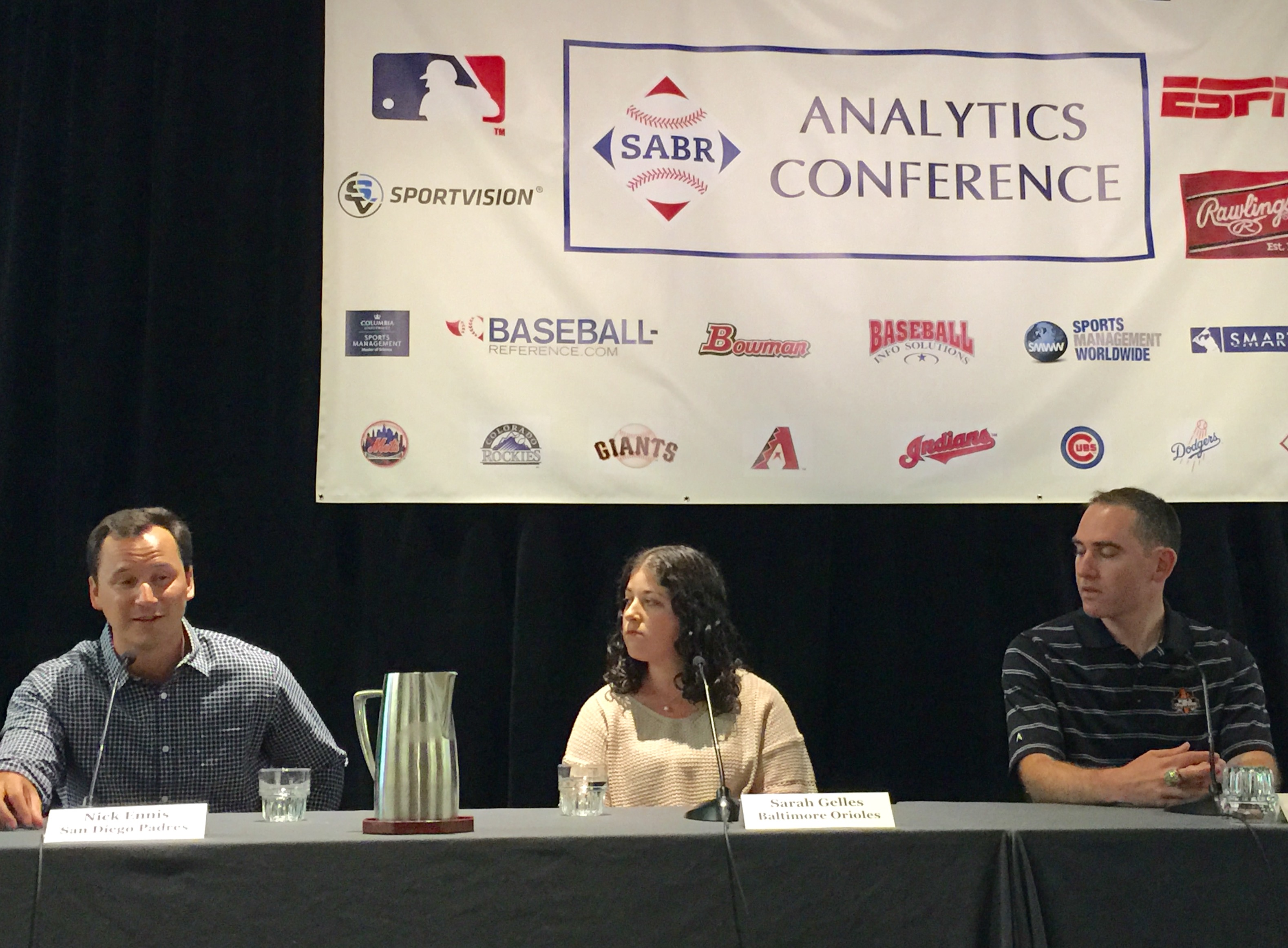 Panelists included Nick Ennis, the San Diego Padres' Director of Baseball Operations; Sarah Gelles, the Baltimore Orioles' Director of Analytics and MLB Contracts; and Yeshayah Goldfarb, the San Francisco Giants' Vice President of Baseball Operations. The panel was moderated by SABR President Vince Gennaro.
Here are some highlights from the Baseball Operations Panel:
ON PROVIDING ANALYTICS TO MANAGERS, COACHES, AND PLAYERS
Goldfarb: "We don't tell them how to use it, we give it to them in an easy way to process, we might walk them through it at times, but a lot of it is pretty easy to understand when you make it in an understandable format, including with the players. Something that we're always cautious of, and we have lots of conversations about, and we spend a lot of time on, is just making sure the numbers they get are in the right context, because context really, really matters."
ON INDIVIDUAL PLAYERS USING ANALYTICS
Goldfarb: "There are things you can share with them that maybe puts some insight to it, and that from the psychological side — if the player knows they went 0-for-4 but you can tell they hit three line drives and popped up once — that might make them approach the game a little bit differently. If they're all outcome based, and only worried about how many hits they get in a game, that's really not the best mental approach for a player to stay consistent. Their consistency should be related to hitting the ball hard somewhere, and the numbers can show that as well."
ON THE PADRES' FLURRY OF SIGNINGS IN THE 2014-15 OFFSEASON
Ennis: "Any transaction, even transactions that involve keeping your own players, they take a lot of work and time and effort to consummate. A lot of things happened for us last offseason, and I'm not going to say it was entirely the market dictating, but you're trying to improve and trying to add value."
ON YOUR HOME BALLPARK INFLUENCING ROSTER DECISIONS
Gelles: "I think we're going to hit quite a few home runs this year, and it's probably not a complete coincidence we've constructed the roster this way. I think it also helps from a player's perspective, guys that are coming and looking for bounce-back seasons. Pedro Alvarez probably thinks he's going to hit quite a few home runs this year, and we do, too."
ON THE USE OF MLB'S STATCAST DATA
Goldfarb: "It's really exciting. There's a lot of potential in terms of being able to make better decisions based on this new data. … It's a huge dataset, and it's still in its infancy stage in a lot of ways, because you only really have a year's worth and you really need a bigger set of data to see changes over time. … Databases have become a big deal because we have a lot of data coming in. PITCHf/x was about a million data points a year for a season, and Statcast is going to be two billion if you really look at every positional data point in the year."
Ennis: "The datasets and working with them require a more specialized skill set now, but the explanatory power of what you're saying is much closer to something anyone can understand … In a lot of ways, Statcast has unlocked a much more logical conversation with the people who you want to understand this information, because they're applying it on the field."
ON THE SKILLS REQUIRED TO WORK IN BASEBALL OPERATIONS
Gelles: "With Statcast data visualizations are going to become a much bigger focus to try to figure out different ways to communicate to coaches and players the conclusions, and a focus on that would be worthwhile. On the less technical side, the communication is huge. If we're going to hire you to be in our analytics department, we want to be able to trust that if [Baltimore Orioles manager Buck Showalter] comes up and asks you to explain a model, you can do it in an understandable, respectful way. I think that's easier said than done."
For more coverage of the 2016 SABR Analytics Conference, visit SABR.org/analytics.
---
Originally published: March 14, 2016. Last Updated: July 27, 2020.
https://h2j7w4j4.stackpathcdn.com/wp-content/uploads/2020/03/research-collection4_350x300.jpg
300
350
admin
/wp-content/uploads/2020/02/sabr_logo.png
admin
2016-03-14 00:42:07
2020-07-27 15:53:54
2016 SABR Analytics: Highlights from the Baseball Operations Panel