2016 SABR Analytics: Highlights from the Defensive Metrics Panel
At the 2016 SABR Analytics Conference on March 12, 2016, our Defensive Metrics Panel discussed how the art of fielding and evaluating defense have changed thanks to modern analysis.
---
---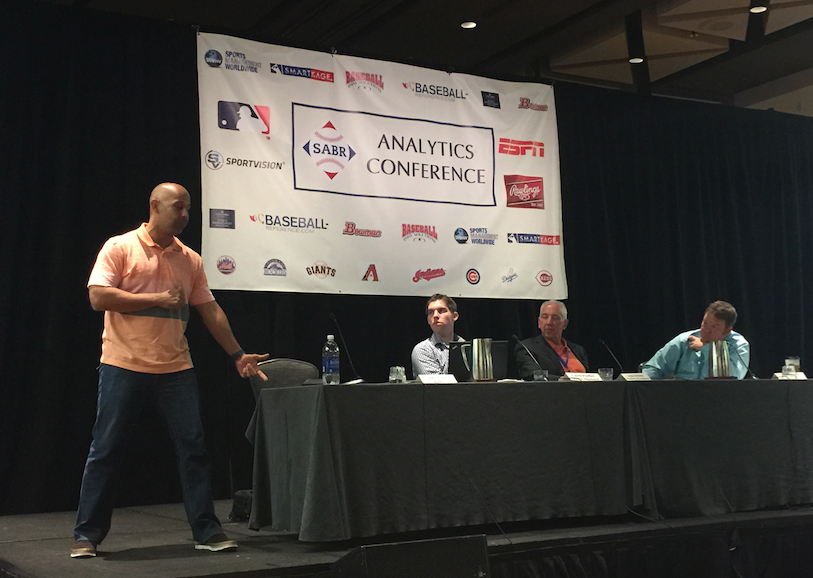 The panel included former major-league infielder Alex Cora, now an ESPN analyst; John Dewan, owner of Baseball Info Solutions; Caleb Peiffer, Manager of Baseball Operations for the Seattle Mariners; and moderator Mike Ferrin of the Arizona Diamondbacks and MLB Network Radio.
Here are some highlights:
ON THE CURRENT STATE OF FIELDING STATISTICS
Dewan: "In fielding I'd say we're at about 60-65 percent now with defensive metrics like defensive runs saved, UZR, some of the newer things we've added like catcher framing. Back when we only had fielding percentage we were only measuring like 5 percent of the player's defense, and then Bill James came along with his range factors and probably added another 20 percent, and then we did some zone ratings and ultimate zone ratings and now I think we're up to 60-65 percent range. I think what we're going to learn more with things like Statcast are the details of it."
ON THE DIFFERENCES BETWEEN CLUBS IN EVALUATING DEFENSE
Peiffer: "I think, traditionally, defense has been the one area of greatest frustration for clubs. Offense and pitching we have better metrics. Most clubs have similar ways to look at both offense and pitching, but I think defense is where you really see a difference in how clubs approach things. I think that's going to be ongoing with Statcast. There is just so much data there, and I think clubs are approaching it differently. All the answers are in there, it's just a matter of doing what you can do to get the answers out, and it's going to take a lot of resources."
ON THE RISE IN SHIFTING ON DEFENSE
Dewan: "Last year the Rays and Astros had 1,400 shifts each, and they saved, by our Shift Runs Saved calculations, one was 23 runs, the Rays, and the Astros were 20 runs. And 20 runs is two wins. You've got a strategy here of shifting that gets you two wins. The other 28 teams, they averaged about 500 shifts, and they averaged 8 runs [saved]. I'm like, get with the program. Every single way that we've ever analyzed this, it's the more you shift, the better you get, you save more runs."
ON THE SKILL SETS NEEDED BY TODAY'S INFIELDERS
Cora: "If I have to build a team, my first baseman has to be very explosive to his left. Why? Because now he's going to play in that 4.5 hole, as far as possible from the first base bag. … My second baseman he has to be quick coming in, because I'm going to put him in short right field, and there are going to be some soft ground balls hit into that 4.5 hole, so you have to sprint and go get it. You have to be more athletic than what people think. … With the shortstop, the best athlete, regardless. Quick to right, quick to left, obviously great arm. … For third basemen, we used to get guys who hit 30 home runs, drive in runs, just make the routine plays. They've got to be a little bit more athletic now, because sometimes they're playing shortstop, sometimes they're playing second base. That's why you see the Justin Turners, the super utility guys that play second/short, they put them at third base."
ON CATCHERS IMPROVING THEIR PITCH FRAMING BECAUSE OF ANALYTICS
Peiffer: "Chris [Iannetta] saw the framing rankings, and saw he was at the bottom, and he was upset by that obviously. He went to the team's baseball ops department and said 'how can I get better at framing?' They showed him a lot of video of the players who were the best framers, and worked with the coaching staff, and had him try to emulate some of those guys. And it worked. He turned from one of the worst framers in the game two years ago to among the top ten or in that range last year. I think that's a testament to defensive analytics and what they can do for a player if he actually buys in."
ON YADIER MOLINA
Cora: "I always go back to Yadi Molina. It's no coincidence that with Yadi [the St. Louis Cardinals] are better. It's not only with the pitch framing, but also calling the game, and other stuff comes into play. Throwing with a purpose. You can see the tempo of the game. When Yadi's behind the plate, it's a two-and-a-half hour game. When he's not, Wainwright starts shaking off. That's how it goes. … When those guys are behind the plate, those top five, ten catchers, the game is different."
ON THE USE OF STATCAST DATA BY MLB CLUBS
Dewan: "That's the thing about the Statcast data, you're going to get information that you've never seen before. … One of the coolest things I've seen, we built an animation of plays for one of our clients. It's interesting not to watch the players involved with the play, but to watch the other plays, like the catcher running down the first base line to back up a throw, or the left fielder on a single to right come in towards the infield, or not coming towards the infield in some cases, to back up throws. You can learn things you would have never thought you could learn from Statcast."
ON THE NEW DOUBLE PLAY SLIDE RULE
Cora: "I think they made a huge deal out of a bad tackle at second base on a big stage. I think in the end they should have just said, 'just slide.' … I don't like it, I think they should have just said 'slide, and make sure you do not tackle the guy.'"
ON WHAT DEFENSIVE METRICS DON'T CAPTURE
Dewan: "We have a metric, I don't even remember what we call it, that tries to measure the catcher handles the pitcher, can he get better performance out of the pitcher, and I don't think we do it well enough. I think there are catchers who can work with a pitching staff or individual pitchers and really get the most out of them compared to other catchers. I don't think we have a good way of measuring that. I don't know what the best way to measure that is."
For more coverage of the 2016 SABR Analytics Conference, visit SABR.org/analytics.
---
Originally published: March 12, 2016. Last Updated: July 27, 2020.
https://h2j7w4j4.stackpathcdn.com/wp-content/uploads/2020/03/research-collection4_350x300.jpg
300
350
admin
/wp-content/uploads/2020/02/sabr_logo.png
admin
2016-03-12 16:06:02
2020-07-27 15:53:54
2016 SABR Analytics: Highlights from the Defensive Metrics Panel