2016 SABR Analytics: Highlights from the General Manager Panel
At the fifth annual SABR Analytics Conference, our General Manager Panel on Friday, March 11, 2016, discussed how major league front offices are using analytics to develop a competitive edge and stay ahead of their competition.
---
---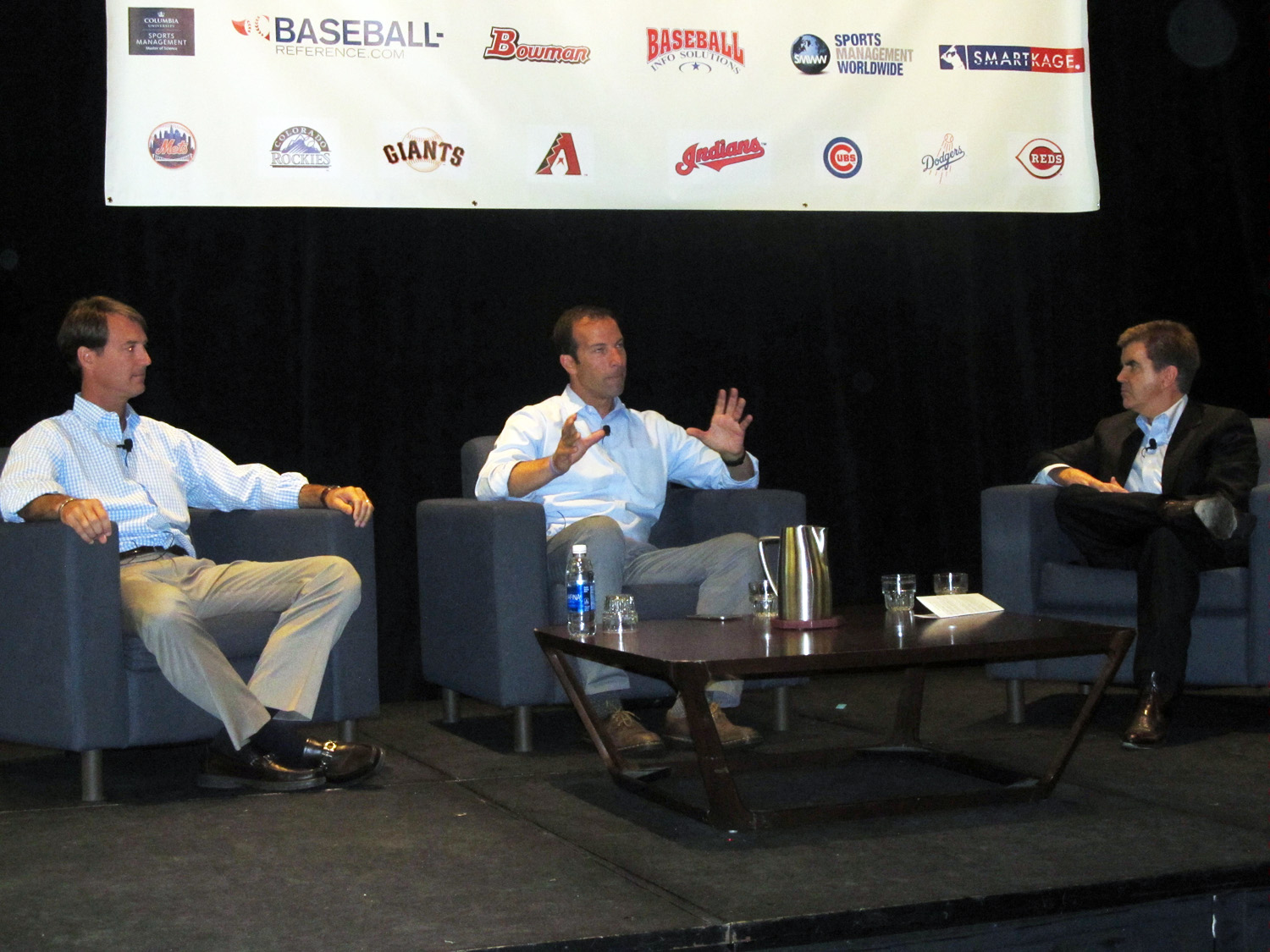 Panelists included Dick Williams, Senior Vice President/General Manager of the Cincinnati Reds, and Billy Eppler, General Manager of the Los Angeles Angels of Anaheim. The panel was moderated by Brian Kenny of MLB Network.
Here are some highlights from the General Managers Panel at the 2016 SABR Analytics Conference:
ON THEIR NEW ROLES AS GENERAL MANAGERS
Williams: "The daily routine, I used to be a routine-oriented guy, and I found that's a lot harder to keep [as a GM.] I take it day-by-day. Sometimes you're in the office a lot more and we're cycling through meetings, but you really do have to keep that connection to the field and the players and the staff. My favorite days are the ones when I really can go down there."
Eppler: "It's obviously a really big responsibility. You have this baseball operations department, everybody knows what's going on at the major-league level, the 25 guys on the roster and the coaching staff. But it goes a lot deeper than that. You're looking at about 200 players that are totally under contract with your organization. You're talking about a player development department, an amateur scouting department, domestically and internationally, professional scouting department, medical staff, so on and so forth. The responsibility to put your process in place is a pretty vast project."
ON REACTING TO YOUR TEAM SLUMPING AND MAKING CHANGES
Williams: "I tell people the best and worst part of this job is that everybody watches your games every night and has something to say the next day. … We're one of the few businesses where people are in our business all the time. That takes some getting used to. But you have to take that longer term view."
ON THE INCREASE IN ANALYTICS PERSONNEL IN MLB FRONT OFFICES
Williams: "It's an easy sell to ownership to invest in this area. When you look at the dollars we're spending on the major-league payroll now, and the dollars that baseball operations in general are spending, a minimum salary at half a million bucks, and you look at how many young, smart people that can get for your organization, it really makes a lot of sense to grow."
ON HIS DECISION-MAKING PROCESS WITH THE ANGELS
Eppler: "We roll with the 'office of the general manager' and we have a lot of different players who sit at that table, people with a lot of diverse backgrounds. … It's that diversification, that I have found, will really uncover a lot of different aspects and not be blindsided by something. We've thought the problem through, and all the different scenarios through."
ON THE CURRENT STATE OF STATISTICAL ANALYSIS
Williams: "I love that the statistics are catching up with reality. I feel like what is happening, both defensively and offensively, is you had this wave of analytics and there were a lot of scouts that were skeptical of the information, the conclusions that were being drawn. A lot of those early decisions that were made around statistics were made based on event-driven numbers. Now that you're getting qualitative, descriptive statistics — more of the spin rate of the ball, more of the exit velocities, more of the range information — the decisions that are being made statistically are now starting to line up again with the scouts. … It's been validating for a lot of our scouts."
Eppler: "I felt like, 'Wow, we had better get some physics expertise in here to kind of help with this decision-making.' I've seen this evolution take place go from real math-oriented now to physics-oriented disciplines, and we try to keep up as much as possible, and hire as many intelligent people to put in that 'office of the GM' to help disseminate and house a lot of this information."
ON INSIGHT FROM A PLAYER'S PERSPECTIVE

Eppler: "A couple years ago, Alex Rodriguez told me something very, very unique. He said, 'Tell the players what you value, and they'll make themselves that way.' It was very intellectual for him to say that, and he's on to something."
Williams: "[Reds superstar Joey Votto] hits .360-something on pitches inside the zone, and .200 on pitches outside the zone. I happen to know that statistic because I looked it up, because I had the conversation with one of our broadcasters who has maintained that Joey is being selfish in his approach because he's more interested in walking or getting on base sometimes than he is in expanding his strike zone or trying to get a runner in. What I would say to him is it strikes me as being incredibly selfish if you would knowingly make yourself a hitter that is that much worse in order to chase an arbitrary statistic like an RBI. Isn't he being incredibly unselfish because he's having the discipline to do what he knows he does well?"
For more coverage of the 2016 SABR Analytics Conference, visit SABR.org/analytics.
---
Originally published: March 11, 2016. Last Updated: July 27, 2020.
https://h2j7w4j4.stackpathcdn.com/wp-content/uploads/2020/03/research-collection4_350x300.jpg
300
350
admin
/wp-content/uploads/2020/02/sabr_logo.png
admin
2016-03-11 14:01:18
2020-07-27 15:53:55
2016 SABR Analytics: Highlights from the General Manager Panel