2016 SABR Analytics: Highlights from the How Big Data and Analytics is Impacting Baseball's Business Operations Panel
The business of baseball is becoming more dependent on analytics. At the fifth annual SABR Analytics Conference on March 12, 2016, our How Big Data and Analytics is Impacting Baseball's Business Operations Panel took an inside look into how team's front offices are using analytics and big data to progressively drive incremental revenue growth.
---
---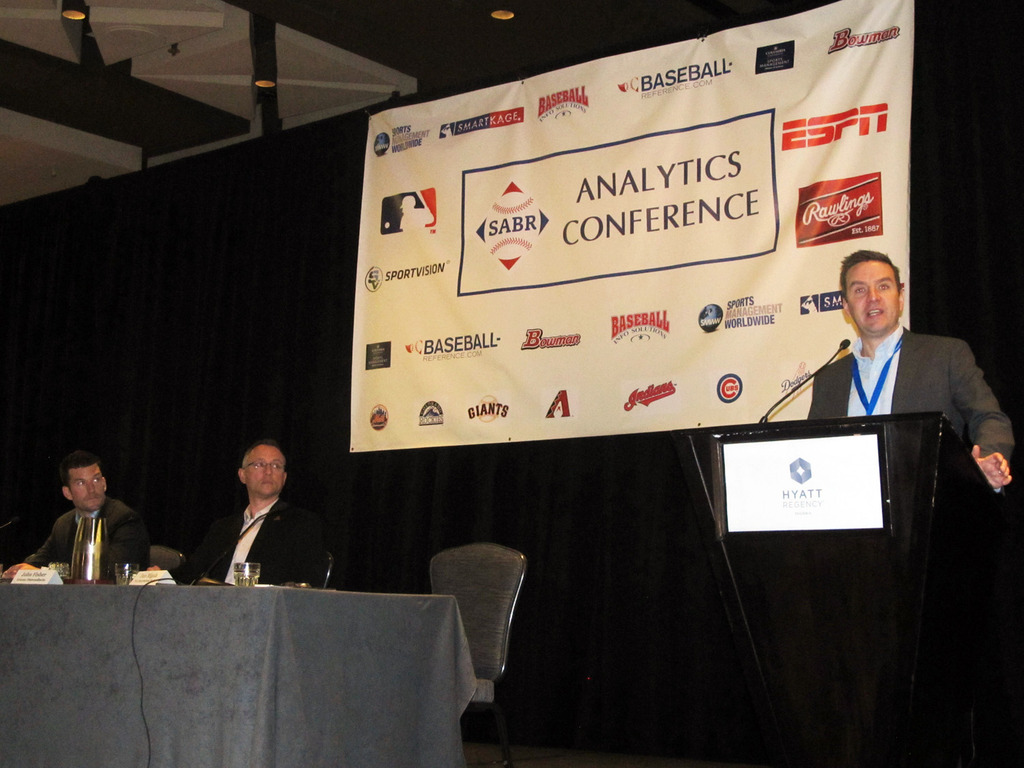 Panelists included John Fisher, Senior Vice President of Ticket Sales and Marketing for the Arizona Diamondbacks; and Ryan Gustafson, Vice President of Strategy & Innovation for the San Diego Padres. The panel was moderated by Dan Migala, Chief Innovation Officer of PCG & SportsDesk Media.
Here are some highlights:
ON THE INCREASE IN AVAILABILITY IN BUSINESS DATA
Migala: "I think Commissioner [Rob] Manfred's leadership in this area is really going to trickle down. Major League Baseball shared with me, just as an example, you'll see automated reports on what are the outputs on a daily basis from a revenue standpoint that are delivered. Five years ago, the commissioner's office would distribute four different revenue data points a day, and different analysis. This year, with Commissioner Manfred's leadership, and increased emphasis on business analytics, 68 different points of data are being distributed on a revenue standpoint daily. … It's not just the 30 Major League baseball teams that are doing this, but the minor leagues, 160 minor league teams across the country that are very integral to the ecosystem of baseball are doing these same channels and efforts to be able to drive incremental revenue."
ON COLLECTING DATA FROM TICKET CUSTOMERS
Gustafson: "Any time someone buys a ticket they get an account built in our CRM [customer relationship management] system, and we start collecting data on them. From demographic data to their ticket purchase data both through padres.com and through other channels, we start understanding what they're doing when they're at the ballpark, and really try to get what we like to call the 360-degree view of the customer and what they like. So how can we use analytics to tailor experiences that are going to make their time at Petco Park more fun and get them to come back more? We also have a lot of predictive modeling around customers through lead scoring. Similar to the baseball side when analysts predict a player's performance, we kind of predict a customer's performance. What do we think this customer is going to be worth to us, the lifetime value of them, their likelihood to buy season tickets, and we try to use that to optimize our sales and marketing resources."
ON THE ARIZONA DIAMONDBACKS' INCREASED EXPECTATIONS THIS SEASON
Fisher: "We like to call December 4 '[Zack] Greinke Day'; that's when we signed him. It was around 6 o'clock local time that evening and it was around 10 o'clock Saturday morning that myself, my boss, and our CFO got an email from our owner [Ken Kendrick] saying that we needed to increase ticket revenue. We are now expected to increase revenue at the highest level in tickets since we had the World Series in 2001. When you look at data, it is really critical to what we do, because things like signing Greinke to a $206.5 million contract certainly impacts us on the business side."
ON PREDICTIVE MODELING OF SEASON TICKET RENEWALS
Fisher: "This has allowed our sales reps to look at where each account is projected to renew and make a decision on where they need to put their focus. If it's a lower percentage, under 20 percent or above 80 percent, probably a good chance they're either going to come back or they're not going to come back. Not to say we're not going to spend time with those folks, but our real focus needs to be in the middle, on the fence-sitters that are around 40-60 percent. … Our ability to project who was a fence-sitter allowed us to focus more energy on those accounts, which in turn has allowed us to renew them at a higher level. The analytics and all the data we put into our system worked, and has paid extremely high dividends."
ON THE VALUE OF DYNAMIC TICKET PRICING
Fisher: "The nice benefits with dynamic pricing on the season ticket side is we can really show a great savings, because season ticket holders get discounted price of what face value is. If a ticket is $20 when it first goes on sale, but because of demand it goes to $30, $40 by the time that game is here. As a season ticket holder you may be paying $16. Instead of just saving that $4, you're saving potentially $15, $20, $25, it provides a lot of value. Dynamic pricing not just drives revenue for us on the single game front, it allows us to maximize when demand is high, it also allows us to really have a great piece of leverage when we're out there trying to sell tickets because season ticket holders are saving that much more money now than what they had previously in earlier years."
ON INVESTING IN THE BUSINESS ANALYTICS DEPARTMENT
Gustafson: "The ability to predict our business is tremendously valuable, almost incalculable value, of what we do. Especially when it comes to planning our baseball side, our ability to know what's going to happen, when it's going to happen, how much cash we're going to generate on the revenue side, allows us to plan accordingly. That's a tremendous value proposition to ownership and executives."
ON THE SECONDARY MARKET OF TICKET SALES
Gustafson: "The secondary market exists as it does because of inefficentcies in the primary market, whether it's the way we price the tickets, whether it's the way we distribute and sell to ticket brokers, whether it's the process of buying the ticket. Anything in the secondary market, you look team-to-team and it varies so tremendously. There are teams that sell upward of 20,000 tickets a game on StubHub while we sell like 500. What we try to do is figure out how to optimize our primary business by supplying and maintaining controls over the secondary marketing, and pricing efficiently in a way that's going to drive people to buy through padres.com as opposed to the StubHubs and SeatGeeks of the world."
Fisher: "A lot of teams now, including ourselves and the Padres, are starting to really limit the number of tickets that are out there with ticket brokers, and making sure that if we are partnering with anyone, we're partnering with the right ones that aren't going to crash the market, that understand the impact of what they do on themselves and on us, and I think the teams are starting to get a lot smarter. They're not looking short-term."
For more coverage of the 2016 SABR Analytics Conference, visit SABR.org/analytics.
---
Originally published: March 16, 2016. Last Updated: July 27, 2020.
https://sabr.org/wp-content/uploads/2020/03/research-collection4_350x300.jpg
300
350
admin
/wp-content/uploads/2020/02/sabr_logo.png
admin
2016-03-16 15:57:11
2020-07-27 15:53:54
2016 SABR Analytics: Highlights from the How Big Data and Analytics is Impacting Baseball's Business Operations Panel