2016 SABR Analytics: Highlights from the MLB Now Panel
At the 2016 SABR Analytics Conference on March 10, 2016, our MLB Now Panel engaged in a wide-ranging discussion on issues affecting modern baseball.
Panelists included Eric Byrnes, former major-league outfielder and MLB Network analyst; Ken Rosenthal, an MLB Network and Fox Sports contributor; and SABR President Vince Gennaro. The panel was moderated by Brian Kenny, who also hosts "MLB Now" on MLB Network.
---
---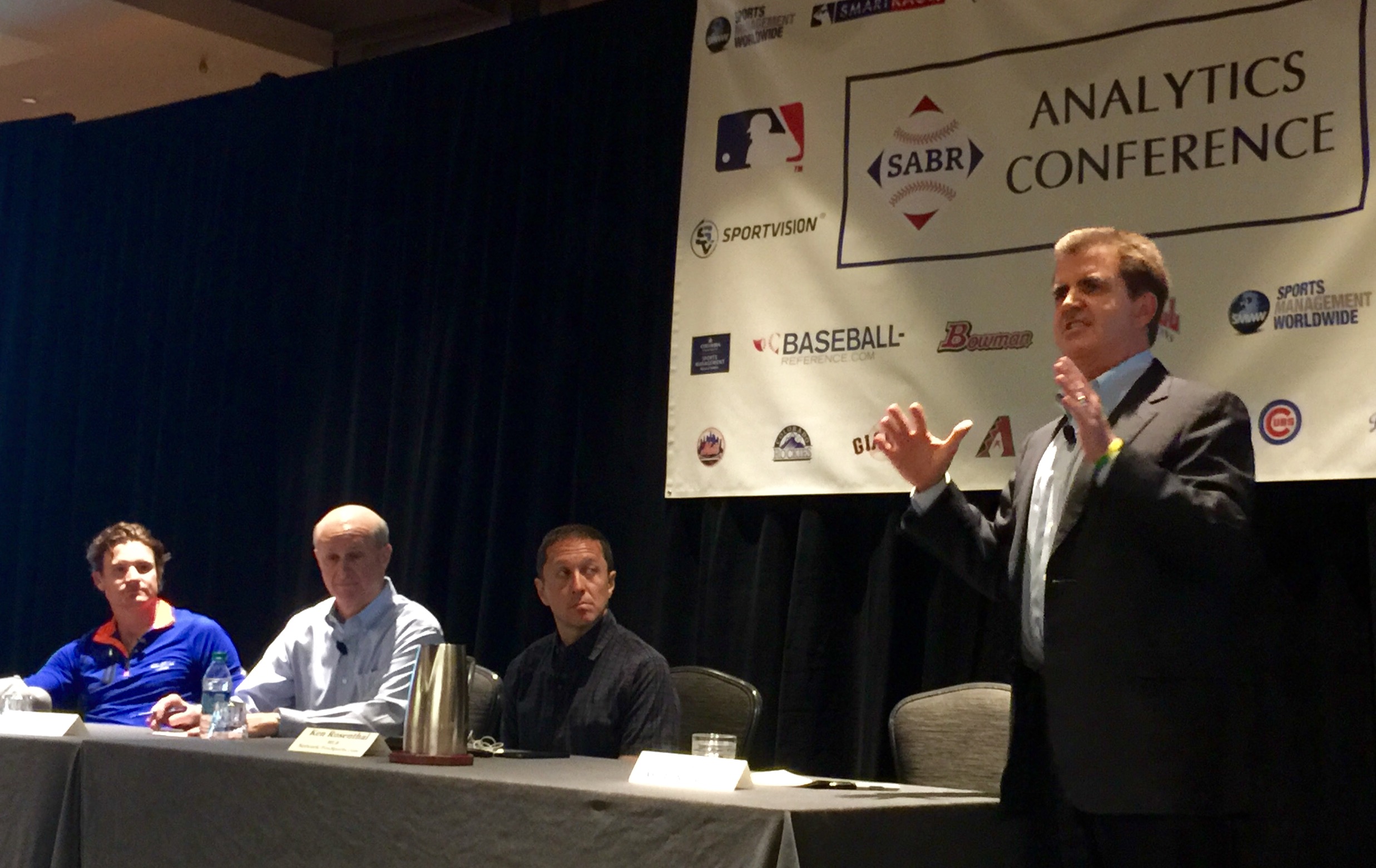 Here are some highlights from the MLB Now Panel:
ON INCORPORATING SABERMETRICS INTO TV BROADCASTS
Rosenthal: "Every year before the season starts, we have a meeting of our FOX broadcast team. … This was a huge point of discussion at the meeting this year, how far to go with sabermetrics. It's really been a huge discussion for several years now. In fact, a few years ago when we introduced OPS in the national broadcast for the first time, that was considered a major step. The reason they don't go farther, to the frustration I'm sure to some of you, is because the casual fan, they feel it's just too much."
Byrnes: "You have this information, and as an analyst, it's irresponsible to at least not go over the information. It doesn't mean I'm going to 100 percent regurgitate the packet on the air, but I have it and I know it. If you're a team, and you're ignoring this, and you're not diving fully into it and at least looking at it, and at least taking those numbers and using them to your advantage as much as possible, that's irresponsible."
ON PLAYERS USING STATS TO BATTLE SLUMPS
Byrnes: "As a player I wish I had that information coming back to me, because naturally when you go through a month of struggles, you think, 'I have to change.' And eventually you change and the spiral continues to go downhill."
ON CLOSING THE TALENT GAP BETWEEN PLAYERS
Gennaro: "I think the gap in performance based on talent level, let's say it was this [holds hands apart], I think those days are over. I think the coachable, adaptable player who can internalize information, use it to make him better, is going to creep up the scale. I think the 'see ball, hit ball' guy, the raw talent guy who doesn't care about any of this stuff, will be caught up to."
ON THE MARQUEE VALUE OF PLAYERS VS. TEAMS
Byrnes: "I'm not sure if the sabermetrics world has talked about it, but if you look at it as a business, how much, if any, do the Q ratings of these players ever come into effect, and what sort of value would a guy who sells more jerseys have? Is there a way to value what these guys could bring to you off the field?"
Gennaro: "It's a great question, and part of the answer lies in the fact of the way the league is structured, in the revenue streams. Unless you're selling something in your local territory, you're not getting the revenue, it's getting split 30 ways. The marquee value of the player, which is what you're getting at, is significantly diluted by the rules of Major League Baseball and the way revenue gets divided. The second thing is there's an age-old debate, do people come out to see players, or do they come out to see the team win? The general answer is winning matters more than players, but they do interact."
ON INCREASING OPPORTUNITIES FOR WOMEN IN BASEBALL MEDIA
Rosenthal: "Obviously with Jessica Mendoza going on 'Sunday Night Baseball' this year on ESPN, that's as big a breakthrough as is imaginable. It's a very positive step in many ways. A lot of people I know are still opposed, even players, front office people saying 'she didn't play' … well, she's one of the greatest softball players of all-time. As far as getting into the print end [of media], I wouldn't necessarily advise anybody to get into the print end right now."
For more coverage of the 2016 SABR Analytics Conference, visit SABR.org/analytics.
---
Originally published: March 19, 2016. Last Updated: July 27, 2020.
https://h2j7w4j4.stackpathcdn.com/wp-content/uploads/2020/03/research-collection4_350x300.jpg
300
350
admin
/wp-content/uploads/2020/02/sabr_logo.png
admin
2016-03-19 12:49:20
2020-07-27 15:53:54
2016 SABR Analytics: Highlights from the MLB Now Panel