2016 SABR Analytics: Highlights from the Statcast on Every Screen Panel
Statcast is a revolutionary tracking technology developed by MLB Advanced Media, gathering and displaying aspects of the game that were previously immeasurable. The system collects the data using high-resolution optical cameras and radar equipment that have been installed in all 30 Major League ballparks.
---
---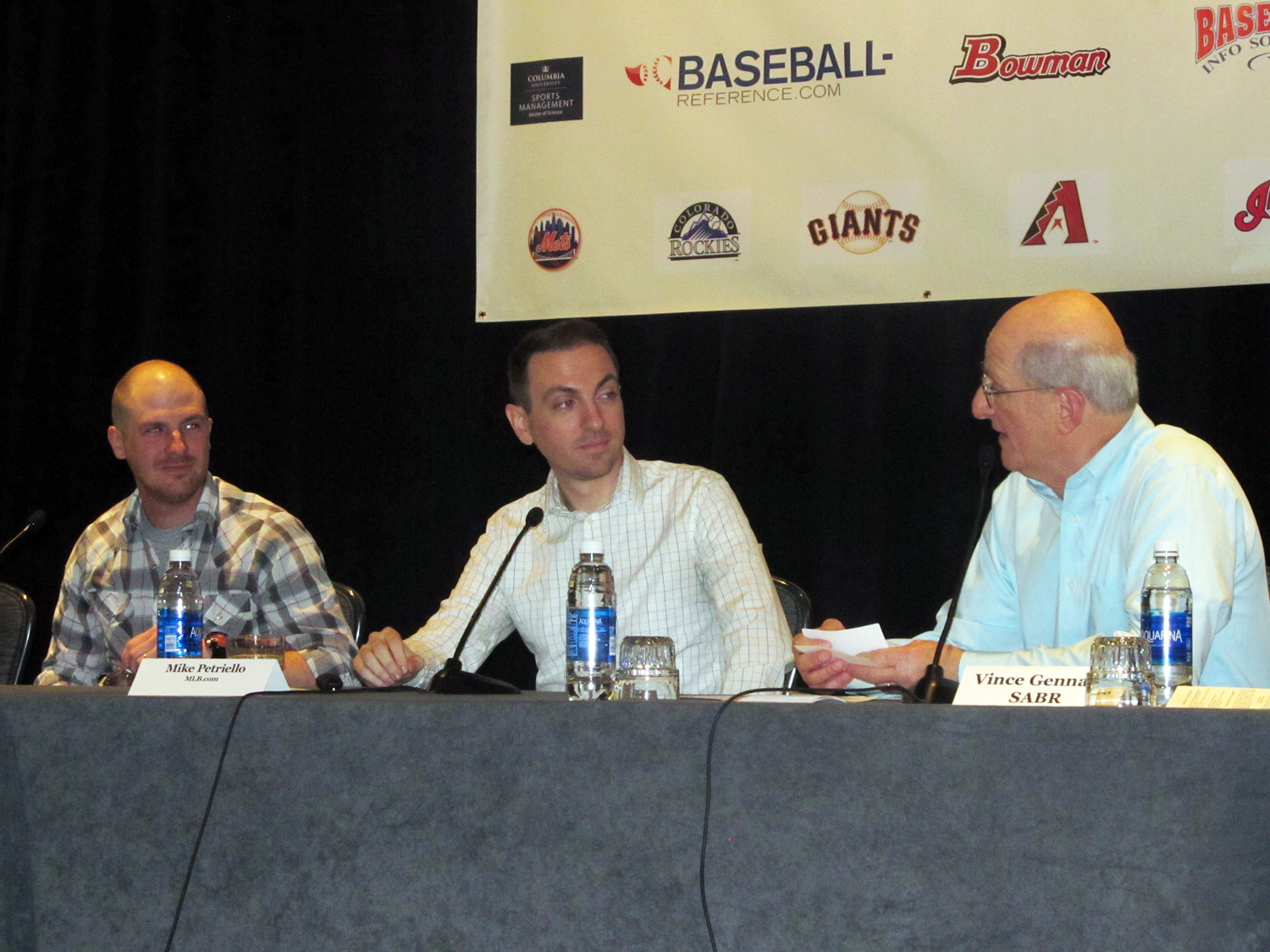 At the 2016 SABR Analytics Conference on March 11, 2016, Daren Willman of MLBAM and Mike Petriello of MLB.com talked about the new technology that precisely measures the positions and movements of the ball and every player on the field, introducing fans to a whole new generation of stats such as Exit Velocity, Launch Angle, Route Efficiency, Top Speed and more.
Here are some highlights from the Statcast on Every Screen Panel:
ON WHAT STATCAST DATA MEANS FOR FANS
Petriello: "It's an incredibly complicated dataset. But I think it can still be very accessible to the fans. It's hard to watch a baseball game and say, 'Oh, I just saw a Win Above Replacement.' You can't really see that. But you can see an outfield throwing arm. You can see a guy running to first and you want to know how fast he is. If you were in Houston last year and saw Carlos Gomez throw out Joe Mauer with a 103 mph throw, you can say, 'I saw the best outfield throw of the entire year.' And who knows, maybe in five years you can say you saw the best outfield throw of the last five years."
Gennaro: "I think it's going to really deepen our appreciation and understanding of the game at a level that we just didn't have before. Things that just weren't measurable by any other means, the data now exists to be there."
ON MEASURING OUTFIELD DEFENSE
Willman: "We have the starting positions of [fielders] and you can look at two different stadiums … [for example] Kevin Kiermaier covers a lot of range for Tampa Bay. So if you have his start position, you can compare him to different stadiums. Maybe he's playing too deep at a certain stadium and he's not maximizing his total range. There's a lot of different things you can analyze by looking at these maps. … Or we can superimpose one player on top of another player. So we can look at which player is better at going at different directions. Lorenzo Cain has an interesting [range map]. I believe he's really good at going back to right field. Mike Trout is another one, his range wasn't all that great but he seems to catch everything that was really close to him."
ON THE USE OF EXIT VELOCITY
Petriello: "You hit the ball 100 mph, you're going to do really well for yourself. And less so as you go down. And launch angle is really cool, too, with popups, ground balls and line drives. … What we're really excited about is combining the two. Because if you hit a ball 105 mph straight up, it's not going to help you very much. So what we can do is combine that and come up with an expected batting average, and that's what I'm really excited about."
Willman: "You can also prove things that you've always wondered [about]. There is a sweet spot: If you hit the ball 100 mph and it has a launch angle between 25 and 30 degrees, it's going to be a home run like 86 percent of the time."
ON STATCAST DATA BEING USED IN PLAYERS' DECISION-MAKING
Petriello: "I'm interested to see how [the data] influences decision-making. … Is it quicker for an outfielder to throw all the way home or should he hit the cutoff man? Because you'll get more velocity [with the cutoff] but there's transfer time. We can measure that now, and if you can do that per team. And a million other decisions in the same way."
WHAT'S MISSING FROM STATCAST DATA?
Petriello: "I want to see throw accuracy. … We talk about catchers and their pop times and their arm strength, and that's all great, but if you airmail the ball into center field, none of the rest of it matters. So I think we're going to be able to actually measure, did the ball also arrive in the right spot? Because that's a huge part of it and I think that goes into evaluating who the best catchers are."
For more coverage of the 2016 SABR Analytics Conference, visit SABR.org/analytics.
---
Originally published: March 11, 2016. Last Updated: July 27, 2020.
https://h2j7w4j4.stackpathcdn.com/wp-content/uploads/2020/03/research-collection4_350x300.jpg
300
350
admin
/wp-content/uploads/2020/02/sabr_logo.png
admin
2016-03-11 17:10:28
2020-07-27 15:53:55
2016 SABR Analytics: Highlights from the Statcast on Every Screen Panel