2016 SABR Analytics: Highlights from the Technology Panel
At the fifth annual SABR Analytics Conference on March 11, 2016, our Technology Panel explored ways in which technology will impact the game of baseball.
---
---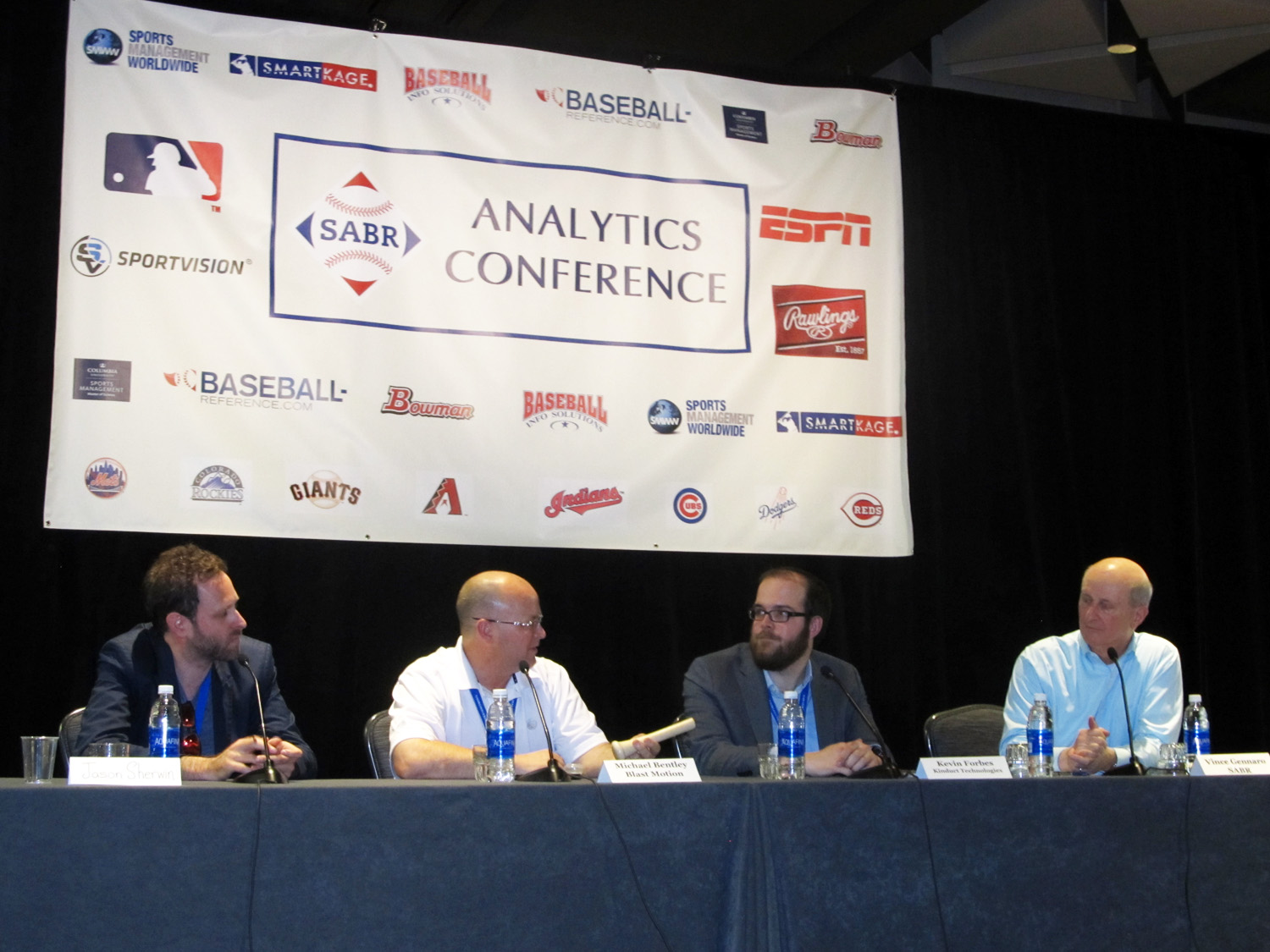 Panelists included Michael Bentley, the founder of Blast Motion, a San Diego-based company that has helped develop some of the most innovative motion capture and analysis systems; Kevin Forbes, a Product Specialist with Kinduct Technologies, a Canadian-based technology company that delivers flexible solutions in health, wellness and high performance environments; and Jason Sherwin, Chief Executive Officer and co-founder of deCervo, which focuses on problems of high-speed decision-making, such as hitting a thrown baseball. The panel was moderated by SABR President Vince Gennaro.
Here are some highlights:
ON THE BIG DATA EXPLOSION IN BASEBALL
Gennaro: "By my calculations, the data that we're getting now … the actual record of what transpired during an MLB game … we have about 1.3 million times more data today per game than we had in 2005. … The amount and volume of data is incredible. Part of what we have to sort through these days is how to tease out the data that's not useful. It used to be that any data provided some value, but today that's not necessarily the case."
ON MEASURING ELEMENTS OF A HITTER'S SWING
Bentley: "We laugh about 'timing is everything.' But that's what a pitcher's job is, to knock off the hitter's timing. And the hitter's job is not to get knocked off. So we can measure that timing and, across all sports, timing is a big element [of success]. We're looking at our players' [motions] — getting them to understand forces, what are the forces that create that motion, and how to change those forces. So once we can really understand those forces, we can change those forces."
ON USING TECHNOLOGY TO IMPROVE PERFORMANCE
Sherwin: "We've had major-league players tell me that he uses the profiles that we do to slow the game down. What does that mean? When a player is hitting everything in sight, it feels like the ball is going really slowly, because his visual system knows where the ball is going to go. He can predict where it's going to go. When the ball is flying past him, that's when his visual system isn't predicting well where it's going to go. … We're just on the precipice of players and coaches using this information on a regular basis … to figure out if there's something about this part of the strike zone that I'm not seeing well and I don't know why. So let's zoom in on pitches in that part of the zone and practice those."
Bentley: "As soon as you give an athlete that real-time bio-feedback, from the body itself or also from the brain, that's when they get it. We find as coaches that the better we can coach, the less we say. We really get in the way of that learning process. So if we can just stimulate the central nervous system and allow them to make those changes where they can see, or feel, or hear those changes, those changes happen much faster. … It's just getting that data to the athletes faster. The slower we get that data to the athletes, the slower they learn."
ON PITCH RECOGNITION AND THE FUTURE OF SCOUTING
Sherwin: "I love when I hear from a scout, 'I know a good hitter when I see one.' Yeah, you and 20 other guys do too. But you don't know about the guy playing soccer or cricket who's amazing at picking out sliders, right? So I think that's going to be the real scouting boon in the future. … I talked to a minor-league hitting coordinator about how he looks at pitch recognition, and he says he looks at whether a hitter leans out over the plate on a pitch he takes. And that's an indicator that he's not seeing the ball well. … But that's his motor response and by the time he does that, the ball is already past him. … How many other zillions of other behavioral responses are happening, that aren't even observable on the motor level and is only measurable on a cognitive level, where the player is not picking up the ball? It's just one slice of what's going on."
ON USING TECHNOLOGY TO HELP INJURY PREVENTION AND RECOVERY
Forbes: "When you think about something like rehab, one of the things we saw with the Blue Jays pitcher Marcus Stroman, they used technologies like a Catapult vest to measure the amount of load that athlete was performing when he was going through his recovery. And they also used a heart-rate variability device to measure how he was recovering the next day. Are we pushing him too hard? Do we need to pull back a bit? Obviously, he was able to return quite quickly and perform at a high level … and these are things that come into a lot of value. … So we know injuries are going to happen. One of the main things we want to do is to find ways to present data so that we can identify indicators for injury but also to get that athlete back on the field in a quick amount of time."
For more coverage of the 2016 SABR Analytics Conference, visit SABR.org/analytics.
---
Originally published: March 19, 2016. Last Updated: July 27, 2020.
https://h2j7w4j4.stackpathcdn.com/wp-content/uploads/2020/03/research-collection4_350x300.jpg
300
350
admin
/wp-content/uploads/2020/02/sabr_logo.png
admin
2016-03-19 16:28:51
2020-07-27 15:53:54
2016 SABR Analytics: Highlights from the Technology Panel