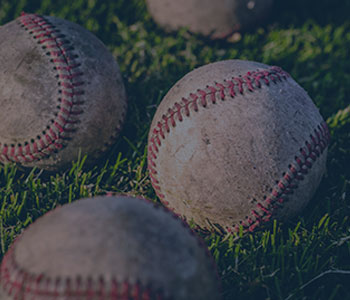 2017 SABR Analytics: Listen to highlights from panel with Jessica Mendoza, Eno Sarris, Vince Gennaro
At the 2017 SABR Analytics Conference, we were joined for The Analytics of Hitting, Pitching, and Catching Panel with ESPN broadcaster Jessica Mendoza, Eno Sarris of FanGraphs, and SABR President Vince Gennaro. The panel was moderated by Dan Migala of PCG/SportsDesk Media.
---
---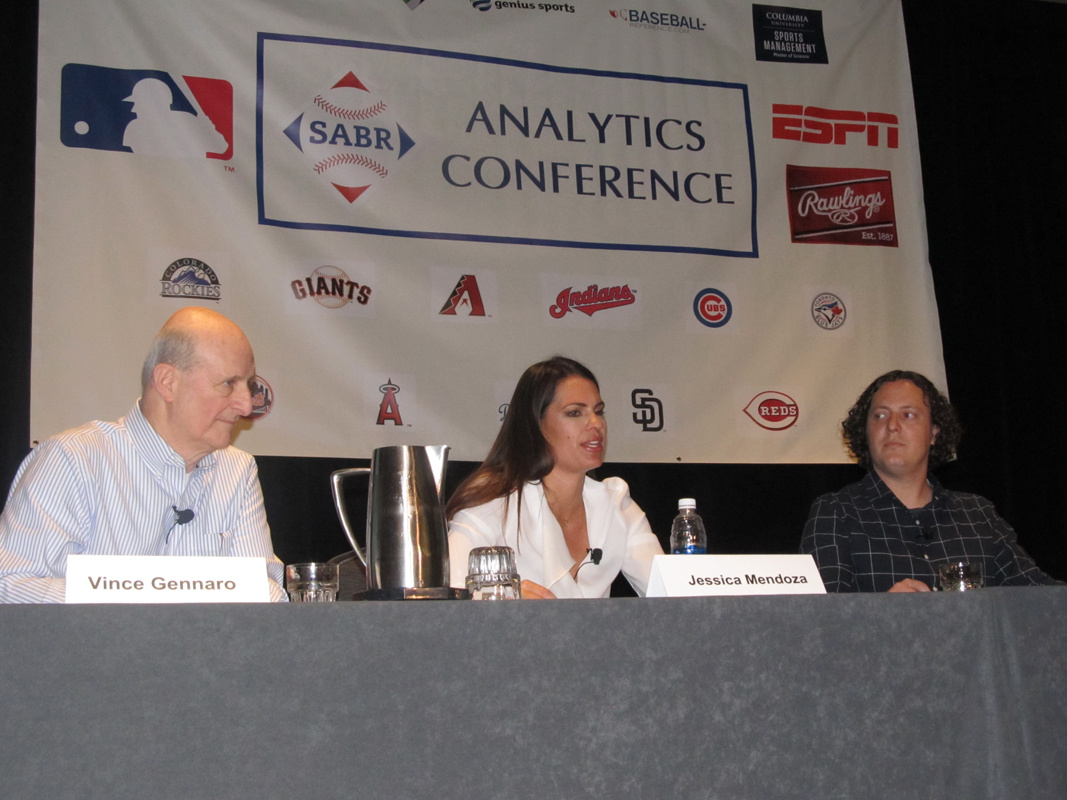 Here are some highlights from the panel:
ON PLAYERS BECOMING MORE INTERESTED IN ANALYTICS
Sarris: "I saw a funny thing in the Oakland clubhouse the other day. … They were all sort of huddled around and yelling at each other … but they were yelling about exit velocity and launch angles. They were like, 'I hit this thing 105 [mph] and you hit it 105 and why did yours go out and mine didn't?' Then they were talking about batted-ball spin, and they just [sounded like] a bunch of dorks."
ON HITTERS TRYING TO ACHIEVE BACKSPIN
Gennaro: "It's interesting, at the Rawlings Gold Glove dinner, I had a chance to speak with Reggie Jackson about that. I said, 'Did you ever consciously try to impart backspin on a ball?' and he said, 'Absolutely.' He said it was something he spent a lot of time in batting practice on, and it was something he gave a lot of thought to. What we're finding is a lot of the concepts that we're getting into today that are being talked about around the batting cages — they aren't things that are new, but they're things that we now have feedback on. The feedback being the data of actually measuring it. It will change the vocabulary of the game, I think for the positive, but in some ways it's ironic, because they're not new concepts, they're just new in terms of what we're trying to execute."
ON GENERATING STATS AROUND PITCH TUNNELING
Gennaro: "This data now, as it gets more refined, as it gets more granular, I think will really give us a lot of insight on pitch sequencing, and pitch sequencing done at a very expert, high level. When you start to look at the importance of velocity, the importance of pitch repertoire, the importance of command, the importance of sequencing — yes, they all have value, but in the end what combination of those do you have to have to pitch in the big leagues? This will go a long way to answer that question. I think one of the most understudied areas of pitching has been sequencing, and I think that's going to change in the near-future."
ON DAVID ORTIZ'S METHOD OF ANALYZING PITCHERS
Mendoza: "I sat in the video room with David and watching him break down [New York Yankees starter Masahiro] Tanaka in a way, and he hadn't seen this clip, he was literally [all about] tendencies. … It was so interesting to me that a guy that tries to pretend — and he puts that out there, 'Ah, I just go up there and hit the ball, I'm David Ortiz, I'm Big Papi.' His [preparation] is more video that turns into numbers in his own mind. He has his own statistics that he would break down and then share with all the lefties on the team, these are [what he calls] 'tendencies.' But he's not a big — he would hate [to see] a data page of heat zones. But if you can sit him in front of a video, and for him to understand sequencing, it was amazing to me."
ON ANALYZING HEAT MAPS FOR UMPIRES
Mendoza: "That's a fun stat. We got a lot of that in the postseason. This is the umpire behind the plate. And it was so fun to see their heat map, and the outliers. Now we're not going to get every umpire, but we had some serious outliers, it was like, 'They don't call the inner half to righties; it's blue.' Think about that: as a player and as a pitcher and as a hitter, you know that [about the umpire] going in [to the game]. Talking to teams, the first thing out of the manager's mouth is, 'Oh yeah, we're not going to get that call.'"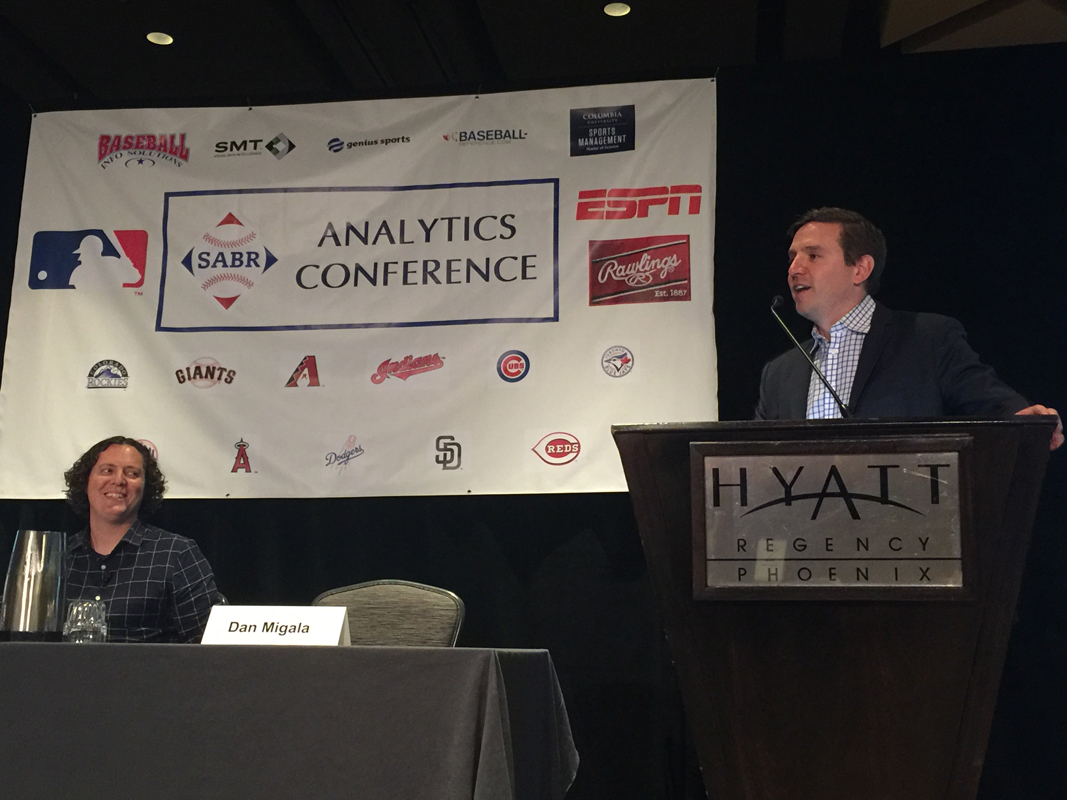 ON THE FUTURE OF ANALYTICS
Sarris: "Everyone has a different body, and their bodies do different things, so we can't be totally prescriptive when it comes to how to pitch or how to hit. But if we knew more about body types, or how you group with this kind of group, or if we know your elbow is like this, I think we might be able to get rid of some of the injuries if we did better development processes that were based on some of these stats that we're getting. I tend to always think about development and making the players better and keeping them healthier, so I think a lot of the things that we're doing now will be in that direction."
For more coverage of the 2017 SABR Analytics Conference, visit SABR.org/analytics.
---
Originally published: March 9, 2017. Last Updated: July 27, 2020.
https://sabr.org/wp-content/uploads/2020/03/research-collection4_350x300.jpg
300
350
admin
/wp-content/uploads/2020/02/sabr_logo.png
admin
2017-03-09 23:50:00
2020-07-27 15:53:01
2017 SABR Analytics: Listen to highlights from panel with Jessica Mendoza, Eno Sarris, Vince Gennaro