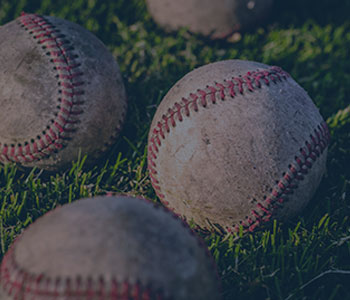 2017 SABR Analytics: MLB Now Panel
At the sixth annual SABR Analytics Conference on March 9, 2017, our MLB Now Panel engaged in a wide-ranging discussion on issues affecting modern baseball.
Panelists included Eric Byrnes, former major-league outfielder and MLB Network analyst; SABR President Vince Gennaro; and Reds beat writer C. Trent Rosecrans of the Cincinnati Enquirer. The panel was moderated by Brian Kenny, who also hosts "MLB Now" on MLB Network.
---
---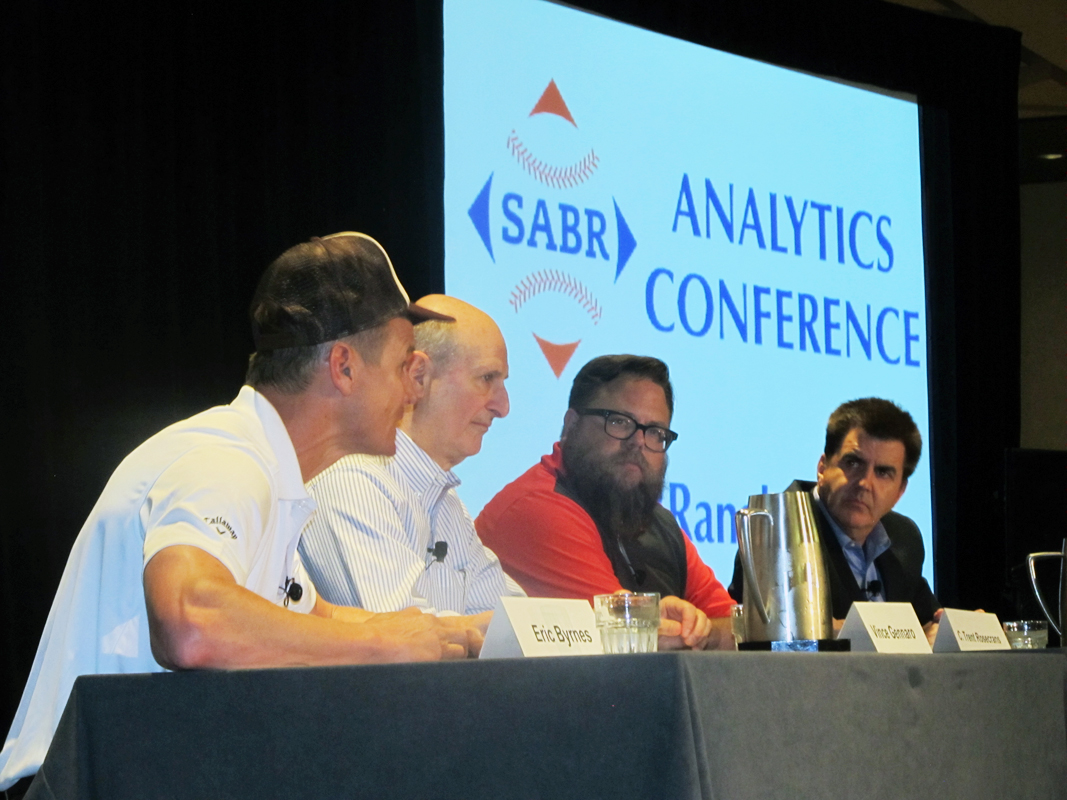 Here are some highlights from the MLB Now Panel:
ON VOTING FOR THE CY YOUNG AWARD
Rosecrans: "The last two years, the Cy Young voting has been tougher [for me] than the MVP voting. I spend weeks and weeks, and hours and hours, pondering this vote. I talk to players, scouts, managers, and pitching coaches for the Cy Young. And it's very difficult because you can't just go on the stats. … I had five votes and there were seven guys I felt comfortable giving a number one or two spot to. … It's about, what do you value? You can't just go on ERA."
Byrnes: "I'm a sucker for innings. I think if you're out there, you're working more. When you talk about [Clayton] Kershaw, his numbers were grossly better than anyone else's but he just didn't have the innings. He didn't have the total body of work. … But here's one thing I can offer from the player's perspective: even the guy who wins the Cy Young, that doesn't [necessarily] mean it's the pitcher that guys don't want to face. Some of the greatest pitchers, like Randy Johnson, Greg Maddux, Pedro Martinez, John Smoltz, all Hall of Famers, I didn't necessarily think any of those guys were nasty. The reason why is because I faced them all as starters. So you're seeing them two, three, four times a game. … You hear talk about 'let's get the starter out of the game and get into the bullpen.' But pretty soon, you have dudes like Jason Grimsley coming out of the bullpen throwing 98 mph bowling balls and you think 'Why do I want him in the game?' So you wanted to get to the starter enough, but not necessarily too much to knock him out."
ON MANAGERS' DECISIONS IN THE POSTSEASON
Gennaro: "I think it's progressed overall. I think there's a notion that managers need to shift their thinking during the postseason, that it's a whole different game, you're playing the sprint not the marathon. But perhaps that adjustment isn't as easy as you think. We can sit here and intellectualize it, but maybe in the heat of the moment, you fall back to the way you run your team. And the way you run your team in the regular season should have very little bearing on how you run your team in the postseason."
Rosecrans: "The job in the regular season is not to win every game, it's to win the most games. And in the postseason, it's to win every game. It's a different ballgame. In the end, people make errors. Players make tactical errors — and so do the managers. … Even when you have the smartest people beside you, you're still going to disagree. And you have this amount of time to make that decision [during a game]. … If this were easy, there would be a lot of people in the back of this room who are employed by teams, they wouldn't have jobs. Because if there was just one right answer, that would be it."
ON ANDREW MILLER AND THE IMPACT OF SUPER-RELIEVERS
Rosecrans: "In Cincinnati, I know Bryan Price has talked about using relievers for multiple innings and multiple relievers closing games. Now, we'll see how that happens. [1999] was the last time you had two 100-inning relievers on one team, and it was the Reds (Scott Sullivan and Danny Graves). Will we see more of this? This is a copy-cat league. It was just two years ago that we saw [the Royals], and the [ideal] way you use the bullpen is you have these guys in these dedicated roles. Ned Yost was a genius. This guy knew he had the seventh inning, and he had the eighth, and he had the ninth. … There's a lot of this following-the-leader."
Kenny: "I don't know why this is such a hard thing to do. It seems so easy just to say, 'All right, here's our guy, he's our closer … but he can roam a little bit.' I've heard this, 'It works in the postseason but you can't do it in the regular season over 162 games.' No, you can, but you just can't pound him like the way [Aroldis] Chapman and Miller were in the postseason. Of course you can't. But why can't you just let a guy roam?"
Gennaro: "I think it'll come in a little bit of a different form. I don't think it'll necessarily come in the form of the closer flexing out. Let's hope we can get our managers to pick our second-best reliever as the closer, and let's have the setup guy be deployable in high-leverage situations — let that be Andrew Miller and have Cody Allen close. I do think we'll see more of that."
For more coverage of the 2017 SABR Analytics Conference, visit SABR.org/analytics.
---
Originally published: March 13, 2017. Last Updated: July 27, 2020.
https://sabr.org/wp-content/uploads/2020/03/research-collection4_350x300.jpg
300
350
admin
/wp-content/uploads/2020/02/sabr_logo.png
admin
2017-03-13 15:59:57
2020-07-27 15:53:01
2017 SABR Analytics: MLB Now Panel