2019 SABR Analytics: Listen to highlights from The State of Analytics panel
The State of Analytics panel at the 2019 SABR Analytics Conference, presented by MLB and KinaTrax, focused on the evolution of data availability, player evaluation, and player development in the modern age of baseball analytics.

The panel included Baseball Info Solutions owner John Dewan, ESPN analyst and former MLB player Eduardo Perez, and award-winning author and SABRcast host Rob Neyer. It was moderated by SABR President Vince Gennaro.
---
---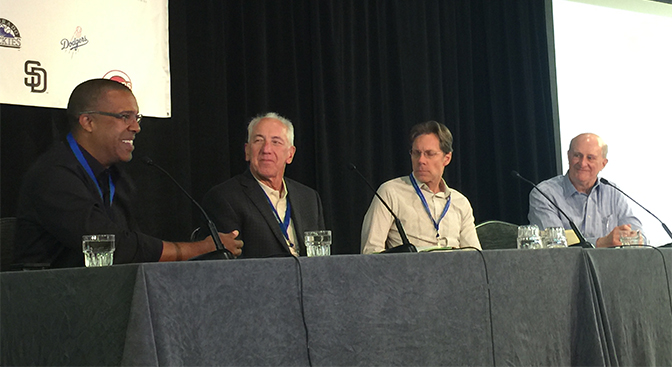 Here are some highlights:
ON THE CHANGES IN ANALYTICS IN THE PAST DECADE
Dewan: "In 2012, at the first SABR Analytics Conference, we had the opportunity to present information on the shift. That had not really gotten started yet. There was one team starting to shift a bit and that was the Tampa Bay Rays. Some of the other teams said, 'They're pretty good; what are they doing differently?' And that was shifting. … Back then, we were also using computerized stopwatches … to help us figure out how long the batter ran from home to first and first to second. Then we started using frame-tracking with video to track pitcher deliveries and [pickoff] times to first, stuff like that. … That was what we were trying to do back then."
Neyer: "Back then, I felt like with a few conversations, you could get a pretty good sense of everything that was happening in the world of analytics. Now I don't have that sense anymore. … At that point, there were teams that didn't even have analytics departments. Charlie Kerfeld [Philadelphia Phillies special assistant] said then, 'We don't have an in-house stats guy and I kind of feel we never will.' Imagine that now? The Phillies were way behind and remained behind for some time. Now, 'behind' means you only have 5 or 6 people in your analytics department instead of 15 or 20."
Perez: "In 2012, I was the hitting coach for the Marlins. We were still just looking at video, charting out things in positioning. I go from the Marlins to Jeff Luhnow's Houston Astros, and I'm the bench coach. I had to deal with Sig Mejdal [former NASA scientist and then the Astros' Director of Decision Sciences.] That was an unbelievable experience … knowing that we were going to learn 100 times more information than any other organization out there, because we were willing to take on risks. … It's [all about] who has the edge and we're seeing it now in how teams are hiring not only their analytics staff but their coaches and managers."
ON MEASURING HITTING STATISTICS
Dewan: "Hitting is always where the analytics drew people. When Bill James was starting his incredible work, he was working on runs created and isolated power and speed scores. Then, with some of the data you could get at STATS or Baseball Info Solutions, we were able to focus more on defense. Now we knew where the ball was being hit and whether a player could get to that ball. Then PITCHf/x came out and, god bless them, they made it publicly available. And [everyone] could get access to that information. … And now there's Statcast. It seems like it's the be-all, end-all, like you couldn't get any more information than you could get with Statcast … but there will be more [in the future]."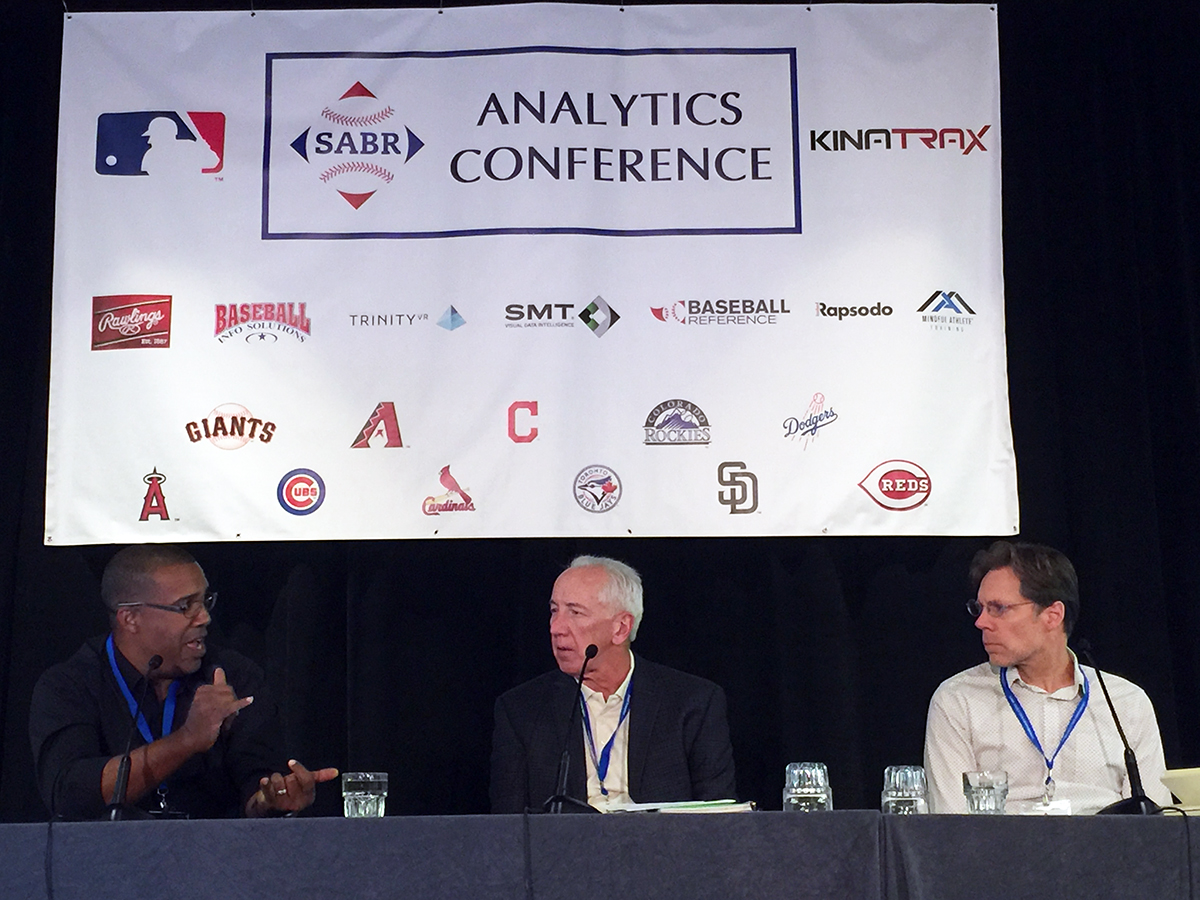 ON OFFENSIVE VS. DEFENSIVE ADVANTAGES
Perez: "Even without data, pitchers are always going to have the advantage. It's there in the numbers. Ozzie Virgil once told me, 'You're either a low-ball hitter or a high-ball hitter; you can't be both.' That was more than 20 years ago. … And the more we [learn] about pitchers, the more we know they can easily pitch to their strengths. In today's game, the way pitchers pitch, fastball up is the biggest hole for all the hitters … because hitting coaches are teaching launch angle. … So you're seeing a lot of swings and misses, strikeouts, foul balls. That has to do with velocity, that has to do with spin rate."
ON WHETHER ANALYTICS HAS 'HIJACKED' BASEBALL
Neyer: "I think analytics have absolutely hijacked the game. … Who could foresee the impact of technology on baseball? It's clear we've gone in the direction of 'three true outcomes' … MLB said today that the experiments they're doing in the Atlantic League … they want more balls in play, they want more baserunning. Are these not good things? I say that as a fan of the game, not as an idealized theory. … I think people should be looking for more balls in play — [for] baseball players doing more baseball things. That seems like a reasonable goal. We've gotten away from that."
Dewan: "Hijack has a negative connotation. … Forty or fifty years ago, analytics was how many runs do you have, how many wins do you have? That was part of the game. … Have TV broadcasts hijacked the game? Have Internet apps or instant replay hijacked the game? I think all these things have added to the game. … You learn as things go on. We have a thirst for information and we're going to gather more and we're going to try to feed it in. It used to be all scouting and then it's analytics, and it all has to be added in."
Perez: "If you're not into the numbers of the game, if you don't accept what's going on, you're going to be left behind. … Every organization understands there has to be a balance. … It's about people being able to understand the numbers … to maximize what they have in their arsenal. … That's why I love this part of the game. There's a lot of guys out there who wouldn't make it to the major leagues if it wasn't for the organizations maximizing their ability, with the technology they have, to say, 'You need to be able to throw a curveball 10 percent more.' … Analytics is a major component of any organization's success."
For more coverage of the 2019 SABR Analytics Conference, visit SABR.org/analytics.
---
Originally published: March 9, 2019. Last Updated: July 27, 2020.
https://h2j7w4j4.stackpathcdn.com/wp-content/uploads/2020/03/research-collection4_350x300.jpg
300
350
admin
/wp-content/uploads/2020/02/sabr_logo.png
admin
2019-03-09 00:52:01
2020-07-27 15:51:10
2019 SABR Analytics: Listen to highlights from The State of Analytics panel