A look back at Francisco Mejia's 50-game hitting streak
Editor's note: This article was originally published in "Beating the Bushes," the SABR Minor Leagues Committee Spring 2017 newsletter.
By Joseph Wancho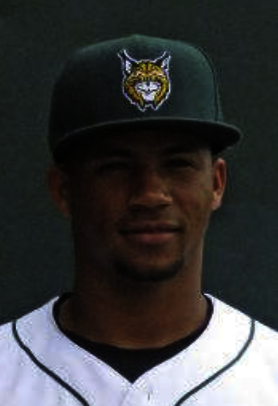 It may not have garnered the same interest as Joe DiMaggio or Pete Rose, but Francisco Mejia captured the attention of northeast Ohio in 2016. Mejia was the starting catcher on the Lake County Captains, the low Class A affiliate of the Cleveland Indians. On May 25, 2016, Mejia began a hitting streak that stretched 50 games.
The 20-year old switch-hitter from the Dominican Republic was signed by the Indians at the tender age of 16. Mejia was assigned to the Rookie League in Arizona in 2013. He showed a high aptitude for hitting, as he batted .305. He continued his fine work with the lumber, batting .282 with the Mahoning Valley Scrappers of the New York-Penn League in 2014.
But like all young players, Mejia found the going got a bit tougher as he ascended the Indians minor-league chain. The 19-year-old Mejia was promoted to Lake County in 2015. His average plummeted to .242. As Mejia says, the direction he received was "Come to the stadium, let's go play." But there were other reasons for why Mejia's production had taken a sudden plunge. His mother was at home in the Dominican Republic, bed-ridden after undergoing back surgery.
"I wasn't playing really good," Mejia said. "I was slow. I had no energy. I was thinking about my mom and my family. This year it's different. She's at home and good, and I'm playing good. I'm comfortable and not afraid of anything."
The Indians held him back at the low Class A team in 2016. He was, after all, only 20 years of age and perhaps a little more seasoning was needed for the young backstop. And although he may have been young in body, his baseball acumen was wise beyond his years. Mejia entered the season with a fresh outlook, but also with a new regimen of preparations.
"This year I got a better approach, better routines," Mejia said. "I got routines this year."
Mejia started 52 games in 2016 for the Captains, batting a superb .347. In 60 games, Mejia led the club in hits (80), home runs (7), and RBIs (51).
"I don't think you ever expect anyone to put together a streak that long," Captains hitting coach Kevin Howard said. "Francisco is talented at getting the barrel of the bat on the ball. He keeps himself under control and does things with the bat other players can't do."
His success earned him a promotion to the advanced Class A Lynchburg Hillcats of the Carolina League on June 26. Despite the new league, new pitchers, Mejia kept on hitting.
"It's his gifted hand-eye coordination ability to put the barrel of the bat on the ball," Hillcats manager Mark Budzinski said. "The guys that are a little more aggressive and can hit the ball out of the zone hard, which he can do, that's where you tend to see guys that can extend those hit streaks longer."
After his promotion, Mejia received another surprise when he was selected to participate in Major League Baseball's Futures Game in San Diego during All-Star weekend. Indians top prospect Clint Frazier was also named to participate. Mejia was selected as a member of the World team with Columbus (Cleveland AAA affiliate) third baseman Yandy Diaz while Frazier was to represent Team USA. All three players gave a good account of their skills. Mejia went 1-for-3 with a single on the day. The World team prevailed 11-3.
Mejia extended his hitting streak on July 7 to 33 games with a seventh-inning single as the Hillcats beat the Salem Red Sox, 8-2. The streak reached 39 games on July 26 when he singled in the second inning in Lynchburg's 5-3 victory over Wilmington.
As is bound to happen around the end of July, rumors abound as the Major League trading deadline approaches. Top prospects' names are thrown around as possible moves are discussed and tracked leading up to August 1. Mejia was a high-end prospect and his name was bandied about with regularity. As it turned out, it was for good reason.
On July 30, 2016, Cleveland packaged Frazier with three other prospects to the New York Yankees for relief pitcher Andrew Miller. They also put together a prospect package, which included Mejia, to Milwaukee for catcher Jonathon Lucroy. But Lucroy almost immediately exercised the "no-trade" clause in his contract and the deal was squashed. Although he understood the Indians' motivation, Mejia was thrilled when the trade was a no-go.
"I was happy to stay with my friends," he said. "It's tougher when you're going to be with people you don't know."
Mejia was also doing a superb job behind the plate. He was developing into a top-flight receiver. For the 2016 season, he was charged with six passed balls. That was down from 16 that he had charged to him in 2015. Also, he threw out 43 percent (30 of 69) would-be base runners.
"You're dealing with not only calling a game from a mental standpoint, working with a pitching staff, blocking balls, you've got all the gear on in the hot weather, foul tips off of you, you've got to make 100-some throws a night," Budzinski said. "It is impressive to see a guy that can kind of maintain that through the course of a season and stay strong physically, mentally, emotionally."
The hitting streak appeared to be over at 49. On August 13, Mejia reached base twice, via an error and a walk. The error was on a ground ball down the left-field line that eluded Winston-Salem third baseman Gerson Montilla. The scoreboard flashed "ERROR" for those keeping score in the stands. But an hour after the game, official scorer Malcolm Haley changed the error to a double.
"It was a ground ball to third," Winston-Salem manager Joel Skinner said, meaning the call should not have been changed. "It's exciting for [Mejia], I'm sure. What an accomplishment. But that specific play, I mean, I didn't even think twice about it."
The streak was alive at 50!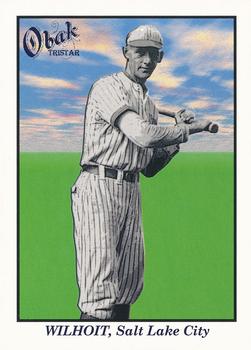 But that is where it would end. On Sunday, August 14, 2016, Mejia took the collar against Winston-Salem. But Mejia was the proud owner of the fourth-longest streak in minor-league history. It tied Otto Pahlman's 50-game hit streak for the Danville (IL) Veterans in 1922.
It was the longest such streak since Román Mejia's 55-game streak in 1954. Joe Wilhoit of the Wichita Jobbers owns the top mark with 69. What was the other top mark for hitting streaks? Why, it was none other then "Joltin Joe" DiMaggio, who hit in 61 straight games in 1933 when he was with the San Francisco Seals. Francisco Mejia's streak was the longest by a switch-hitter and by a catcher.
"It has not been easy for him," said Carter Hawkins, the Indians' director of player development. "This has not been put on a silver platter. He's moved levels, he's traveled around to different All-Star Games, he's been a name that came up in trade rumors. There have certainly been a lot of different reasons or potential excuses to end this streak, but I think just focusing on his work and focusing on what he can do and what he can control has really helped him out."
Mejia was honored by MiLB for Best Individual Performance in 2016. Heading into the 2017 season, Mejia is rated as the No. 4 prospect in the Cleveland Indians organization.
"He's still in A-Ball, he's still extremely young, he's still learning a lot of things about the baseball game," Hawkins said. "If he continues to improve, if he continues to have the consistent approach at the plate, if he continues to improve behind the dish and manage a pitching staff, we absolutely see him as a guy that can help us out in the major leagues down the line."
JOSEPH WANCHO is the chair of SABR's Minor Leagues Research Committee. Learn more by clicking here.
---
Originally published: March 30, 2017. Last Updated: March 30, 2017.
https://sabr.org/wp-content/uploads/2020/03/research-collection4_350x300.jpg
300
350
admin
/wp-content/uploads/2020/02/sabr_logo.png
admin
2017-03-30 17:23:23
2017-03-30 17:23:23
A look back at Francisco Mejia's 50-game hitting streak