A look back at SABR 21: New York City, 1991
It's been more than a quarter-century since SABR's national convention was held in New York City, but our 21st annual gathering in 1991 was a memorable event for everyone involved.
Next week, we'll return to the Big Apple for SABR 47 at the Grand Hyatt in midtown Manhattan. More than 700 SABR members and friends are expected to attend.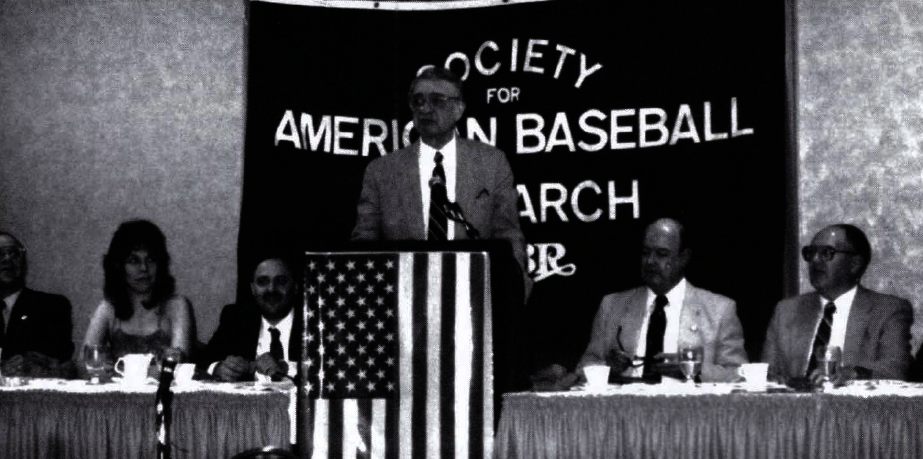 Back in 1991, SABR was celebrating two decades since the organization was founded at the National Baseball Hall of Fame. Later that summer, founding members Bob Davids, Dan Dischley, Tom Hufford, Cliff Kachline, Pat McDonough, John Pardon, and Joe Simenic gathered at the Hall of Fame Library in Cooperstown to commemorate SABR's 20th anniversary.
The SABR 21 convention was held June 27-30, 1991, at the Hotel Pennsylvania on 7th Avenue, across the street from Madison Square Garden. On Saturday evening, 405 convention attendees were treated to a keynote speech from retired New York Yankees announcer Mel Allen (pictured at right), who spoke of his early days of baseball broadcasting and his start at CBS in New York, losing the chance for a play-by-play job with the Washington Senators to Walter Johnson, his "Ballantine Blasts," "Wheaties Wallops," and balls "foul by the length of a White Owl," and shared stories about Lou Gehrig Day, Babe Ruth Day, and the opening of the Baseball Hall of Fame. The banquet also featured musical entertainment from Terry Cashman, who played a special version of his hit song, "Willie, Mickey, and the Duke (Talkin' Baseball)," plus a stirring performance (if you can call it that!) from the Brooklyn Dodgers Sym-Phony Band.
SABR members watched a special preview of Ken Burns' upcoming documentary film, Baseball, and had a chance to hear original audio clips from author Lawrence Ritter's The Glory of Their Times interviews.
Convention attendees also took in a Mets-Phillies game at Shea Stadium, where Jose de Jesus threw a complete game for the Phillies and Charlie Hayes hit a three-run homer to knock out Mets starter Ron Darling in the third inning. The same two teams will be playing at Citi Field next week for SABR 47, which features a pregame ballpark session with Mets GM Sandy Alderson and more.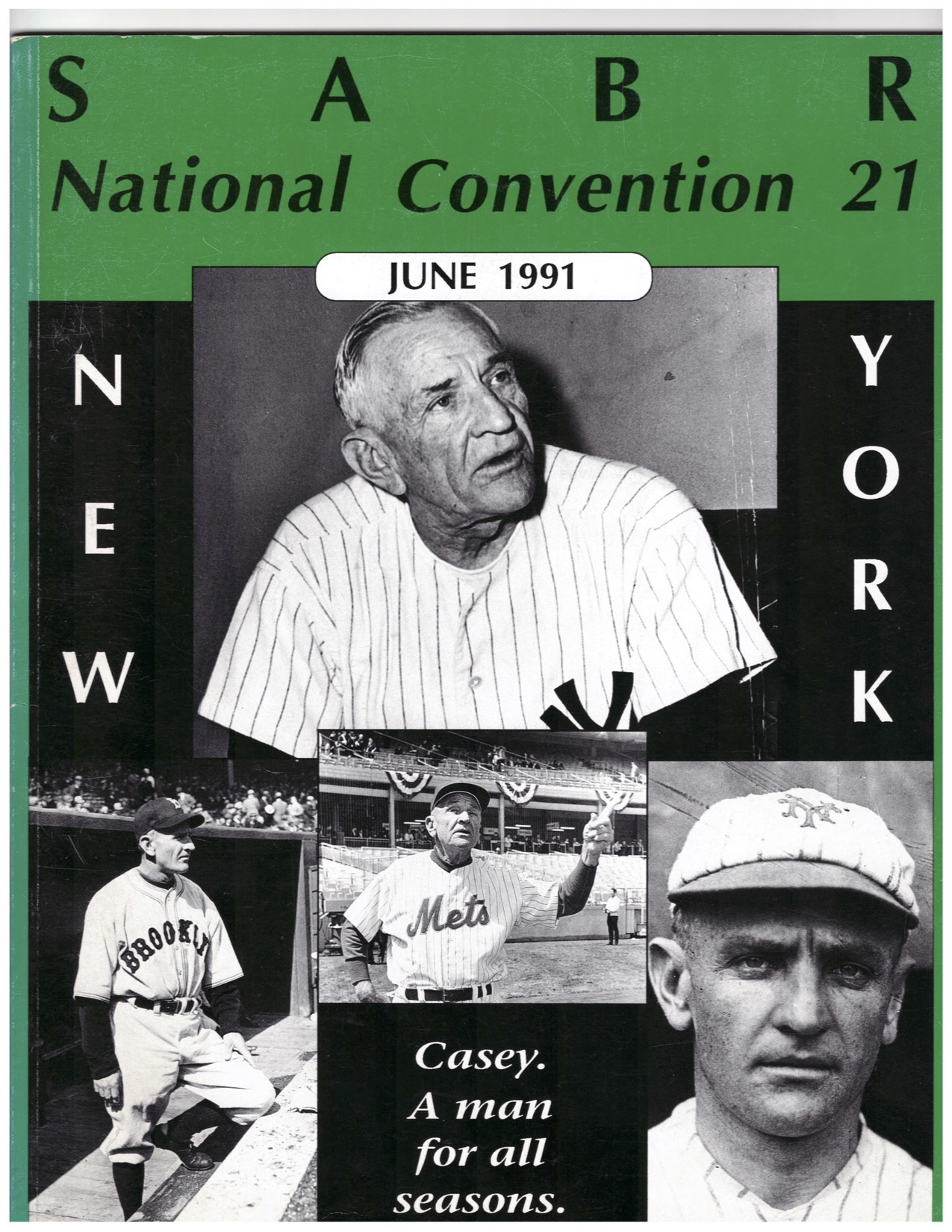 The research presentations at SABR 21 included talks on New York's cultural influence on ballpark architecture, "sudden death" home runs, baseball literature, Sandy Koufax, "Laughing" Larry Doyle, Bill Veeck, the "golden age" of shortstops, the progress of the baseball box score digitization project (which you now know as Retrosheet.org), and using sabermetrics in the classroom. The New York City convention journal — with Casey Stengel on the cover, the subject of a featured panel discussion at the 2017 convention — was highlighted by articles from noted historians David Pietrusza on the rise of the American League, Jack Lang on the Baseball Hall of Fame, Eddie Gold on Lou Gehrig's high school days, Maury Allen on baseball beat reporters of the 1950s and '60s, and Marty Appel on New York's hometown Hall of Famers.
In addition to the anniversary celebration, 1991 was a banner year for SABR members. The organization published the unfinished autobiography of Hall of Fame infielder Rabbit Maranville, Run, Rabbit, Run (now available as a free e-book for members.) A Boston Red Sox legend also gave his approval for his hometown San Diego SABR chapter to be called the Ted Williams Chapter. Within a few years, the chapter initiated a partnership with the Central Library of the San Diego Public Library to create the San Diego SABR Baseball Research Center, one of the premier baseball research facilities in the United States.
Visit SABR.org/convention to learn more about the upcoming SABR 47 convention in New York City.
For more multimedia highlights from past SABR conventions, click here.

---
Originally published: June 22, 2017. Last Updated: June 22, 2017.
https://sabr.org/wp-content/uploads/2020/03/research-collection4_350x300.jpg
300
350
admin
/wp-content/uploads/2020/02/sabr_logo.png
admin
2017-06-22 18:14:04
2017-06-22 18:14:04
A look back at SABR 21: New York City, 1991