Daniel R. Levitt's "The Battle That Forged Modern Baseball" wins 2013 Larry Ritter Book Award
Daniel R. Levitt's The Battle That Forged Modern Baseball: The Federal League Challenge and Its Legacy, published by Ivan R. Dee, has been named as the 2013 winner of the Larry Ritter Book Award, given by SABR's Deadball Era Research Committee for the best book related to the Deadball Era published in the previous year.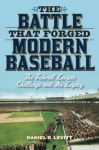 Levitt's work was chosen from four finalists which included, Charlie Bevis' Jimmy Collins: A Baseball Biography (McFarland), Joel Franks' The Barnstorming Hawaiian Travelers: A Multi-ethnic Baseball Team Tours the Mainland, 1912-1916 (McFarland), and William A. Young's John Tortes "Chief" Meyers: A Baseball Biography (McFarland).
The subcommittee that is charged annually with selecting the best book published on baseball's Deadball Era (1901-1919), consists of Jack Carlson, Mark Dugo, David Fleitz, Craig Lammers, John McMurray, Mark Pattison, Gail Rowe, Tom Simon, Doug Skipper and Trey Strecker. Levitt is the 12th author to win this coveted award.
The Larry Ritter Book Award Subcommittee released the following statement about Levitt's The Battle That Forged Modern Baseball:
It is a rare book that brings fresh perspectives and insights to conventional wisdom. Although a good many authors have written about the Federal League (1913-1915) in treating closely-related topics, and Marc Okkonen and Robert Wiggins [the 2010 Ritter Award Winner] have written laudable books on the Federal League itself, Daniel Levitt offers readers a gracefully-written, deeply-researched, and original look at the Federal League's history and legacy. Focusing more intently on the architects of the league and those who sought to sustain it rather than on its players and its results on the field, Levitt identifies new personnel in the drama of the league's origins, history, and eventual collapse, and fleshes out the personalities of many better-known participants. His account provides a more complex and nuanced story than that previously drawn. He illuminates the Byzantine-like economic, legal, and corporate maneuvers that characterized the Federal League's challenge to the American and National Leagues, and Organized Baseball's response to that challenge. In doing so, Levitt clarifies developments that led in 1922 to the U.S. Supreme Court's exemption of Organized Baseball from federal anti-trust laws. His compelling story not only advances our understanding of baseball's evolution between 1913 and 1922, but it casts light on how Organized Baseball developed into the closed monopolies so familiar to us today.
The award will be presented during the Deadball Era Committee's meeting at the SABR 43 convention, July 31-August 4, 2013, in Philadelphia, Pennsylvania.
For more information on the Larry Ritter Award, including a list of previous winners, click here.
---
Originally published: May 1, 2013. Last Updated: May 1, 2013.
https://sabr.org/wp-content/uploads/2020/03/research-collection4_350x300.jpg
300
350
jpomrenke
/wp-content/uploads/2020/02/sabr_logo.png
jpomrenke
2013-05-01 10:00:00
2013-05-01 10:00:00
Daniel R. Levitt's "The Battle That Forged Modern Baseball" wins 2013 Larry Ritter Book Award