Deadline extended! SABR 46 call for presentations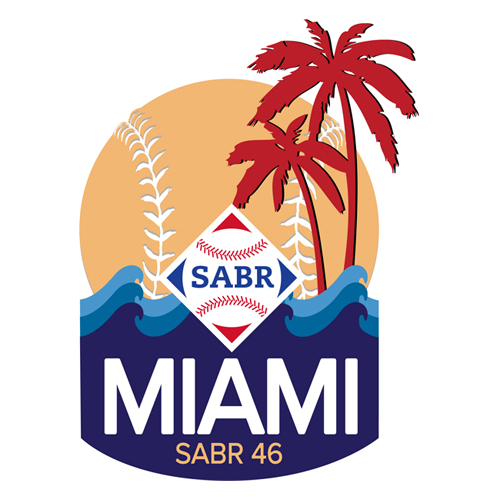 SABR invites all members to present their research findings to their colleagues attending SABR 46, the 2016 annual convention in Miami, Florida.
Oral presentations are expected to last 20 minutes, followed by a five minute question-and-answer period. Posters will be presented, with the author on-hand to discuss the work, during a poster session of 90 or so minutes, and will probably remain on display throughout the convention.
Through on-site judging, the most highly-regarded presentations will receive the Doug Pappas Award for best oral presentation and the USA Today Sports Weekly Award for best poster presentation.
SABR 46 will be held July 27-31, 2016, at the Hyatt Regency Miami in downtown Miami. (Registration and hotel information will soon be available at SABR.org/convention.)
2016 represents an anniversary of Miami baseball-related events that could provide inspiration for topics. For example, it has been:
10 years since the Hanley Ramirez won NL Rookie of the Year for the Marlins
20 years since Al Leiter threw the first no-hitter in Marlins history
34 years since Ron Fraser's Miami Hurricanes won their first College World Series
60 years since Miami's first AAA team, a Phillies affiliate, had a pitching staff featuring 20-year-old Don Cardwell and 49-year-old Satchel Paige
70 years since the Giants were the last team to make Miami their Spring Training site
100 years since the Boston Braves became the first team to make Miami its Spring Training site
In general, we will follow the procedures used in recent years for reviewing and selecting research abstracts.
Oral presentations will be limited to one presentation slot (20 minutes, plus five minutes for Q&A) in length.
While submitters may express preference for one format or the other, all abstracts will be evaluated as both oral and poster presentations. Reviewers will not be informed of the submitter's preference if one is expressed. If you believe the presentation cannot possibly be delivered in one of the formats, please make that clear in your submission to help simplify the acceptance process.
At most two abstracts — one oral and one poster — will be accepted from each submitter. Researchers are encouraged to submit multiple abstracts, but no more than two of them will be accepted for presentation. In addition to the reviewers' scores, the submitters preferred medium will be taken into consideration in the selection process. If more than one of a submitters abstracts scores well enough to be accepted in one medium (but neither scores well enough in the other medium for acceptance), the researcher will choose which one to present in its medium at SABR 46.
Abstracts of proposed research presentations should be no more than 500 words in length, and must include the abstract's title, review of previous work on the subject, a summary of the research methodology and anticipated results, and the expected contribution to the field of baseball research offered by this work.
The submission deadline for SABR 46 abstracts is midnight PST, Sunday, MARCH 20, 2016. (Please note extended deadline!)
Submit abstracts to sabr2016-presentations@comcast.net, the research presentations address for SABR 46. You may also use the alternate address sabr46-presentations@comcast.net.
Please note: If your abstract is accepted and you intend to make a research presentation, you must register to attend the SABR 46 convention. Registration details will soon be available at SABR.org/convention.
When submitting an abstract, the author should describe anticipated audio-visual needs if the abstract is accepted as an oral presentation. For oral presentations at the convention site, SABR will provide laptops and computer-connected projection systems. If your work will need another type of AV equipment, please let us know.
As noted above, authors may submit multiple abstracts. SABR membership is not required in order to submit an abstract.
All research submissions will be evaluated by blind review. While it is not absolutely mandatory, we very strongly encourage researchers to submit their abstracts electronically, either in a standard word processor format (Microsoft Word preferred) or as plain-text email.
Questions regarding the submission, review, and evaluation procedures should also be sent to the sabr2016-presentations@comcast.net address.
---
Originally published: March 14, 2016. Last Updated: March 14, 2016.
https://h2j7w4j4.stackpathcdn.com/wp-content/uploads/2020/03/research-collection4_350x300.jpg
300
350
admin
/wp-content/uploads/2020/02/sabr_logo.png
admin
2016-03-14 15:00:00
2016-03-14 15:00:00
Deadline extended! SABR 46 call for presentations