Greg Spira baseball library finds a new home at SABR office
In his short life, SABR member Greg Spira built one of the most admired private baseball libraries in the world.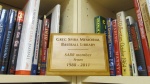 John Thorn, Major League Baseball's official historian, told MLB.com in January that Spira's collection of "modern" baseball books could well be unparalleled.
"Greg got everything that came out," Thorn said. "So if you're talking about modern baseball books, say 1990 forward, I don't know who would equal Greg, apart from a library."
Spira, 44, passed away on December 28, 2011, after a long struggle with polycystic kidney disease. A prolific researcher, his library also included the many books he wrote, edited or contributed to, including: Maple Street Mets Annual (2009-11), Big League Ballparks (2009), Meet the Mets (2008), Ultimate Yankees Companion (2008), Ultimate Red Sox Companion (2007), ESPN Pro Football Encyclopedia (2006-07), USA Today Sports Weekly's Best Baseball Writing 2005, ESPN Baseball Encyclopedia (2004-08), Total Basketball (2003), Total Baseball (2001), Sports Illustrated Sports Almanac (2000-01) and Baseball: The Biographical Encyclopedia (2000).
Now, Greg Spira's library of baseball books has a new home. His family has graciously donated the collection to SABR, which has the books on display at its office in Phoenix, Arizona.
A plaque in Spira's honor has been installed with the inscription:
GREG SPIRA MEMORIAL
BASEBALL LIBRARY
SABR MEMBER
FROM
1988 – 2011
Visitors to the SABR office are welcome to use the Greg Spira Memorial Baseball Library for research or reading. Please call (602) 343-6455 before your visit to check on office hours and availability.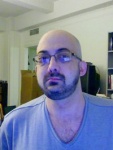 A lifelong, diehard, passionate and knowledgeable New York Mets fan, Spira joined SABR in 1988 and was viewed by his colleagues as a peerless researcher. He graduated magna cum laude from Harvard University with a B.A. in American History in 1989. In 1991, before the World Wide Web was created, Spira founded the Internet Baseball Awards — now in their 20th year — which will live on in his name at BaseballProspectus.com. He was an important pioneer in online baseball discussion at Usenet's rec.sport.baseball group, and an early contributor to Baseball Prospectus. (Read his landmark "Pitching to the Score" article from 1997 here.) He also created the BaseballBooks.net website with Sean Forman and annually updated Baseball-Reference.com's travel guide. Spira's publishing credits include the groundbreaking 2008 Slate.com article "The Boys of Late Summer", on the differences between ballplayers born in July and August.
He was a member of SABR's Connie Mack (Philadelphia), Bob Davids (Washington-Baltimore) and Casey Stengel (New York City) Chapters and, when his health allowed, frequently attended chapter meetings throughout the Mid-Atlantic region.
Spira was survived by his brother, Jonathan, and his mother, Marilyn. He was interred in Mount Hebron Cemetery in Flushing, Queens. Friends are encouraged to post their memories and stories of him at the website GregSpira.com.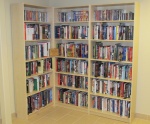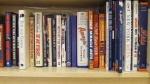 ---
Originally published: April 17, 2012. Last Updated: April 17, 2012.
https://sabr.org/wp-content/uploads/2020/03/research-collection4_350x300.jpg
300
350
jpomrenke
/wp-content/uploads/2020/02/sabr_logo.png
jpomrenke
2012-04-17 11:08:21
2012-04-17 11:08:21
Greg Spira baseball library finds a new home at SABR office