We are saddened to note that SABR member Clem Comly, 59, died on August 6, 2014, at his home in Wallingford, Pennsylvania.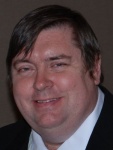 Clement Comly IV was a stalwart SABR member, joining in 1982 and serving for more than a decade as co-chair of the Statistical Analysis Committee. He made frequent posts to SABR-L on a wide variety of topics and was also a moderator of the listserv, performing that potentially thankless task in his usual cheerful and efficient way. He was also a contributing editor to several SABR publications, including most recently Sweet '60: The 1960 Pittsburgh Pirates. He was an inveterate trivia buff and helped create and vet questions for the contests at the last several annual SABR conventions.

Comly conducted many baseball research studies and he was deeply involved in Retrosheet, serving as a Board member since its inception and as Vice-President/Treasurer for more than a a decade. He did the data entry for more than 15,000 games, by far the most of anyone in the organization. In recent years, he was tireless in proofing Retrosheet game files against the official records so that they were properly ready for release on the website. The attention to detail necessary involved in that work is enormous and will be extremely hard to replace.
"This is a very sad occasion for Retrosheet, SABR, and me personally," Retrosheet president David W. Smith said. "He was a great friend. I will feel his loss for a long time to come."
"Clem was friends with so many people and was one of the greatest conversationalists I have ever known," Smith added. "He was deeply informed on an extraordinary range of topics, including books, movies, and music in addition to all sports. One of the highlights of SABR conventions for me was flying there with Clem as we talked about all manner of things."
Comly earned a Bachelor of Science degree in Chemical Engineering and a Master's in Business Administration from the University of Pennsylvania. In his career, he worked for E.I. DuPont and Allan Collautt Associates, Inc. His kindness, brilliance and quick wit will be missed by all who knew him. He enjoyed bridge and was a Life Master, and he also belonged to the Kappa Alpha Society.
He is survived by his mother, Marianna Walton Comly, of High Point, North Carolina; sisters Mary E. Comly, of West Chester, Pennsylvania; Katharine C. Smith; brother-in-law James M. Smith, of Butler, Tennessee, and Greensboro, North Carolina; nephew Christopher J. Smith and Jennifer M. Smith, of Charlotte, North Carolina; niece Caitlin S. Nikolayevsky and Jacob G. Nikolayevsky of Franklin, Tennessee.
He was predeceased by his father, Clement Comly III, and nephew Mark A. Bailey.
Relatives and friends are invited for a Memorial Service at 2:00 PM on August 12, 2014 at the Anton B. Urban Funeral Home, 1111 S. Bethlehem Pike in Ambler, Pennsylvania.
---
Originally published: August 11, 2014. Last Updated: August 11, 2014.
https://h2j7w4j4.stackpathcdn.com/wp-content/uploads/2020/03/research-collection4_350x300.jpg
300
350
jpomrenke
/wp-content/uploads/2020/02/sabr_logo.png
jpomrenke
2014-08-11 12:15:18
2014-08-11 12:15:18
In Memoriam: Clem Comly