In Memoriam: Marie "Red" Mahoney
SABR member Marie "Red" Mahoney, the only Houston native to play in the All-American Girls Professional Baseball League and an active member of the local Larry Dierker Chapter, died on Saturday, January 23, 2016, at the age of 91.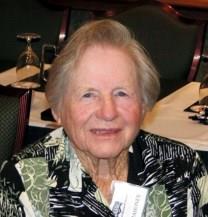 During World War II, she worked at Gray Tool Company while playing fast-pitch softball for a local team. In 1947, she was recruited to play for the AAGPBL, which was immortalized in the movie A League of Their Own, first with the South Bend Blue Sox and then in 1948 with the Fort Wayne Daisies. As in her amateur years, Red's speed made her a desirable outfielder. Returning to Houston, she was employed by Kodak and her baseball career was largely forgotten until the 1992 release of the film starring Geena Davis. In 2006, Mahoney was inducted into the Texas Baseball Hall of Fame and spent her last years speaking around the country about the AAGPBL.
One of those appearances was at SABR's 2014 national convention in Houston, where Mahoney talked about her enthusiasm for playing both baseball and softball growing up.
"Softball is just pitchers. Baseball, you gotta really be on the ball," she said. "And I think that's what a lot of people really enjoy about baseball. It's pitching and hitting and running and stealing … the strategy, all those signals. … You have to be in it mentally. And it was fun. That was the best part of my life, those two years with the All-American girls."
Emily Marie Mahoney was born to Richard J. Mahoney and Emily Summers on September 21, 1924. She lived her first 90 years at the same address in the Rice Military area of Houston and graduated from San Jacinto High School, where she led her softball team to several state championships and was a perennial ASA state all-star. She was primarily a pitcher and third baseman before finding her home as an outfielder, where her speed and agility made her a star.
After returning home to Houston from the AAGPBL in 1948, she worked as a microfilm technician for Eastman Kodak for 32 years, retiring in 1983. She was an accomplished bowler for many years and later worked part-time at a local golf course.
She is survived by nine nieces and nephews; many great-nieces and nephews; many great-great-nieces and nephews; and at least a million friends that will never forget her.
A Celebration of Life will be held at Heights Funeral Home, 1317 Heights Blvd. in Houston, at 3 p.m. on Saturday, February 6. In lieu of flowers, please make a donation in her memory to the All-American Girls Professional Baseball League (AAGPBL), St. Theresa (Memorial Park) Catholic Church, or another charity of your choice. Read her full obituary at DignityMemorial.com.
---
Originally published: January 26, 2016. Last Updated: January 26, 2016.
https://sabr.org/wp-content/uploads/2020/03/research-collection4_350x300.jpg
300
350
jpomrenke
/wp-content/uploads/2020/02/sabr_logo.png
jpomrenke
2016-01-26 17:09:25
2016-01-26 17:09:25
In Memoriam: Marie "Red" Mahoney