2011 Jerry Malloy Negro League Conference Art Contest winners announced
The second annual Jerry Malloy Negro League Conference Art Contest attracted artwork from all over the nation in three categories: professional, amateur and youth. Art from the winners and runners-up will be on display in a special area at the conference, scheduled for July 21-23 at the JW Marriott hotel in Indianapolis, Indiana.
The winning entry in each category will receive a $400 prize and a certificate from the conference.
The winners and runners-up art will also be displayed this summer at the National Art Museum of Sport in Indianapolis and photos of the art will also be included in an upcoming issue of Black Ball: A Negro Leagues Journal, published by McFarland.
This year's winners are pictured below:
Professional category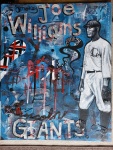 Bill Cormalis Jr. is a self-taught artist from Los Angeles, California. His painting has been influenced by his interest in music and skateboarding as well as the works of such renowned artists as Van Gogh, Picasso and Rembrandt. Bill was a Featured Artist at the "Weapons of Mainstream Destruction" show of the Pomona Arts District in July 2008. Bill also participated in the MusicShare Benefit, which raises money to aid musical artists in need and he has shown at SK Visuals, Hangar 1018, The Grind Gallery, Infusions Gallery, The Light Gallery. His winning painting of Smokey Joe Williams is part of a larger collection entitled "A Game in the B Leagues" which has been on display at the Museum of Tolerance in Los Angeles in 2011.
Judges' comments: Awesome! Engaging, unique, special and perfection. Incredible use of unique ideals and concepts. A perfect merger of then and now as Harlem 1916 and 2010 run headfirst into each other, with magnificent results. The masterful use of texture, color, and form makes this a tremendous piece.
Amateur category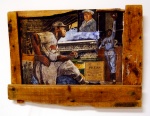 Michael Massenburg is from San Diego, California, and earned degrees from California State University, Long Beach, and the Otis Art Institute. He is an art educator who teaches for a variety of organizations in Los Angeles County. Massenburg is Lead Chairperson for the Inglewood Cultural Arts non-profit organization and co-founded The Collective, a support group for African American artists and community development.
Judges' comments: This art piece has been carefully thought out. Sometimes the images of collages don't hold together well, but in this case the artist stayed with the theme throughout. Very well done. A beautiful, magnificently crafted work that says (almost) all you need to know about the Negro Leagues. The piece is a terrific blend of sculpture, collage, and painting. It has a riveting overall appeal.
Youth category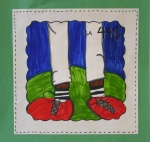 Seline Warrington is a 10-year-old fifth-grader at Edward T. Bowser Sr. Elementary School in East Orange, New Jersey. She likes her art class a lot.
Judges' comments: Interesting composition and use of negative space, a creative and original way to look at a ballplayer. Composition and color make for a strong visual appeal. Overall, this was a simple, but surprisingly effective painting. I love the composition and perspective.
A special thanks to our panel who served as judges for this year's art contest, including committee chair and renowned artist Benjamin Blackburn. Our judges are respected artists and experts in their fields and we thank each of them for their time:
Kadir Nelson, award-winning artist
Todd Peterson, award-winning artist
Ann Rein, Executive Director, National Art Museum of Sport
Dave Baldwin, author, artist and former Major League Baseball player
Byron Motley, musician, artist and author
James Fiorentino, award-winning artist
The annual Jerry Malloy Negro League Conference is hosted by SABR's Negro Leagues Research Committee, which encourages the study and research of African-American baseball and its influence on society and sport history. The conference promotes activities to enhance scholarly, educational, and literary objectives.
For the past 13 years, the conference has been the only symposium dedicated exclusively to the examination and promotion of black baseball history. The conference is open to baseball and history fans of all ages, not just SABR members.
To register for the conference, go to the SABR Store and click "Event Registration." You can also print out a registration form and send it by mail to the SABR office (4455 E. Camelback Road, Ste. D-140, Phoenix, AZ 85018). For a print-out registration form, click here.
---
Originally published: June 10, 2011. Last Updated: April 22, 2020.
https://sabr.org/wp-content/uploads/2020/03/research-collection4_350x300.jpg
300
350
jpomrenke
/wp-content/uploads/2020/02/sabr_logo.png
jpomrenke
2011-06-10 13:32:53
2020-04-22 14:05:25
2011 Jerry Malloy Negro League Conference Art Contest winners announced