Join us for SABR 19th Century Baseball Grave Marker Project dedication ceremonies
SABR's 19th Century Baseball Grave Marker Project is pleased to announce dedication ceremonies for their two latest installations, honoring Andy Leonard of early Cincinnati and Boston baseball fame and Hall of Famer James Francis "Pud" Galvin.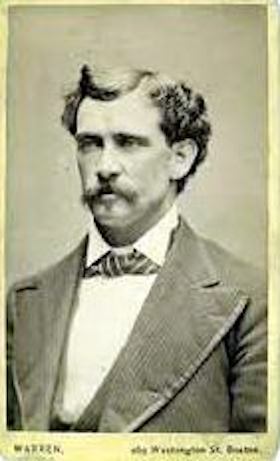 On Saturday, September 9, 2017, join a band of 19th-century history buffs, baseball fans, and family members of one of baseball's "First Boys of Summer," Andy Leonard. A star left fielder of the undefeated Cincinnati Red Stockings, he subsequently joined Boston's first league "dynasty" champions of the 1870s. Ireland's National Baseball League crowns its seasonal best player with the Andy Leonard Most Valuable Player Award developed to honor this Irish-born athlete.
The events are slated to begin promptly at 11:00 a.m. at New Calvary Cemetery, 800 Harvard St. in Mattapan, Massachusetts. After the brand-new monument is consecrated and SABR dedication ceremony, those able and interested are cordially invited to join SABR historian and Grave Marker Project leader Ralph Carhart as he provides a stimulating walking tour of the grave sites and monuments of several Hall of Famers and baseball notables interred nearby. The cemetery and ceremonies will be open to all for this event.
Check out a photo gallery below, courtesy of Dixie Tourangeau:
Click here to view the gallery on a mobile device.
*****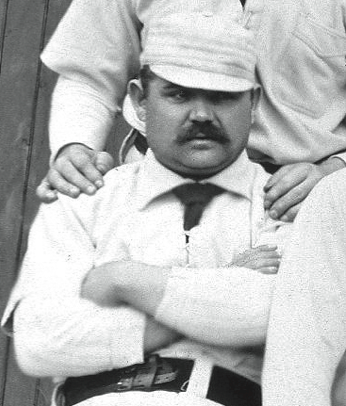 On Saturday, September 23, 2017, we celebrate the life of Hall of Famer Pud Galvin. Following the SABR Forbes Field Chapter meeting from 9:00 a.m.-3:00 p.m. at the Heinz History Center in Pittsburgh, interested guests will meet at Calvary Cemetery (718 Hazelwood Ave., Pittsburgh, PA) at 4:00 p.m. Galvin is the third grave marked by the SABR 19th Century Grave Baseball Marker Project. The dedication ceremony will feature a bio of Galvin, prepared by his biographer Chip Martin, as well as other baseball notables and members of the Galvin family.
Galvin was the first professional to pitch a perfect game, on August 17, 1876. He was also the first pitcher to reach the 300-win milestone. Galvin was a durable workhorse who often pitched more than 400 innings in a season. His career began in St. Louis and Buffalo before he finally settled in Pittsburgh. He joined the Alleghenys in 1885 when they were members of the American Association, and he made the move with the team to the NL in 1887. For years Galvin's grave bore only a cracked, ground-flush marker with no information other than his name. The new stone highlights his career accomplishments and features artwork by noted baseball artist, Dick Perez.
Inspired by an idea proposed by official Major League Baseball historian John Thorn at SABR's 2015 Frederick Ivor-Campbell 19th Century Base Ball Conference, the 19th Century Baseball Grave Marker Project was formed in an effort to correct some of the slights of history. The game's pioneers spent their early working lives dedicated to a sport that, even at the highest level, had not yet become the lucrative opportunity we think of today. Many of them died without the funds to mark the ground where they were laid to rest.
With the help of donations from SABR members as well as a generous grant from Major League Baseball, the Project attempts to provide the honor these players were denied at the times of their deaths. Their first stone was laid in May 2016 at Green-Wood Cemetery in Brooklyn for James Whyte Davis, member and officer of the New York Knickerbockers.
Media interested in speaking to someone about the SABR 19th Century Baseball Grave Marker Project in general, or either of these ceremonies, should contact Ralph Carhart at thehallballproject@gmail.com.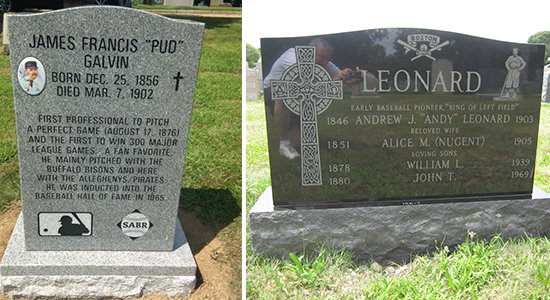 ---
Originally published: September 12, 2017. Last Updated: September 12, 2017.
https://h2j7w4j4.stackpathcdn.com/wp-content/uploads/2020/03/research-collection4_350x300.jpg
300
350
admin
/wp-content/uploads/2020/02/sabr_logo.png
admin
2017-09-12 17:22:56
2017-09-12 17:22:56
Join us for SABR 19th Century Baseball Grave Marker Project dedication ceremonies