Justine Siegal Makes History With Batting Practice Sessions
SABR member Justine Siegal becomes first woman to pitch batting practice to a major league team.

SABR member Justine Siegal has long been an advocate for increasing female participation in baseball.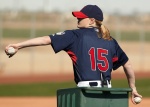 The nonprofit she founded in the late 1990s, Baseball For All, is dedicated to providing meaningful instruction and opportunities for girls in the sport at all levels. In 2009, she became the first woman to serve as an on-field coach for a men's professional team when she was hired by the Brockton (Massachusetts) Rox of the independent Can-Am League. From 2007-10, she was an assistant coach for the Springfield (Massachusetts) College baseball team.
On February 21, Siegal created her own opportunity to participate in baseball — when she threw a batting practice session to major- and minor-leaguers during her hometown Cleveland Indians spring training camp in Goodyear, Arizona. The 36-year-old right-hander is believed to be the first woman to ever throw batting practice to a major league team.
Two days later, she threw another BP session to Oakland A's hitters at their camp in Phoenix. And on March 9, she pitched to Tampa Bay Rays hitters in Port Charlotte, Florida. She has since thrown to the Cardinals, Astros and Mets, as well.
"If you didn't see the ponytails, she would have fit right in," Indians backup catcher Paul Phillips told The Associated Press. " She did great."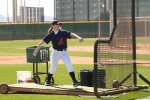 Siegal's 13-year-old daughter, Jasmine, was there to witness her historic performance. And she was wearing a patch to honor Christina-Taylor Green, the youngest victim of the January 8 shootings in Tucson, Arizona, and the granddaughter of former big-league manager Dallas Green.
Rays manager Joe Maddon told MLB.com that Green's story hit home for him.
"I love the fact she's wearing that patch to raise more awareness of that moment," Maddon said. "I know Dallas, I don't know his son. It happened in Arizona. My kids live over there. She was 9 years old, I have a 9-year-old granddaughter, so it smacked me pretty good. So when I saw her wearing that patch, it even made more sense to have her throw here."
How did she end up on the same field with major league teams?
"It's fairly simple. I asked," she wrote on February 17. "And while some of the teams said no, and most said nothing, there were two teams that dared to dream with me."
To read more about Siegal's quest in her own words, check out her page on MLBlogs.com.
Click here to learn more about SABR's Women in Baseball Committee.
---
FEMALE BASEBALL PIONEERS
Ila Borders: First woman to pitch in and win a college baseball game. Appeared in 52 games for St. Paul Saints of the independent professional Northern League from 1997-2000.
Helene Britton: First woman to own a major league team when she inherited controlling interest in the St. Louis Cardinals in 1911.
Amanda Clement: First woman to serve as an umpire in men's baseball, 1905-11.
Julie Croteau: First woman to play varsity college baseball (St. Mary's College, 1989)
Bessie Largent: First full-time paid female professional baseball scout; she and husband/scout Roy Largent signed Hall of Fame shortstop Luke Appling for the Chicago White Sox.
Effa Manley: First woman to be elected to Baseball Hall of Fame in 2006; longtime owner of Negro Leagues' Newark Eagles.
Jackie Mitchell: Struck out Babe Ruth and Lou Gehrig in a preseason exhibition game for the Chattanooga Lookouts against the New York Yankees in 1931.
Lanny Moss: First woman hired as a manager in organized baseball, when she skippered the Single-A Portland Mavericks in 1974.
Heather Nabozny: First woman hired by a major league team as head groundskeeper (Detroit Tigers, 1999).
Joan Payson: First woman to purchase ownership of an MLB team, when she took control of the expansion New York Mets in 1962.
Pam Postema: First woman to umpire major league spring training games, in 1988 and '89. Spent five of her 13 seasons (1977-89) in the Triple-A Pacific Coast League, but was never called up to the big leagues.
Mary Shane: First woman hired by a major league team as a play-by-play broadcaster (Chicago White Sox, 1977).
Toni Stone: First woman to play in the Negro American League when she joined the Indianapolis Clowns in 1954.
(List compiled with the help of research from SABR members Leslie Heaphy and Brian McKenna.)
---
Originally published: February 24, 2011. Last Updated: February 24, 2011.
https://sabr.org/wp-content/uploads/2013/10/Justine-Siegal-20110221-IndiansBP1-511x380.large-thumbnail.jpg
107
150
jpomrenke
/wp-content/uploads/2020/02/sabr_logo.png
jpomrenke
2011-02-24 15:26:34
2011-02-24 15:26:34
Justine Siegal Makes History With Batting Practice Sessions