Mannis: Jackie Robinson panel focuses on legacy and social impact
By Max Mannis
SABR's 47th annual convention continued on Friday, June 30, 2017, with a powerhouse panel celebrating A Journey of 70 Years: Jackie Robinson's Legacy.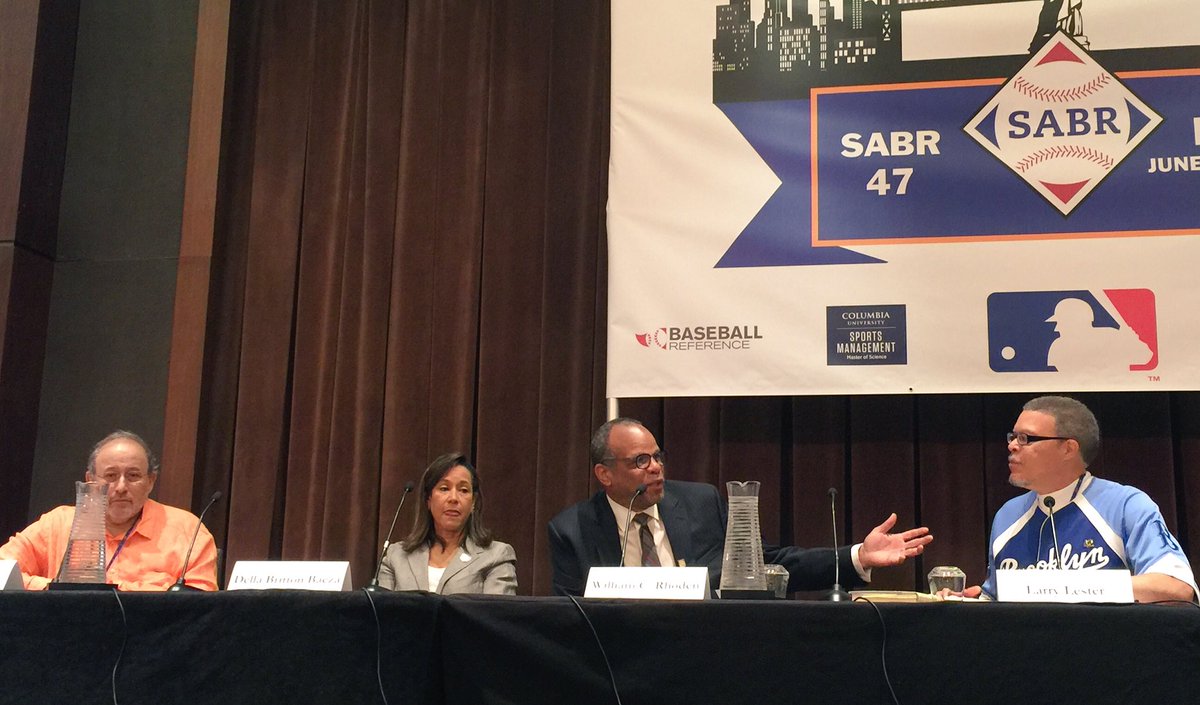 The panel was moderated by Larry Lester, the chair of SABR's Negro Leagues Committee and the newest recipient of the Bob Davids Award, SABR's highest honor. It also included authors Lee Lowenfish and William C. Rhoden, along with and Della Britton Baeza, CEO of the Jackie Robinson Foundation.
Britton Baeza spoke about how her family considered Robinson to be "royalty in this country" when she was growing up as the only girl in a large family in Pennsylvania.
What Jackie means to me is the ability to put before not only young African American children, but all children, a man of character, of goodwill, and humanity," she said. "[He is] a symbol of damn near perfection, to the extent that any man is perfect. And I will back that up, we will back that up, with anything we do at the Jackie Robinson Museum."
Lowenfish told a story about a child asking Robinson an incredibly complicated and drawn-out question about what to do in an unlikely baseball situation. Rather than ignoring the young boy or getting irritated, Robinson said to him, "Well, that's quite a question you have. Let's break it down." And the patient baseball star, always conscious of his status as a role model, walked through the scenario step by step with the kid.
Britton Baeza said she admired "how Jackie used his celebrity through his sports accomplishments to impact society proactively." Even after his major-league career was over, he continued to write letters to politicians and other public figures and become more involved in the civil rights movement. Robinson understood that because of his fame, his letters would get answered. When he began to hear about the increasing difficulties faced by blacks to get housing loans, he facilitated the creation of a new bank to help. He also became the first black executive of a Fortune 500 company when he was hired by Chock Full o' Nuts.
Rhoden said society has made progress in its acceptance for African Americans. In Robinson's day, blacks had to build a career "out of concrete," he said. "That generation of black folks did not have the opportunities. No matter how great you were, the world said, 'This is your place.'"
For more coverage of SABR 47, visit SABR.org/convention.
---
Originally published: June 30, 2017. Last Updated: April 16, 2020.
https://h2j7w4j4.stackpathcdn.com/wp-content/uploads/2020/03/research-collection4_350x300.jpg
300
350
admin
/wp-content/uploads/2020/02/sabr_logo.png
admin
2017-06-30 10:24:11
2020-04-16 08:54:52
Mannis: Jackie Robinson panel focuses on legacy and social impact